At least 8 dead in turnpike wreck in Okla.
---
The Associated Press
MIAMI, Okla. — Hours after a tractor-trailer slammed into stopped traffic on a northeast Oklahoma turnpike, tow trucks dislodged the rig from a crushed car to find the body of a ninth victim inside the mangled wreckage.
Eight adults and one child died Friday in the accident that left twisted metal and debris strewn across the highway and stranded miles of traffic in scorching heat for hours.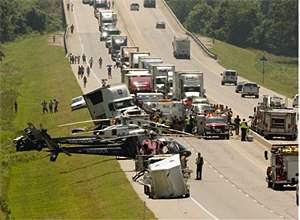 Oklahoma Highway Patrol Lt. George Brown said an earlier crash had stopped eastbound traffic Friday afternoon on the Will Rogers Turnpike when the big rig slammed into at least three cars, which then crashed into more vehicles.
Brown described the scene as "like a war zone" with "debris, fluids, dead bodies."
The Oklahoma Highway Patrol identified the victims as Ricardo Reyes, 39, of Phoenix, Ariz.; his wife, Ernestina Reyes; Randall Hayes, 38, of Frisco, Texas; Ethan Hayes, 7, of Frisco, Texas; Cynthia Olson, 55, of Crossroads, Texas; and Oral Hooks, 69, Earlene Hooks, 63, Antonio Hooks, 42, and Dione Hooks, 41, all of Oklahoma City.
Troopers said at least four other people were injured in the chain-reaction crash. Investigators said some of the victims were pinned in the wreckage for up to nine hours before being freed by firefighters.
Investigators don't believe the driver of the tractor-trailer, identified as Donald Creed, 76, of Willard, Mo., tried to stop before the crash, Brown said. The speed limit in the area is 75 mph.
A criminal investigation is under way, as is routine after a fatal accident, and blood was drawn from the truck driver, Brown said. There was no indication alcohol was involved, he said.
Tow truck driver Bob Garner of Miami was one of the first respondents to the scene.
"This is the worst one I've ever worked," said Garner, who has been a tow truck driver for 30 years.
Jericho Malphrus, 17, was driving on the turnpike with his mother to his hometown of Orient, Ohio, after touring a Bible college in Broken Arrow.
"Mainly what struck me was the amount of debris everywhere," Malphrus said. "There were clothes and snacks and debris. Someone's suitcase had busted open and a little girl's clothes were everywhere."
His mother, Jodi Malphrus, said the accident happened about 30 car lengths ahead of her and her son.
"It was like somebody had dropped a bomb," she said. "It was horrific."
The turnpike's eastbound lanes were closed for hours after the accident, which occurred near the border with Missouri and Kansas, with one lane reopening Friday evening.


Request product info from top Extrication Tools, Cutters and Spreaders companies
Thank You!