Mich. firefighters respond to call for 'head' stuck in landscaping stone
A bit of miscommunication for Portage firefighters ended in a unique rescue
---
By Kaitlyn Alanis
The Charlotte Observer
PORTAGE, Mich. — Michigan firefighters responding to a call for help had heard that a "head" was stuck in landscaping stone.
But there was a little bit of miscommunication, according to a July 31 Facebook post from the Portage Department of Public Safety.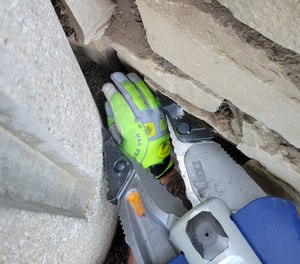 When first responders arrived, they actually found a hedgehog trapped between stone — not a human head.
And the hedgehog was someone's pet, officials said.
"The prickly, pokey, pet became trapped in some landscaping stone near the station and crews utilized calming reassurance and our Hurst Jaws to safely extricate the descendant of the famed Sonic of video game lore," the department said.
Hurts Jaws of Life tools are often used to save people trapped in vehicles and tight spaces.
"(The hedgehog) was reunited with his owners none the worse for wear," authorities said.
Portage is about 60 miles south of Grand Rapids.
©2023 The Charlotte Observer.
Visit charlotteobserver.com.
Distributed by Tribune Content Agency, LLC.
McClatchy-Tribune News Service