5 interesting products from 2012 and 5 I hope to see in 2013
There were no shortage of product advances in 2012, yet several stood out among the rest
---
Fire and emergency services products manufacturers are a very inventive bunch that are constantly coming up with tools, equipment and apparatus that can help us do our jobs more safely, effectively and efficiently. This year has been no exception with the rollout of many innovative products; here are the five that most grabbed my attention.
Helmets with retractable eye protection 
Who hasn't been frustrated by trying to see through helmet-mounted eye shields that are covered with soot, dirty water, etc., because their shields are on the outside of the helmet and exposed to everything? Several manufacturers, including MSA and Honeywell, have debuted eye shields that retract into the helmet when not in use.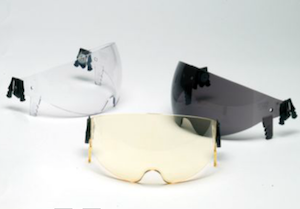 MSA
MSA's Defender retractable eye shield system is compatible with both the Cairns 660C Metro and 664 Invader helmets and can be retrofitted to existing models of those helmets. Honeywell introduced its retractable eye shield system with the rollout of its lightweight (less than 50 ounces), yet NFPA 1971 compliant, helmet, the EV-1.
Collision protection 
Spartan's Advanced Protection System uses six satellite sensors — at driver side A post, B post, and side door of crew cab, with identical locations on the officer side — that constantly monitor the vehicle's chassis for impact. The brains of the operation is the restraint control module that uses the flow of information from the satellite sensors to control multi-impact airbag deployment. 
How does it do it? When a vehicle takes a hit from another vehicle in a motor vehicle crash or from impact with an immovable object, that force is transmitted throughout the vehicle's chassis.
When the RCM identifies this pulse of energy coming from one of its satellite sensors it makes a decision using programmed algorithms to determine if this energy warrants an airbag deployment.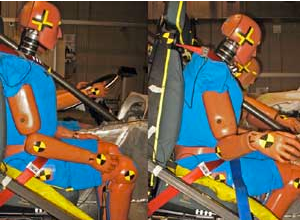 Spartan
After the RCM decides to deploy airbags, it next decides which airbags to deploy to protect the occupants at greatest risk. For example, during an impact collision to the driver's side only the side-curtain airbags for the driver and crew cab positions on that side of the vehicle would activate.
APS is unique because it responds to the event input (the impact energy and its location on the vehicle), and not to the event outcome (the vehicle's position post-impact).
SCBA facepiece with integrated communications
Is it just me, or is the capability to clearly communicate over the radio while wearing a SCBA face piece the Holy Grail for the fire service? Over the years we've seen amplifiers and add-on modules — none of which ever seemed to meet our expectations.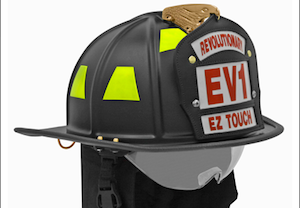 Honeywell
Dräger developed its FPS-COM-PLUS communication unit to work with its FPS 7000 full face mask; the FPS-COM-PLUS is mounted to the visor frame and is therefore fully integrated.
The microphone picks up the wearer's voice inside the mask; newly developed digital noise reduction technology filters out any interference that may reach the microphone inside the mask or any acoustic feedback that may occur. Pure breathing sounds are not transmitted to the voice amplifier or the radio, which allows the user to concentrate fully on their radio message.
The attached jack can to connect the FPS-COM-PLUS to a radio via an external push-to-talk button or a lapel microphone. Or, the FPS-COM-PLUS can connect directly to a portable radio and use the built-in push-to-talk button on the facepiece.
Firefighter response system 
Swissphone's FFRS web application consists of several modules and works on all common mobile devices such as the iPhone, Android, and BlackBerry devices and enables you to view your agencies responding, on-duty, available, and unavailable members, from your mobile device. Individual members can change their own status from the web-application without having to call into the system.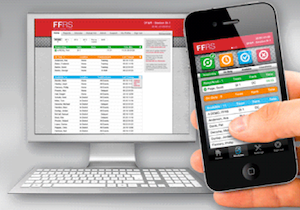 Swissphone
If the alert arrives via a standard pager, first responders can press a single button on a standard phone or use Swissphone's iPhone or Android application to relay information. Users at the fire station can update their status directly on their station computer.
The eNotify module is a mass-notification system that allows an agency to send out individual or bulk messages to email, SMS text, and mobile, home, or work phones. This feature is great for alerting special teams, sending out reminders, or polling agency personal about an upcoming function.
All agencies that purchase the FFRS application can give free access to their dispatch center. This access enables dispatchers to see who is currently on-duty, who is responding, and who is available to respond.
Apparatus ladder 
Fire apparatus seems to get taller every year, and one of my pet peeves is the lack of any OSHA-approved climbing device, such as a ladder expressly for getting up and down on the apparatus. Who hasn't seen firefighters climbing the side of a pumper using discharge outlets and railings for footholds and handholds?
Enter Ziamatic vehicle ladders that are custom designed to fit your apparatus. These heavy-duty ladders fold and tuck away parallel to the body when not in use. When you need them, it's as easy as releasing the locking handle and pulling the ladder out to a comfortable and safe climbing angle. The ladder automatically latches into place and will not retract until the scissor lock is raised.
Each vehicle ladder has a standard configuration of a two-rung, fold-down section and a six-rung main ladder section available in 12-, 15- and 18-inch widths. Ladders can be customized with a length and number of rungs to fit your apparatus. 
Each ladder's cast-aluminum rungs have a flat, non-skid surface and safety with 3-inch-deep rungs. The unit meets NFPA 1901-09 requirements for slip resistance and static load.
In the spirit of the season here's my wish list for new or improved products I'd like to see in 2013.
Smarter SCBA
SCBA that integrates PASS, TIC, radio communications and GPS into one system so we can stop looking like the street peddlers of old with all our gear hanging off of us when we get off the aparatus. The big plus would be that everyone on the team would have the capabilities, just like today's soldiers in combat.
Smarter, more compatible accountability
One tablet-based system on a common platform so that we can have accountability for our personnel regardless of which jurisdiction they are working in, whether that's across town or across the country. In addition to physical location, I'd like to have medical telemetry — such as pulse, blood pressure,  and body temperature — from each person along with their remaining breathing air in minutes based upon their current consumption rate.
Cooler turnouts
Manufacturers of cooling vests have made great strides in recent years to develop the ability to cool the body without ice or water. I'd like to see this new technology integrated into structural personal protective clothing.
Smarter apparatus
Backing cameras with auto-braking technology on all fire apparatus manufactured in the United States. We have the technology to eliminate backing accidents because it's available on many automobiles. The recipe: start with a backing camera, add collision avoidance technology, and finish with auto-braking technology that's activated by the collision avoidance system.
Smarter seatbelts
Seatbelt interlock system that prevents the apparatus from starting if the seatbelt in an occupied position on the apparatus is not fastened. Provide a one-time override capability to the officer in case the system malfunctions; override would require vehicle to be serviced by vehicle technician because there's obviously something wrong with the seatbelt interlock system, right? Why else would the officer use the override?