Apparatus push-in ceremonies: A long-held tradition that unites communities
The ceremony dates back to the days of horse-drawn equipment when members had to push the equipment into the bay
---
Like the armed forces, part of the appeal of the fire service is its deep connection and reverence for tradition, from the iconic sound of the bagpipe to the now-ceremonial apparatus push-in.
Beginning in the 1800s, after crews returned from a call on horse-drawn equipment, the animals were unable to back into the station, requiring members to detach the horses and push the equipment into the bay. Over time, with the invention and adoption of motorized apparatus, the need to manually move the equipment was gone.
However, the legacy of the push-in was secured.
Now, in honor of those early crews, many fire departments hold a push-in ceremony when taking delivery of a new apparatus, often inviting community members to celebrate the exciting moment their tax dollars helped make possible.
Check out this roundup of push-in ceremonies and send us a photo or video of your department's event to editor@firerescue1.com.
Roswell (Ga.) Fire Department
Deerfield Beach (Fla.) Fire Rescue
Orlando (Fla.) Fire Department
Charlottesville (Va.) Fire Department
Asheville (N.C.) Fire Department
AFD has taken delivery of a new KME fire engine assigned to E-11. It is designed using the most up-to-date technology to maximize FF safety and effectiveness. @SafeIndustries AFD performed the traditional "push-in" ceremony at Station 11! pic.twitter.com/TFvtQcBfeB

— ASHEVILLE FIRE DEPT (@AshevilleFD) February 23, 2022
Walton County (Fla.) Fire Rescue
The celebration of the arrival of a new apparatus has been a source of pride for fire departments for more than 100 yrs, which includes having the #firefighters & community members push the new apparatus into the fire station. Today, WCFR hosted their first ever push-in ceremony. pic.twitter.com/t5cZgnqADL

— Walton County Fire Rescue (@WCFRFL) July 9, 2018
Carson City (Nev.) Fire Department
Carson City Fire put into service Ladder 50 at 0900 this morning with the traditional push-in ceremony. Ladder 50 is a tiller driven truck with an aerial ladder that extends to 107 feet, it has been over 10 yrs since Carson City had a ladder truck - https://t.co/01EZHUUFh2 pic.twitter.com/sfV3f8J1zw

— Carson City Fire Department (@CarsonFireDept) December 16, 2020
Albemarle (Va.) Fire Rescue
We had a push-in ceremony to celebrate a new fire engine now in service at Station 16 (Pantops).

Push-in ceremonies call back to the 1800's when apparatus was pulled by horses and had to be pushed into the bay.

We don't have the horses, but we still have the traditions. pic.twitter.com/otyGPqreMv

— Albemarle FireRescue (@AlbemarleFire) October 6, 2021
Dorchester County (S.C.) Fire Rescue
South County (Wash.) Fire
Firefighters welcome our newest fire engine to service at Martha Lake Fire Station 21 with a push-in ceremony. This tradition goes back to the days of horse-drawn fire equipment. When returning to the station, firefighters had to unhitch the horses and "push in" the fire wagon. pic.twitter.com/Ajo8pYsTuQ

— South County Fire (@SouthSnoFire) June 10, 2020
Wyoming (Mich.) Fire Department
---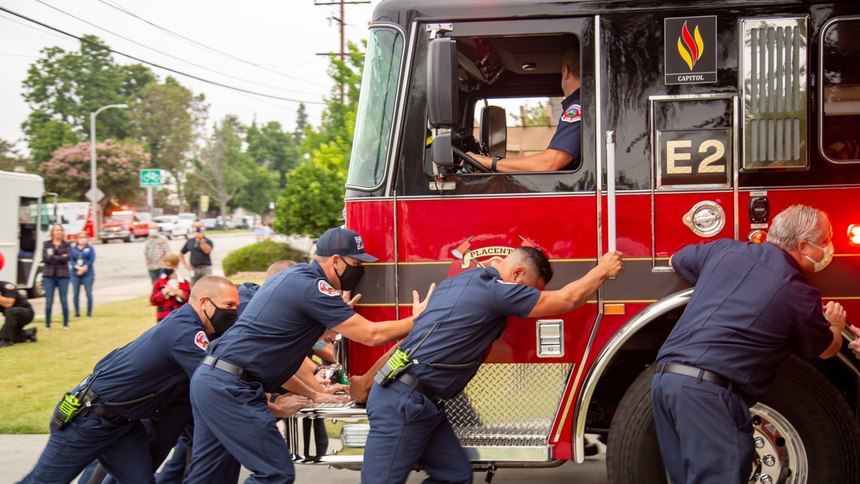 Placentia (Calif.) Fire and Life Safety members push in a new engine on July 1, 2020. (Photo/Placentia (Calif.) Fire Department)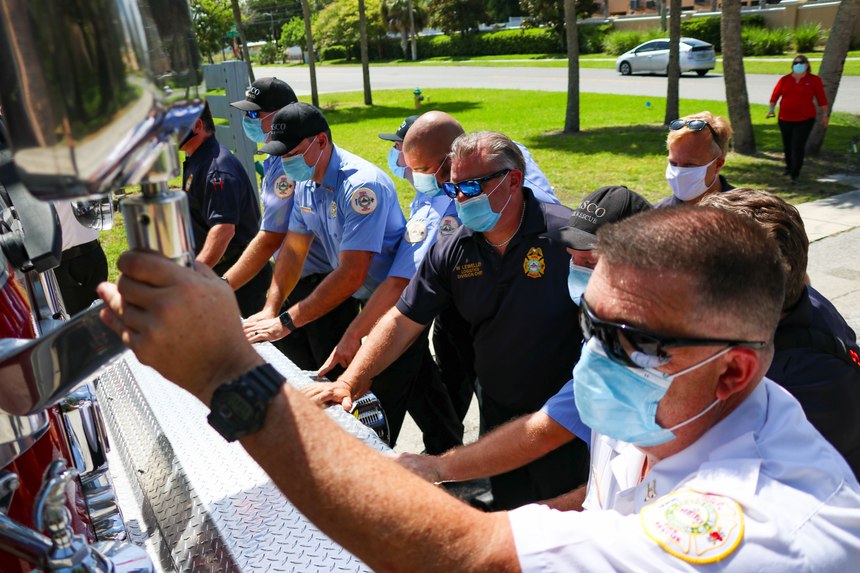 Members of the Pasco (Fla.) Fire Rescue participated in a push-in ceremony for Ladder 19 on July 9, 2020. (Photo/Pasco (Fla.) Fire Rescue)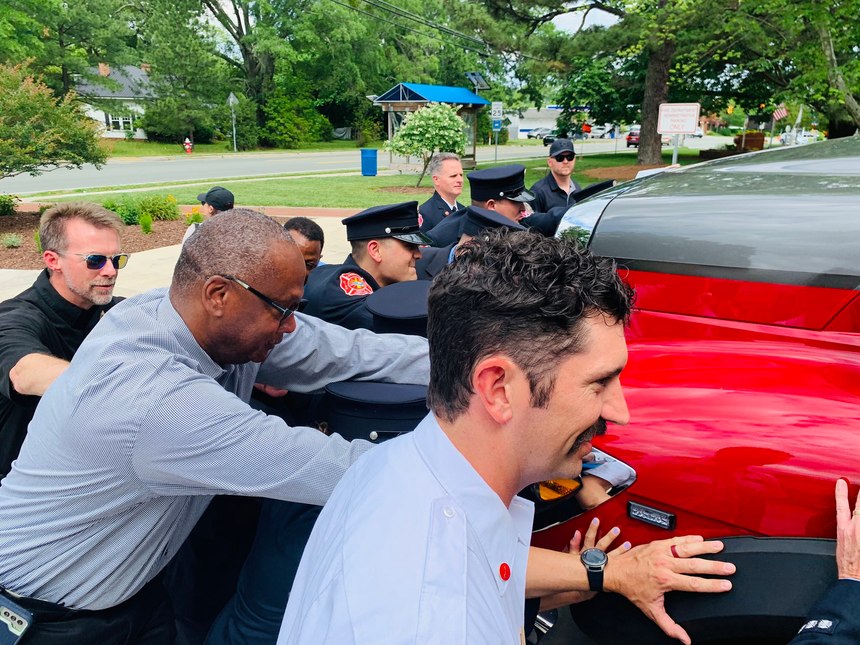 Carrboro (N.C.) Fire-Rescue members laugh as they push in a new tanker truck on May 26, 2022. (Photo/Carrboro (N.C.) Fire-Rescue)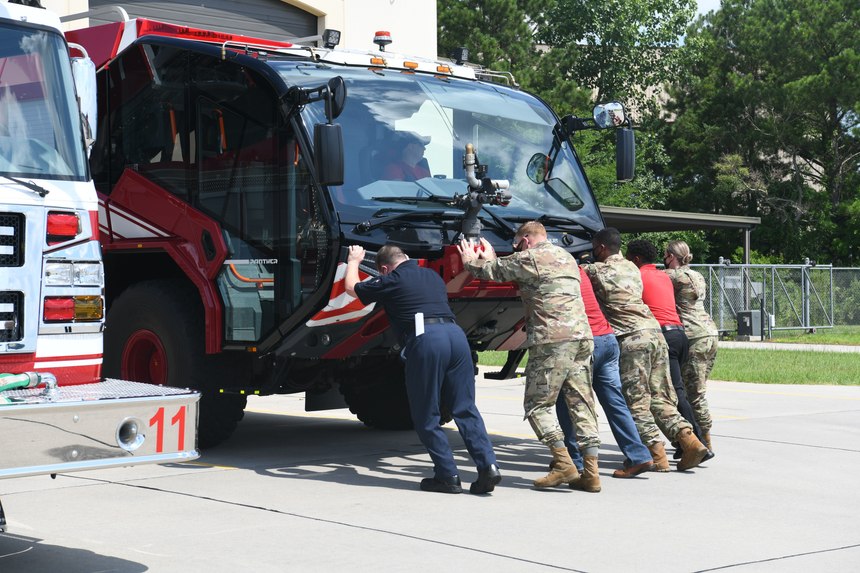 Robins Air Force Base Fire Department members help push one of the two new water trucks into the bay at Fire Station 2 at RAFB, Georgia, on June 5, 2020. (Photo/USAF via DVIDS)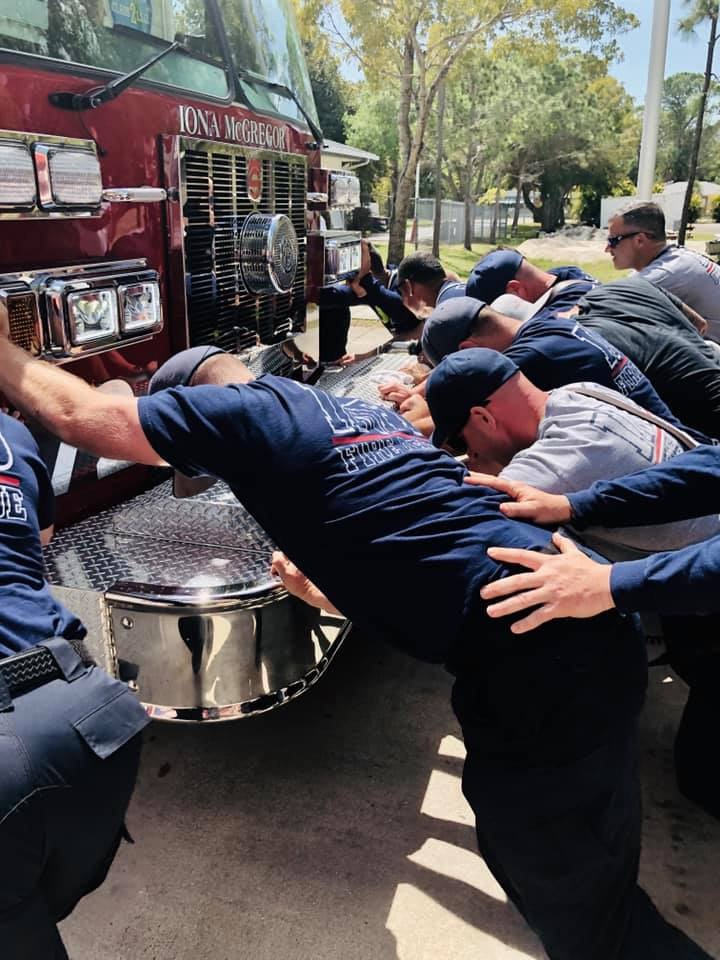 Crews with the Iona McGregor Fire District push in an apparatus on March 20, 2019. (Photo/Iona McGregor Fire District)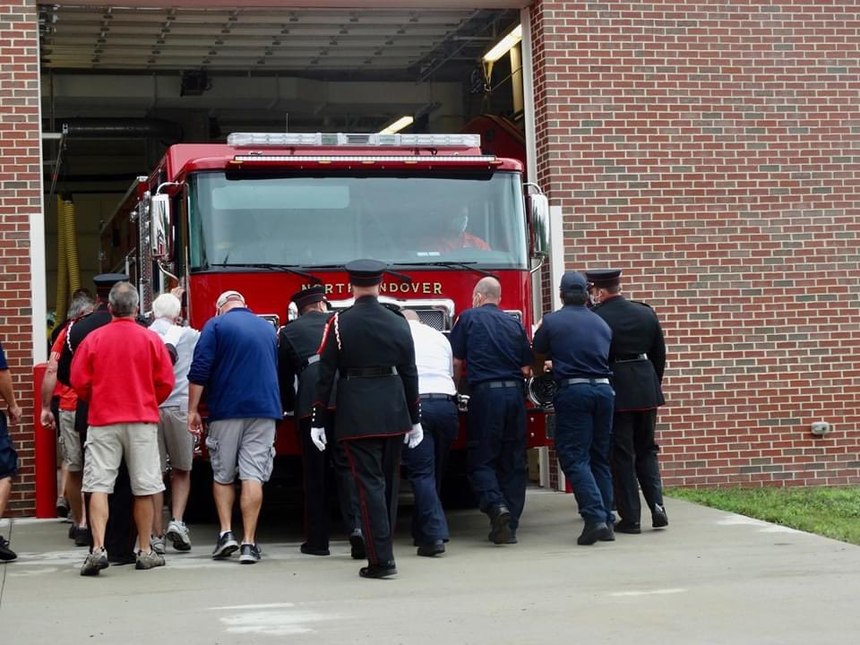 The North Andover (Mass.) Fire Department chief, deputy chief, town manager, select board, active members and retirees participated in a push-in ceremony on July 17, 2020. (Photo/North Andover (Mass.) Fire Department)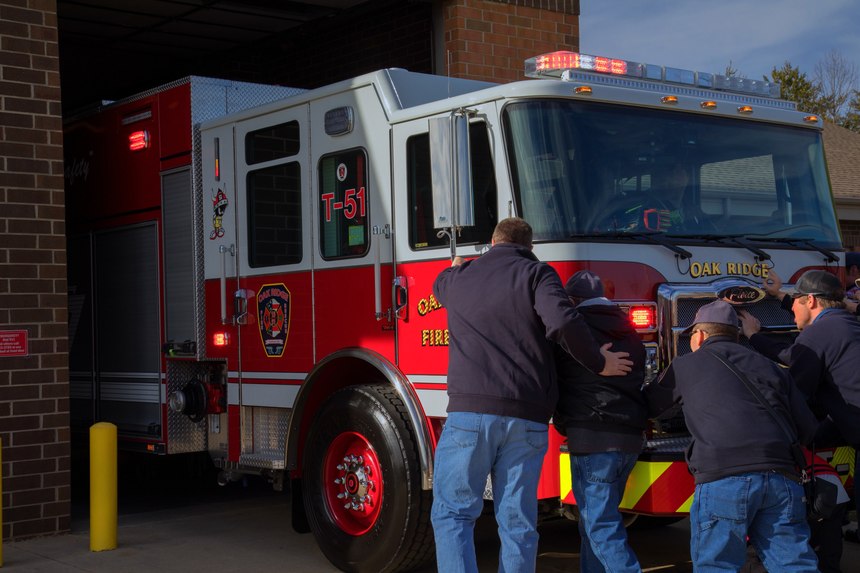 The Oak Ridge Fire Department conducted an official push-in ceremony for Tanker-51 on Jan. 14, 2018. (Oak Ridge (N.C.) Fire Department)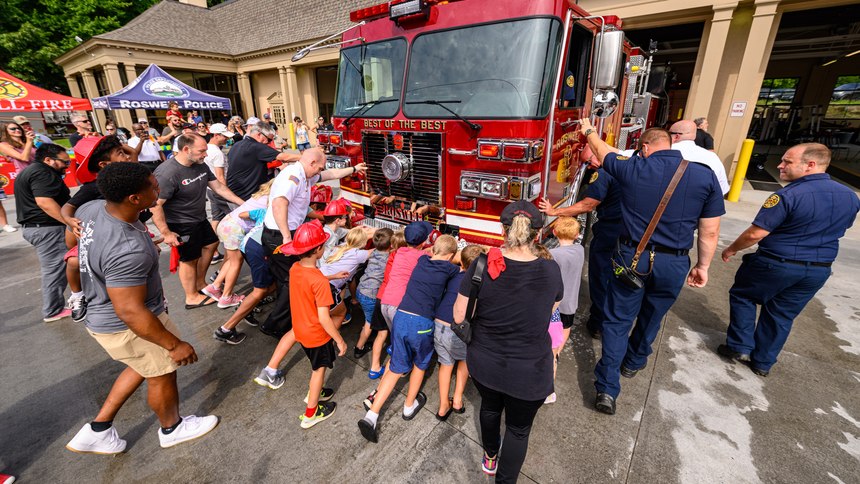 Members of the community participate in Truck 21's push-in ceremony at Roswell (Ga.) Fire Department. (Photo/Courtesy of Stanley Leary)







---

Read next:
How to buy apparatus (eBook)
Download this FireRescue1 apparatus buying guide to learn key steps for product selection, purchasing and implementation
---

Request product info from top Fire Apparatus companies
Thank You!