Ariz. department unveils fire truck designed to reduce cancer risk
The Goodyear Fire Department's new clean cab apparatus allows gear exposed to carcinogens to be sealed away in special compartments
---
By FireRescue1 Staff
GOODYEAR, Ariz. —  A new fire truck designed to shield firefighters from carcinogens was unveiled at the Goodyear Fire Department last week.
The clean cab design includes compartments with roll-up doors on the side of the apparatus to store gear after responding to a scene, while the cab has no hooks or areas for the crew to place gear, Fire Capt. Jose Aguirre explained in a video released by the department.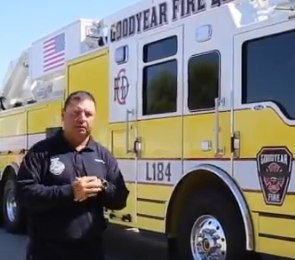 "What that means is no more gear, no more turnouts, no more SCBAs will be allowed in the cab," Aguirre said. "So, a very wipeable, cleanable cab on the inside."
The clean cab initiative is part of the department's cancer prevention program, Aguirre said. The goal of the design is to minimize contamination of the crew compartment by potentially-cancer-causing products of combustion.
In 2015, Goodyear Firefighter Gilbert Aguirre was diagnosed with leukemia, which he believed to be directly caused by his job, according to KTAR News. Earlier this year, Goodyear Firefighter Austin Peck passed away from a rare form of sinus cancer, also believed to have resulted from his job.
The department hopes to be a pioneer for clean cab initiatives being implemented across the country. The city says it is one of the first to adopt the program.
"A fire truck with no ability to hang your turnouts and your SCBAs in the cab – that's a paradigm shift," said Capt. Aguirre.
This may look like a typical fire truck, but the new #GoodyearAZ ladder truck has unique features including a clean cab design. Goodyear is one of the first few cities in the nation to adopt a clean cab process aimed to keep carcinogens away from firefighters. @GdyFirePIO pic.twitter.com/yk1MoPPa2F

— Goodyear, AZ (@GoodyearAZGov) November 8, 2019

Request product info from top Fire Apparatus companies
Thank You!