Big water for the industrial firefighter: A pump innovation makes for farther, faster water
Sutphen and Hale team up to build an industrial pumper with a unique design that delivers more flow and maximizes efficiency
---
Sponsored by IDEX Fire & Safety
By Laura Neitzel, FireRescue1 BrandFocus Staff
Some years ago, I was fortunate enough to visit Iguazu Falls, a series of 275 individual cascades that combine into­ one of the largest waterfalls in the world. In the rainy season, up to 450,000 cubic feet of water (3,366,233 gallons) cascade over the falls every second. As you can imagine, the thunderous roar of the water is breathtaking in its power.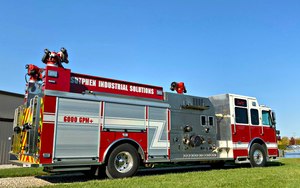 To compare the output of an industrial fire pump to one of the world's greatest waterfalls is hyperbolic, no doubt, but the sight and sound of the mighty outflow of the water from a new type of fire pump remind me of that amazing force of nature.
In fact, the principles are the same.
Where Iguazu Falls derives its power from multiple combined water flows, Hale's new Double Thunder Pump also derives power by combining two massive sources of water into one.
Fighting bigger blazes
While large industrial fires at facilities like refineries and chemical plants may not be common when they do, the consequences can be deadly, costly and long-lasting.
Putting out an industrial fire – like that of a 180-foot diameter tank filled with hydrocarbons – requires more of everything: more water, more foam, more time and more money.
"You'd need over 4,000 gallons of a water-and-foam solution per minute for 65 minutes in order to snuff that fire out," said Jim Kirvida, president of Custom Fire Apparatus, Sutphen's industrial apparatus dealer. "It would take the equivalent of at least three municipal trucks to do the job this one industrial truck can do."
Pumping with more power
Sutphen has been in business since 1890 and prides itself on innovating and creating something that others haven't done yet. So, when Sutphen had the opportunity to build a new industrial apparatus with flow rates never achieved before, they knew who to partner with.
"We were contacted by Sutphen and Jim Kirvida. Jim said, 'Hey, we really want a larger flow,'" said Jeffrey Van Meter, product strategy manager at Hale Products, an IDEX company.
Van Meter and Kirvida initially considered using a Hale fire pump built for the nuclear industry, but after some thought, they realized that the rear-mounted pump wouldn't be the best option for the industrial fire market, where pumps are mostly mid-mount. But Hale did have a smaller, mid-mounted pump they were willing to try to engineer on a grander scale.
There were a few design challenges. First, the pump had to be powerful enough to get the large flows needed for industrial applications. Second, it had to be larger, but it couldn't increase the overall height of the truck or intake locations so that firefighters couldn't connect hoses easily to it, nor so top-heavy that it was dangerous to drive. To achieve all this, the pump and gearbox had to fit between the frame rails.
"The mid-mounted pump was so crucial because of the aerial devices," said Kirvida. "So when IDEX came to us with the mid-ship design, it opened up a whole new opportunity for us not just in where the pump sits, but also in the overall apparatus design." This new Hale pump could be utilized on Sutphen's industrial aerials applications and not be limited to only pumpers.
Another key design consideration from Hale was to utilize standard components so that if something were to break, the component could be replaced with minimal downtime and readily available inventory. Since industrial firewater systems often draw from open water sources, there is a possibility that rocks and other detritus could be sucked into the pump.
With these considerations in mind, the IDEX engineers got busy super-sizing the smaller pump.
"We took our best-selling industrial pump, the 8F series pumps, and we uniquely mated two to our K series gearbox," said Van Meter. Hence, the name "Double Thunder" – two pumps in one gearbox.
Building the behemoth
With the Double Thunder design challenge met, Kirvida began working collaboratively with Sutphen designing a demonstrator (demo) apparatus to showcase its capabilities. The final apparatus design took three key products working together to provide maximum flow rate and reach:
1.  The pump (Double Thunder)
Traditionally, a single, normal industrial pump's flow rate will generally 3,000 gallons per minute at 100 pounds per square inch. The third-party certified flow of the Double Thunder pump is an unprecedented 6,000 gallons per minute.
2.  Three AeroMaster monitors
A typical apparatus design for an industrial truck might consist of one large flow monitor above the mid-ship pump, along with a second and third monitor at the rear corners of the truck. Assuming a 4,000 gpm flow rate of the top monitor along with 2,000 gpm flow rates of the two corner monitors, the combined flow rate equals 8,000 gpm.
The Sutphen demo truck that features the Double Thunder pump uses three AeroMaster12 electric monitors from Akron Brass that flow 3,200 gpm each and are known for their unprecedented performance and reach capabilities.
"This truck is a departure from the usual design in that all three monitors are identical; they're the same manufacturer, the same operating characteristics, the same performance capability and the same reach. And they're located in three different parts of the apparatus – two at the rear and one midship," said Kirvida. "The difference between these 3,200 gpm monitors and a 2,000 gpm monitor is roughly about 150 feet of reach. That could mean reaching that tank or not reaching that tank, and to have three of those on a single truck is unusual."
3.  Bigger valves and plumbing
One of the challenges in mounting those monitors at the back of the apparatus was to plumb them with sufficient valves and piping to be able to service 3,000 gallons a minute.
"We know we can get enough water to it," said Kirvida. "The question is, how much water can we get through it?"
The Double Thunder demo features all-electric valves from Akron Brass, fed by six 8-inch intakes as well as an additional 12-inch multi-lug intake.
Kirvida is betting on a 10,000 gpm flow rate when the new pump is max-flow tested on a pressurized industrial facility water system.
"I've been in this business over 50 years, and it was just so much fun working with an apparatus of this magnitude," said Kirvida. "It's just amazing."
The industrial revolution
I asked Kirvida and Van Meter what the Double Thunder pump will improve for the industrial fire service.
Kirvida says it means departments will be able to purchase one apparatus instead of two and respond using one large line instead of multiple smaller lines.
From a maintenance standpoint, adds Van Meter, they can double the flow they have and still know how to maintain the truck.  Double Thunder's design utilizes common Hale components that are readily available and are tried and proven already in the industry today.
"It gives the customer an opportunity to go back to the roots of their industrial truck and buy a truck with one Hale of a pump," he said.
For more information, visit IDEX Fire & Safety.
Read next: When IDEX met SAM: A match made to improve safety on the fireground

Request information from IDEX Fire & Safety
Thank You!