FDIC 2022: Product unveilings, apparatus showcase and collaboration news
Don't miss these offerings on the main exhibit hall floor and in Lucas Oil Stadium
---
By FireRescue1 staff
Thousands of fire service professionals have descended on Indianapolis for FDIC International, the largest fire service conference on U.S. soil.
From pre-conference workshops to hands-on training to educational sessions, there are countless opportunities for attendees to connect and learn something new. Plus, the exhibit hall offers a look at industry tools, gear, gadgets and apparatus. 
While on the exhibit hall floor, check out the latest product unveilings and apparatus on display as well as company news announcements. 
---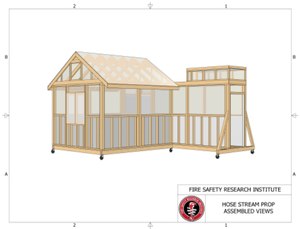 Unique events and offerings
Fire Safety Research Institute
Booth #10044
UL's Fire Safety Research institute will be at FDIC, offering the full hands-on training toolkit complete with FSRI's Hose Stream Prop design. There will also be instructional videos and lesson plans for teaching air entrainment and water distribution tactics. Even if you can't attend FDIC, you can download the kit here.
HURST Jaws of Life: Celebrating 50 years
Booth #1608
HURST Jaws of Life celebrates the 50th anniversary of its life-saving tool through music, education and demonstrations. HURST Jaws of Life has collaborated with nationally recognized country music recording artist Mark Ware on a song that reflects on and celebrates the grit, guts, heroism and heritage of the firefighter profession. The song will be performed live at HURST Jaws of Life booth. Hurst also launched its eDRAULIC 3.0 (E3) line, adding the R 320 E3 Mini Ram to a product lineup. Plus, learn about the "Extrication Challenges of Electric Vehicles," an educational session with Dalan Zartman, FireRescue1 columnist.  
EvaClean
Booth #3010
EvaClean offers disinfection and sanitizing solutions for first responders, their stations, firehouses and equipment. Boston Commissioner (ret.) Joe Finn serves as an advisor to EvaClean, and will be at FDIC to discuss his work to bring awareness to the risks of occupational cancer.
---
Apparatus at FDIC
Pierce Mfg.
Booth #8807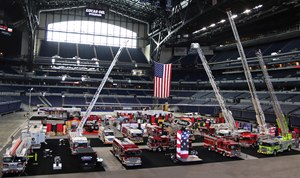 Pierce Manufacturing Inc. will showcase 14 fire trucks and interactive opportunities to learn about the latest product and technology innovations. A main feature will be North America's first-in-service and fully U.S. manufactured electric fire truck – the Pierce Volterra Pumper. The Volterra electric truck display will include two electric pumpers and charging infrastructure solutions; North America's first-in-service electric fire truck – the City of Madison, Wisconsin Fire Department's Volterra electric pumper; Portland, Oregon Fire & Rescue's Pierce Volterra electric pumper; and EnTech Solutions electric vehicle charging infrastructure. Pierce will introduce the  next generation in fire apparatus pump design and fire suppression upgrades with enhanced flow capabilities; 100-foot Heavy-Duty Low Profile Steel Aerial Ladder; Pierce CZ Connect Fully Integrated Telematics Solution providing remote access to vehicle data; and the PACCAR MX-13 big block engine.
Toyne Inc.
Booth #1839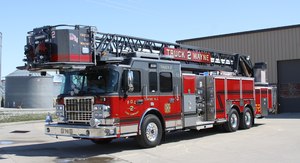 Toyne Inc. will present their latest fully customized trucks, showcasing a purpose-built aerial for Wayne Township (N.J.) Fire Company #2 and a pumper for Crockery Township Fire Department. The Wayne Township aerial is the third Toyne Tailored Apparatus for the department. The aerial features a 100-foot rear-mounted platform ladder, a 400-gallon UPF tank, and a 2,000-GPM Hale Qmax pump, along with Toyne's custom-built storage solutions, such as rear slide-in equipment stowage and wheel-well storage for 16 SCBA bottles. The Crockery Township pumper is equipped with a 1,680-gallon UPF tank, 1,500-GPM Waterous CSU pump, TFT Monsoon RC monitor (with 18-inch electric riser), booster reel, and 2.5-inch rear direct tank fill. The bolted painted stainless-steel body features roll-up compartment doors, rear slide-in above compartment storage for hard suction hoses, and rear slide-in storage for ladders and pike poles.
REV Fire Group
Booth #4516
REV Fire Group will unveil the EV Vector, and REV Ambulance will have its first-of-its-kind EV Type II at the show.
Sutphen Corporation
Booth #3324
Sutphen Corporation unveils its new tractor-drawn aerial, the Sutphen SLTDA 105. The truck was designed for DeKalb County Fire and Rescue in Georgia.

---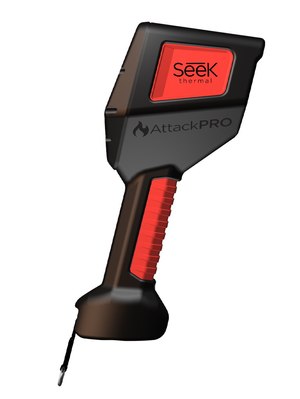 Product unveilings and updates
Seek Themal
Booth #2445
Seek Thermal will display the first pistol grip TIC, the AttackPRO. According to Seek Thermal, "The AttackPRO is our most robust handheld thermal imaging camera yet. Extremely durable with simple controls, AttackPRO combines a high-performance 320 x 240 thermal sensor in an ergonomic, fire ground rated package to help you attack fires smarter and more safely. Additionally, a powerful 300-lumen LED light is available at the touch of a button. The AttackPRO delivers unprecedented high-resolution thermal imaging in an affordable firefighting system."
3M Scott Fire & Safety
3M Scott booth #2422; Adashi Systems booth #6134; SDI booth #123 (located with Motorola Solutions)
3M Scott Fire & Safety announces at FDIC a collaboration with incident management providers, Adashi Systems LLC and Systems Definition, Inc. (SDI), to leverage critical SCBA telemetry data via an application programming interface (API) with 3M Scott SEMS II Wireless SCBA Telemetry System, giving incident commanders a more complete common operating picture on the fireground. The solutions provided by these companies are now empowered to provide incident command with air, PASS and EVAC data while establishing and maintaining command. Additional alert notifications – high-flow or no-flow condition at full-alarm PASS – provide incident command with enhanced situational intelligence to guide decision-making. The telemetry data is further improved by giving incident command the ability to electronically call for a personnel accountability report (ePAR).
Howe & Howe
Booth #5061
Howe & Howe, Inc., will showcase its Thermite firefighting robot family and the new SWAT-BOT mobile ballistic shield all terrain robot. The Thermite family of firefighting robots, including the RS1, RS3 and all-electric EV2, are designed to mitigate life-threatening situations by providing fire suppression, situational awareness and intelligence gathering to first responders. Operated by remote belly-pack and handheld controllers, Thermite traverses hazardous terrain and pushes obstacles from its path. It can endure extreme elements, keeping the user at a safe distance while receiving real-time video feed. Further, the company will showcase its all-electric SWAT-BOT EV1 and EV2 – a mobile, remotely operated SWAT shield that utilizes the same chassis as the other Thermite products.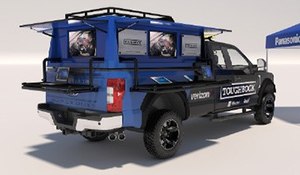 Panasonic TOUGHBOOK
Booth #140
Panasonic will display its latest solutions for fire and rescue professionals on its TOUGHBOOK Truck.
IDEX Fire & Safety
Booth #1608
IDEX Fire & Safety introduces the SAM Nozzle, a nozzle-to-pump, wireless communication that is the first and only hose nozzle that gives the firefighter at the scene control of the water flow. All SAM System products will be featured at FDIC International 2022 along with panel discussions. Further, panel discussions offer insight on firefighting operations as well as staffing challenges faced on the fireground. In "Changing the Game on the Fireground," participants discuss firefighting operations including automation and technology on the fireground, funding a new apparatus, recruiting, training and staffing.
TOMI Environmental Solutions
Booth #4735
TOMI Environmental Solutions specializes in disinfection and decontamination through the utilization of its Binary Ionization Technology (BIT) platform. TOMI will demonstrate how its current technology works and show how it is effective in protecting firefighters and EMS personnel long after immediate dangers are resolved. SteraMist actively disinfects numerous harmful pathogens that are commonly found on gear after a fire and seeks to prevent the spread from firefighters to other firefighters and their families. TOMI will also demonstrate its latest product, the SteraPak, which was designed to help provide emergency services with portable disinfection and ensure that both vehicles and gear involved in an emergency are properly disinfected afterwards.
Silver Ships
Booth #9441
Silver Ships will showcase a customized, aluminum fire rescue boat. The fireboat is a 32-foot Explorer Series, designed for the Danbury Fire Department in Danbury, Connecticut. The Danbury Explorer 32 is designed for fire and emergency response, patient transport, dive support operations and multi-agency search and rescue missions. The vessel features twin outboards, fire pump, an enclosed cabin, various hull design additions, and is equipped with flood lights, search lights, emergency lights and siren.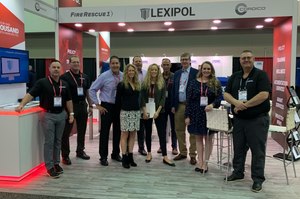 Lexipol/FireRescue1
Booth #135
Lexipol will showcase its myriad media, policy, training and wellness support for first responders and government leaders. Related to its training program, Lexipol will spotlight Master Class, a new interactive course series focusing on key leadership and command topics for fire service professionals. These new courses will be offered through Lexipol's FireRescue1 Academy learning management system.
---

Read next:
Can't make it to FDIC?
Don't worry, you can still experience elements of the show from afar
---

Request product info from top Fire Apparatus companies
Thank You!