How are you transporting your contaminated PPE and equipment back to the station?
When apparatus are maxed out on compartment space, storage bags offer a useful solution for transporting your gear
---
Interior structural firefighting has always been viewed as a dangerous job, but it's been made significantly safer through improvements to personal protective gear, equipment, apparatus and fire suppression tactics.
It's only been in the last decade or so that we've come to learn that the danger doesn't necessarily recede once firefighters exit the fireground. A growing body of research has shown that the smoke from fires, particularly structure fires, contains chemicals, chemical compounds, and carcinogens that have been linked to a higher risk of firefighters developing cancer compared to the public.
When operating in that smoke, a firefighter's PPE absorbs these toxic materials, many of which are in a gaseous state. Once the PPE is impregnated with those chemicals, chemical compounds, and carcinogens, that gear continues to pose a threat to a firefighter until it's removed and properly laundered.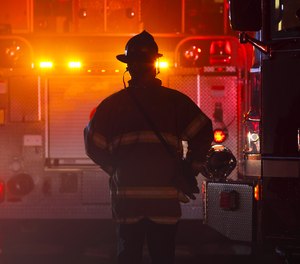 The transporting contaminated gear conundrum
Though proper laundering certainly eliminates future exposure to those toxic materials (the desired result), decontamination truly starts immediately after exiting the fireground. Many fire departments have enacted standard operating guidelines (SOGs) that address initial contaminate reduction (ICR) once the firefighter exits the hazard area to include removal of PPE followed by a personal hygiene routine.
But what happens after that PPE has been separated from the firefighter? How is it being transported back to the fire station for laundering? And how is other contaminated equipment (e.g., SCBA, hand tools, portable gas monitors) being carried back to quarters for proper cleaning?
The clean cab concept being adopted by many fire departments focuses on keeping contaminated PPE out of the crew cab while fire apparatus is returning to the fire station, but that brings up another challenge. For many departments, the apparatus are already maxed out when it comes to available compartment space. Sure, new fire apparatus can be designed with more available compartment space to store contaminated PPE, which many fire departments are doing, but there's still the issue of legacy fire apparatus.
[Read next: Getting your apparatus clean cab- or 'cleaner cab'-ready]
In a 2019 study conducted by a major vendor of firefighting equipment and a fire service trade journal, it was found that only 29% of the respondents reported using any type of decon bag to store dirty PPE for transportation back to the fire station. While that statistic is concerning, it's probably not the result of not knowing better, but rather the lack of a viable, affordable and safe option for storing that contaminated gear.
Instead, many firefighters have resorted to using plastic garbage bags. While this works to prevent full exposure to contaminated PPE, there are two main problems with this approach:
A trash bag will not fully contain contaminants from leaking into the cab and, ultimately, the lungs of nearby firefighters.
It is a wasteful practice from an environmental standpoint because those trash bags cannot – and should not – be reused.
Using a trash bag for the job has another pitfall for volunteer firefighters who put themselves, and potentially family members, at even greater risk by storing contaminated turnout gear in their privately owned vehicles for transport. Plastic trash bags can easily become ripped and release toxic vapors or liquids into the vehicle or into the home. So, if a trash bag is not the solution, what is?
Storage bags built for the task
Necessity is the mother of invention, right? Well, it certainly has been for several fire service equipment vendors offering gear bags that are designed and constructed to fill that gap between the firefighter's removal of contaminated PPE and proper laundering at the fire station. These reusable gear bags have several key characteristics:
Airtight, waterproof design using abrasion-resistant material.
Durable construction that holds up to repeated laundering in a washer/extractor.
Large enough to hold all turnout gear.
Separate compartment to store clean clothing and footwear to change into after undergoing ICR practices.
With these features in mind, let's consider a few such bags:
Now's the time
With decon bags like these now available – and more surely to come – shouldn't 2022 be the year that your fire department solves the issue of how to safely transport contaminated PPE and gear?

Request product info from top Fire Apparatus companies
Thank You!