How to rightsize your response to a range of fire situations
Adding rapid response vehicles to your fleet offers versatility, customization at a lower cost of acquisition and operation
---
Sponsored by ESI Equipment Inc.
 
By Dalan Zartman for FireRescue1 BrandFocus
Fire departments and emergency response agencies are increasingly challenged with finding the right vehicle to meet their response needs. The goal is always to have a vehicle that can safely and efficiently get from point A to point B and carry the right personnel and equipment to the scene. Every department is unique and the right vehicle usually requires customization.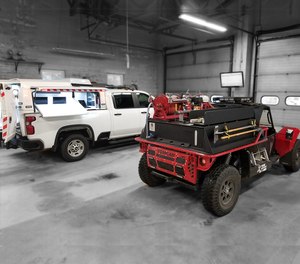 Unfortunately, customizing traditional firetrucks takes what is an already monumental expense and lead time and makes it even worse. Although the firetruck is the keystone of the fleet, imagine if it could be surrounded by highly customizable, lightweight, versatile response vehicles that could carry mission-specific equipment caches and personnel to the scene. Imagine if these vehicles could operate in almost any environment and were much more affordable to maintain.
You can stop imagining and meet ESI's Rapid Response Units.
ESI has been providing equipment solutions to emergency responders for over thirty years. Based out of Montgomeryville, Pennsylvania, they are a company that listens first. They listen to the ones that matter most when it comes to providing emergency response vehicle solutions that will address the needs of today's rescue environments. When the responders themselves can play a significant role in the design process for a product, you have a game changing foundation that requires a special and unique company to execute the plan.
ESI's pool of talented and passionate professionals and their commitment to quality, reliability and excellence have rendered a new breed of vehicles that can help fire departments respond with the right tools and save lives.
Versatile storage options
The ESI RRU line up starts with climate controlled and reinforced fiberglass body insert that can be installed in any heavy-duty truck. You can have your truck or ESI can assist in acquiring one. The body can then be fully customized for all your equipment needs, including side compartments, rear compartments, trays, drawers, slides and almost-unlimited options to design the storage system just the way you want.
The body can also be transferred to different vehicles down the road. Custom paint matches, striping and lighting packages are all part of the options. Even solar panels, command consoles, and cab seats with integrated SCBA holders are part of the options. Regardless of the call nature, you can design your apparatus to meet whatever missions you need.
Performance meets durability
The XRU lineup is an extremely rugged off road that was initially a military application designed for "no mission failure" performance. That translates to high performance and extreme durability.
The XRU's are developed in partnership with TOMCAR – known for military operation vehicles – and begin with an armored cocoon of a high-strength, oversized steel frame which is fully welded and meets all rollover standards.
Safety and engineering are the priorities for these vehicles, so they have a low center of gravity but exceptional ground clearance. They are also equipped with four-point restraints, independent suspension and all-wheel disc brakes. The uncompromising foundation design of the XRUs results in an industry-leading payload of 2700 pounds without compromising vehicle performance.
Making it mission ready
Now that you have the basic vehicle, it's time to make it mission ready. These vehicles can be equipped to address any discipline. For firefighting, CAFS and CET systems are available with tank sizes extending up to 200 gallons. Winches, stretcher space, tool mounting, lighting, and an easily-adaptable design template allow both specific styles and hybrids. For example, combining forestry and urban firefighting capabilities, EMS and technical rescue, law enforcement, command, and public safety/prevention are all within the wheelhouse of the XRU. You can also choose between electric, hybrid or gas-powered options.
Agencies looking to expand their fleet should consider the positive impact a rapid response vehicle can make on reducing wear and tear and maintenance expenses on larger fire apparatus. Responses to smaller events could be managed with the RRUs.
As a twenty-year career veteran of the fire service, I have responded in rapid response vehicles with multiple agencies and with a wide array of missions and environments. Public Safety Diving, Forestry, EMS, and Technical Rescue applications have been my primary experiences in these vehicles. They were invaluable vehicles to accomplishing our mission and supporting our larger resources.
ESI is committing to providing incredibly reliable and high-performance solutions to their customers. That is evident in every detail of the RRUs. ESI's RRU and XRU are the bridge to the future of affordable, reliable, advanced apparatus that can respond to almost any event and save lives. Welcome to the new era of endless possibilities.
Learn more about ESI's Rapid Response Units.
Read next: Spotlight: ESI Equipment, Inc. dedicated to offering an advanced economical solution to today's high vehicle operating costs
About the author
Dalan Zartman is a technical-rescue curriculum subject-matter expert for the Ohio Emergency Management Agency and Department of Homeland Security. He is a certified rescue instructor, rescue technician level II, fire instructor II, firefighter and EMT. Zartman is founder and president of Rescue Methods. 

Request information from ESI Equipment, Inc.
Thank You!