Innovative apparatus on display at FDIC
---
Once again, "The Big Show," as FDIC is called, did not disappoint. It seemed that attendance was up this year, with exhibit halls packed to capacity and several exclusive unveilings of new apparatus. Among the highlights of the new offerings were the Pierce Ultimate Configuration (PUC), E-One Quest and the Crimson Boomer. All three bring the latest technology and innovative designs to the table. 
PUC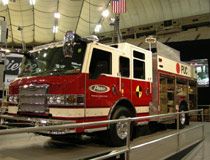 PHOTO Bob Vaccaro
The PUC's design eliminates the bulky pump house.
The new Pierce PUC design can be incorporated on all Pierce Chassis. The big difference in the design is that it eliminates the bulky pump house. That reduction, however, does not compromise compartment space — it actually increases it. It offers 500 cubic ft of compartment space in a longer body, or a 400 cubic ft design based on the mid-sized body design.
Although the pump-house elimination is a considerable improvement, the biggest plus with this design is the ease of maintenance. The whole cab tilts, making maintenance jobs fast and easy. I was told that normally it would take about three hours to gain access to the same components that you can now get in seconds, just by titling the cab.
The engine also includes a Pierce 1,500 gpm Pump, with one switch CAFS operation, standard pump and roll capability and tank capacities up to 1,680 gallons.
Because of the short wheelbase, the truck is also easier to maneuver along with its angle of departure, and 45 degree cramp angle.
In addition, the crosslays and ladder storage is chest high for easier accessibility. To further improve safety, the truck has stability control, a tire blowout protection system, the side roll and a frontal air bag system.
It is amazing to me how Pierce engineers always manage to come up with something new each year. These are not just small cosmetic changes, but massive feats of engineering designs.
Quest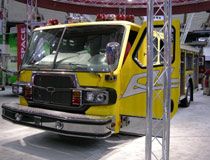 PHOTO Bob Vaccaro
E-One unveiled the Quest at the show.
E-One's new offering was the Quest. The Quest offers a bigger front windshield and new teardrop-styled mirrors for better visibility. The cab has a three-step staggered entry system that makes it easier for entry and exit of the apparatus. The new cab is also more compact, which makes for a shorter front overhang that reduces overall length.
This vehicle also comes with power windows and locks, an advanced braking system, power brake and accelerator pedals that are adjustable, rear-wall seating for three, more leg room and work space for the officer, and flush side doors with hidden hinges that are available in full length or barrier style.
E-One also had a new Titan Force P711 ARFF vehicle, an urban style pumper, 134 ft., Bronto Skylift articulating platform and a hybrid powered command vehicle.
The hybrid vehicle provides reduced fuel consumption of up to 60 percent, and has regenerative braking that converts kinetic energy into electricity, recharging the batteries when either breaking or decelerating. It also has an auxiliary power generator, engine-off battery charging capability, a back up starting system, and offers reduced maintenance.
Once again, not just small changes, but major modifications that reflect a great deal of research and development that went into all of the E-One apparatus on display.
Boomer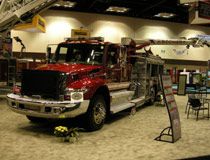 PHOTO Bob Vaccaro
The Boomer has a boom 28 ft in length.
Crimson, which only started building its own line of aerials a few years ago, also has annual new product offerings at FDIC. This year's new design was the Boomer, appropriately named because of its unique boom. The truck on display was built on an International 4,400, can carry a five-person crew, and was provided with a 1,500gpm pump and 750 gallon poly tank.
The boom itself is 28 ft in length and can be rotated 360 degrees and elevated -10 degrees to 90 degrees. It also has a 6,000 watt light tower to provide lighting just about everywhere you need it.
The boom also has high pressure hydraulic air and rescue tool connections and a lighting capacity of 1,000 lbs. The monitor at the tip of the boom is rated at 1,000gpm, and is backed up by two additional handline discharges. One very unique feature is that the truck needs no outriggers to operate it, which means it can get into tighter spaces for a closer operation at the fire scene.
Crimson also advertised the fact that the truck was built with less than 300 parts. The average aerial has somewhere close to 1,800 parts. The reduction of parts should make a big difference with maintenance and down time.
According to the manufacturers, all three of these offerings took between two and five years to research and develop. While there is no crystal ball to see what the fire service will need in the future, these three manufacturers seemed to hit it right on the head with their offerings. Not only do they reflect technological advances, but they all put firefighter safety first.

Request product info from top Fire Apparatus companies
Thank You!