LAFD debuts first Rosenbauer electric fire engine in North America
The engine is expected to be assigned to Fire Station 82 in Hollywood
---
UPDATE: Feb. 23, 2022
LOS ANGELES — The Los Angeles City Fire Department (LAFD) debuted the nation's first Rosenbauer electric fire engine, expected to be delivered in early May.
When the truck comes to a standstill, the engine is automatically deactivated, reports ABC7.
Outgoing Fire Chief Ralph Terrazas tweeted a photo of the Rosenbauer engine on Friday.
Take a look at our new #LAFD electric engine! It'll be the 1st in the Nation! We are expected to take delivery by early May. It will be assigned to Hollywood's Fire Station 82. pic.twitter.com/q09Mi7eBho

— Chief Terrazas (@LAFDChief) February 19, 2022
---
Original report: Feb. 10, 2020
By FireRescue1 Staff
LOS ANGELES — The Los Angeles City Fire Department (LAFD) announced on Monday that it is purchasing an electric fire engine from Austria-based manufacturer Rosenbauer, making it the first fire department in North America to have an electric engine in its fleet.
Based on Rosenbauer's Concept Fire Truck (CFT), the engine will be customized for the specific needs of the LAFD while meeting all of the safety standards set forth by the NFPA, according to the release posted to the department's website.
The LAFD expects to take delivery of the new engine in early 2021.
"I am excited that we are the first Department in North America to order this cutting-edge fire engine," LAFD Chief Ralph Terrazas said in the statement. "The electric fire engine is an innovative tool that will help reduce noise and harmful diesel emissions while providing a flexible tool for firefighting and rescue operations from a technologically advanced platform."
The engine is expected to be assigned to Fire Station 82 in Hollywood.
"We believe it's a good fit there," Terrazas told KTLA. "We have the brush threat, we have narrow roads with all the congestion."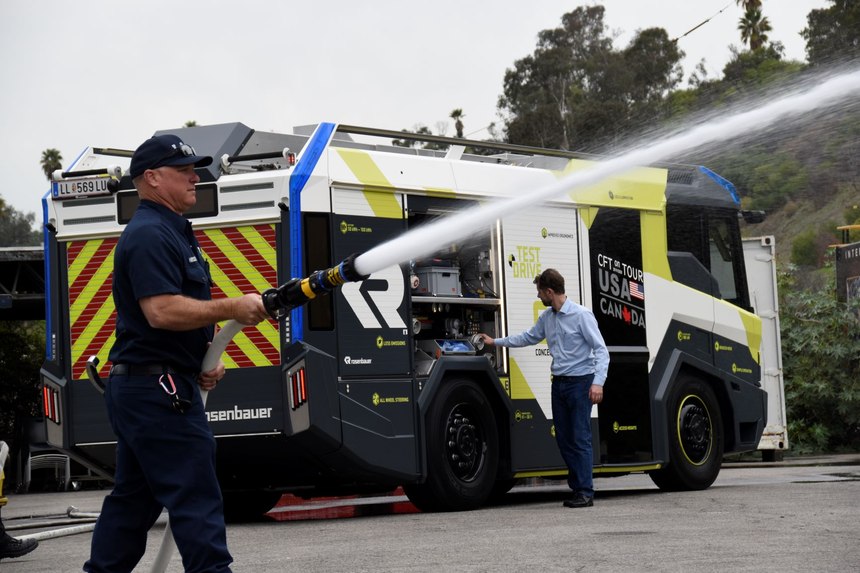 The pre-series engine based on the CFT will have two batteries with a charge capacity of 100-kW hours. Per the statement: "This enables fully electric operation for roughly two hours and an on-board diesel generator can be activated for extended operations. The LAFD will equip the station that houses the electric engine with rapid-charging technology to ensure the apparatus is always ready to respond to calls for service."

Request product info from top Fire Apparatus companies
Thank You!