Mo. fire truck burns after hitting power line
"It's an unfortunate incident, but the fact that nobody is hurt is really critical, especially when you're dealing with power lines of this magnitude," Battalion Chief John Metz said
---
COLUMBIA, Mo. — A fire truck was heavily damaged after its ladder hit a power line during routine maintenance Sunday morning.
ConnectmidMissouri reported that firefighters were checking the truck's systems after getting it back from a maintenance facility when its ladder hit some overhead power lines. Firefighters were able to jump away from the truck and were unhurt, according to the report.
Crews were able to get the flames under control but were not able to finally put them out until Columbia Water & Light cut power to the area, according to the report. Officials say that briefly left about 500-1000 people without power.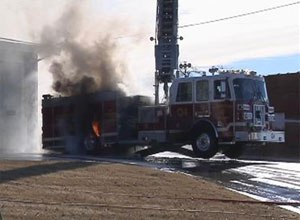 Battalion Chief John Metz said there was no damage to the station and is relieved there were no injuries.
"It's an unfortunate incident, but the fact that nobody is hurt is really critical, especially when you're dealing with power lines of this magnitude," he said.
Chief Metz said the city would bring in a reserve truck to keep the station fully equipped while the damaged truck is out of service, according to the report. The truck's equipment box is heavily damaged but the crew cabin and chassis seemed intact. 
Firefighters involved in the incident were given the rest of the day off.