Pierce to display 14 fire trucks, including 2 electric apparatus, at FDIC
The Pierce Volterra Pumper is the first electric fire engine in active service in North America
---
By Leila Merrill
APPLETON, Wis. — Pierce Manufacturing Inc. will present a variety of fire apparatus and technology at FDIC later this month. A big focus will be North America's first-in-service and fully U.S.-manufactured electric fire truck – the Pierce Volterra Pumper.
Pierce's display will be in the north end zone of Lucas Oil Stadium. It will include 14 fire trucks.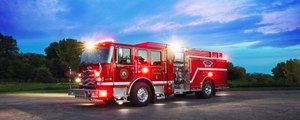 The electric truck display will include two pumpers plus charging infrastructure options.
The Madison (Wisconsin) Fire Department's recently retired Chief Steven Davis and Assistant Chief Scott Bavery will be on site and available to answer questions about the electric truck.
Lisa Barwick, vice president of marketing for Pierce's Fire and Emergency Segment, shared: "We're excited to welcome Fire Chief Steven Davis from The City of Madison Fire Department and EnTech Solutions to our 2022 FDIC booth. Visitors will have the opportunity to hear first-hand from these representatives about the performance of the Pierce Volterra electric pumper, its charging infrastructure, and the impact on reducing emissions and improving firefighter safety; all with no compromise on features, performance, or functionality."
Portland (Oregon) Fire & Rescue's Pierce Volterra electric pumper will also be there.
FDIC will take place April 25-30 in Indianapolis.