Poll call: Is your department considering an electric apparatus purchase?
Readers weigh in on their department's interest in adding an electric apparatus to their fleet
---
In a recent poll, an overwhelming majority of FireRescue1 readers said their department was not considering the purchase or even researching the possibility of adding an electric apparatus to their fleet.
The resistance and skepticism surrounding the topic is not surprising, said FireRescue1 Executive Editor Chief Marc Bashoor: "By nature, most of us are slow to accept change, especially big change, and I'd say the change from ICE to electric-powered apparatus is a pretty big change."
While people have real concerns about the reliability of electric apparatus, the "all-or-nothing approach" to the debate is creating an obstacle to the inevitable, Bashoor says.
"Maybe it's the way we have approached the topic, or maybe it's the way the government has broached the subject – I don't know. But what I do know," he said, "is that fossil fuels do not have an unlimited supply, and our consideration of alternative power sources is critically necessary."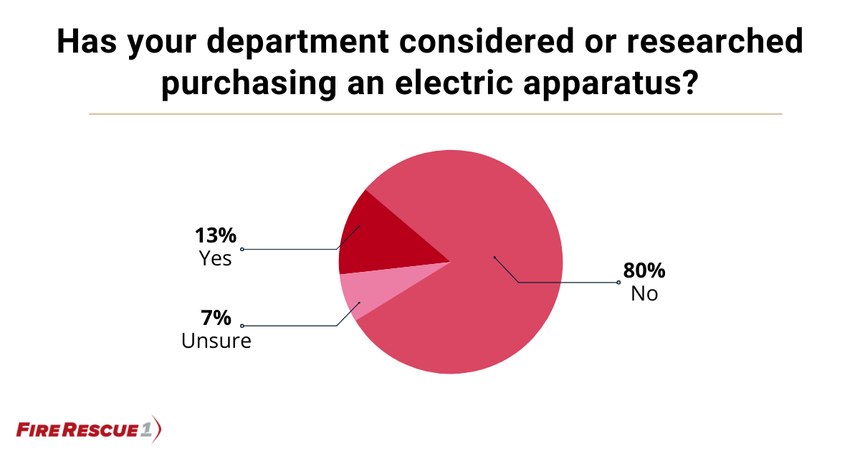 Despite the strong reader reaction, line items for electric vehicles and related services are making their way into department budgets:
The bottom line, Bashoor said, is maintaining departments' ability to move forward and continually meet the community's needs.
"Just like every other big change in the fire service, we need to keep focused on the bottom line, which is the service to our communities," he said. "If we can continue to provide the same or better service with these units, then I suspect they'll become just as mainstream as motorized fire engines after taking over from horse-drawn steam engines – eventually."
What FireRescue1 readers are saying
I think it isn't so much a fire dept asking for EVs but the politicians and bureaucrats demanding the dept's to get them."
We could buy two engines or 1 ladder for the price of an EV. So right not it's not smart use of tax payer [dollars]."
The amount of the uninformed on here is staggering. I'm not an EV fan but at least I'm aware of how they work. EV in this case is a misnomer as they are more of a hybrid. They have what they call 'range extenders,' which is basically a diesel generator and have a diesel engine for the pump if needed. There is no 'we can't respond because we're charging our truck' or 'the batteries died on scene.' I do not believe that EVs are the answer, as the method to produce them is just as bad for the environment as a fossil fuel vehicle is. It's a political stunt. Besides, most departments couldn't afford the cost differences."
Fire trucks aren't meant to get good fuel economy, and for that matter, they should be excepted from EPA emissions like military trucks are. I totally like the concept of a battery engine; however, depending on something for an emergency and life safety and with the added wear and use a common fire engine goes through, I think this is a far reach idea that won't hold up long term and isn't cost effective."
Those might work in the winter in LA, but they certainly won't up here in the winter in NH."
Our town is volunteer no way could they afford the price tag on an electric unit."
This is too far forward; people need to come down with their forward thinking. We just got over the BUCKET Brigades and using a hose and pump ... what's next, using a helicopter for fires??"
Will the time come when this is standard? I absolutely think it will. Is that time now? Not at all."
And how are those supposed to work after a natural disaster like a hurricane where there's no power for weeks?"
Additional resources for electric apparatus
---

Read more:
'Yesterday's crazy is today's obvious': Electric apparatus in the fire service
Having seen the units in person, it's time to address some common naysayer reactions
---

Request product info from top Fire Apparatus companies
Thank You!