Rapid Response: Protests prompt fire departments to consider their 'must-saves'
Minneapolis protests highlight the need for contingency planning for fire/EMS facility and apparatus security
---
What happened
The City of Minneapolis is ground zero for the latest expressions of social unrest.
Protests and riots erupted amid anger over the death of George Floyd, a 46-year-old black man arrested by police officers, one of whom held Floyd face down on the pavement with a knee on Floyd's neck.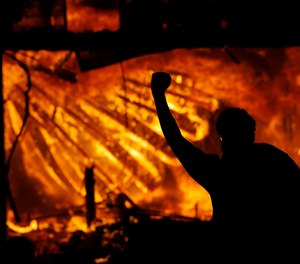 The video is painful to watch. Floyd pleads with the white officer, "I can't breathe, I can't breathe."
Equally painful to see is an off-duty Minneapolis firefighter telling the officer to check Floyd's pulse. An officer tells the firefighter to "get back."
Once the fire/EMS department was called, medics found a pulseless patient, delivered a shock, and loaded the patient for transport, all detailed in the fire department's report.
According to the Star Tribune, for nearly an hour, first responders and ER staff at the hospital tried to revive Floyd. Approximately 90 minutes after his initial encounter with Minneapolis police, Floyd was pronounced dead.
The public backlash was predictable. We know from our tragic history lessons that little good will be on the horizon for the Minneapolis public safety team as events unfold.
Although the police department took swift action, terminating the four officers involved in the incident, the groundswell of outrage was already building.
The event evokes memories of the protests in Baltimore after the Freddie Gray case, the unrest in Ferguson, Missouri, after the Michael Brown case, and protests in New York after the Eric Garner case, this time with the Minneapolis Fire Department in the middle of a community's desperate search for a sense of justice. Additional protests of solidarity have occurred in California and Tennessee.
Following the initial riots, the Minneapolis Fire Department reported that it responded to approximately 30 fires, including 16 structure fires since Wednesday night. A Wendy's restaurant, an AutoZone auto parts store and a public house complex under construction were destroyed by fire. A Target store and Cub Foods grocery store were damaged by fire. Additionally, the 7-SIGMA headquarters suffered extensive fire damage. 7-SIGMA is a polymer manufacturer that supplies EMS training mannequins and burn-injury material. Perhaps not surprising, a police station was twice surrounded and was seen burning on the third night of protests.
Minneapolis Fire Chief John Fruetel said in an interview with CNN: "We tried to get into that area [where the precinct was burning], and it was determined at that time that the scene was untenable. We have to really consider the safety of our firefighters in those areas. We are being very, very cautious."
Acknowledging the pain and suffering experienced by Floyd's family, Minneapolis Police Chief Medaria Arradondo has apologized, commenting that his department had contributed to a "deficit of hope … I am absolutely sorry for the pain, devastation and the trauma that Mr. Floyd's death has left on his family, his loved ones and our community."  
Why it's significant
Firefighters are typically prepared for anything that comes their way. With the exception of the police station, every one of the fires listed above fits the "bread and butter" nature of what we do. However, the potential to be surrounded by hundreds of protestors, including some armed and angry citizens, changes the fire service dynamic completely.
While the MPD notes that most protests have been peaceful, they have had to deploy tear gas and rubber bullets in response at some events. And Wednesday night's events turned violent, with multiple individuals shot and one killed.
Protests have persisted at least three nights, with little room for public safety personnel to catch up or have much sense of normalcy – all the while continuing to deal with the COVID-19 cases and the normal call volumes for non-protest-related activity.
I recall driving the National Guard-lined streets of Baltimore at the height of the Freddie Gray case. Prince George's County (along with a long list of other jurisdictions) sent several strike teams of fire apparatus and staff to Baltimore to assist. Meeting with our crews in quarters of Baltimore fire stations, the sense of urgency and fear was palpable on the street and in the stations.
While it's still very early for Minneapolis, as we look back at Baltimore and Ferguson specifically, the Minneapolis Fire Department can expect to have law enforcement either riding with them or alongside as they work to keep conflagration-like conditions from overtaking communities. There will be no "routine" calls during this time. Similar to how COVID-19 altered fire and EMS responses, protest and riot conditions will certainly change protocols.
Key takeaways
The incident is still unfolding, but we can identify a few early takeaways from these events:
Fire and police departments MUST work together every day to ensure they're able to seamlessly – and immediately – switch from the normal and routine to the unknown and potentially dangerous.
While many may think protests and riots of this nature are uncommon, fire and EMS departments must ensure that they have contingency plans in place for such response efforts. Ask these questions:

What are your protocols and contingency plans for crowd control and fire/EMS facility and apparatus security?
How far will your fire and EMS personnel go?
How far will you let law enforcement go, with your equipment?
Will you participate in multi-agency rescue task force operations?
Will your personnel wear body armor or body cameras (if you have them)?
What is a "must-save"? We will not be able to simply wait on the sidelines in all cases, so it's important to know where lines are drawn.

As difficult as it may be for some, it is critical for fire and EMS departments to focus on the mission and distance themselves from the temptation to engage in the social fracas and fray.
What's next: Observe, review and learn
The expression "train like you fight, and fight like you train" takes on a different look when we talk about riot response.
Chiefs should keep a watchful eye on things as the Minneapolis situation unfolds. Whether it's spreading community discourse, social media shenanigans from our own folks, or just the everyday events, this should be a time of heightened alert.
This is a good time to remind your members about social media discipline. While social media can get folks in trouble any time, social media during times of social unrest provides additional reason for pause. While the temptation may seem great for some, no firefighter's job description that I've seen lists social justice as a job responsibility. Talk with your people, stay together, and make sure you work your plan – don't let the plan work you. Do what's right now and every time.
Be prepared for the unknown and the unexpected. Like tactical paramedicine, rescue task force planning, and even the recent explosion in Los Angeles, not everything fits into a nice tactical Firefighter 1 or 2 box.
Amidst the continuing unseen threats surrounding COVID-19, the Minneapolis Fire Department is tackling another unexpected community disaster. As after-action reviews are completed, we should all have plenty to take away for our own contingency planning.

Request product info from top Fire Apparatus companies
Thank You!