Product Round Up: Apparatus Accessories
---
FireRescue1 is focusing on news and information about Apparatus Accessories throughout the month of November, 2010. Check out some of these great apparatus accessories currently on the site:

Disclaimer: The products and companies in the below Round Up are sponsors of FireRescue1.com. Their inclusion in this article is for informational purposes only and does not represent an endorsement by FireRescue1 or its editorial staff.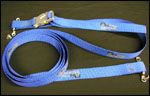 Quick Release Cargo Straps from On Scene Solutions

Equipment cargo straps from On Scene Solutions feature an aluminum, shatter proof buckle and are designed for easy release with gloved hands. Straps are available in lengths from 12" to 123" long and are shipped complete with mounting hardware. Straps may be ordered directly from their web site where same day shipping is standard. Check out equipment cargo strips online or call 1-970-461-8731.

Custom Reflective Graphic Kits for Fire Staff Vehicles from Grafix Shoppe

Grafix Shoppe is your best source for all types of graphics for your fire department's vehicles. We can help you maintain a consistent look across all vehicles in your fleet by modifying your design to fit them all. Visit Grafix Shoppe website for more information on reflective graffic kits or call 1-651-683-9665.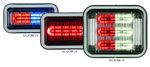 PriZm™ II Perimeter Lights from Code 3® Inc.

PriZm™ II technology from Code 3® Inc. is now available in perimeter lights. This patent-pending dual reflector LED technology provides a brighter signal for superior visibility and safety. PriZm II Perimeter Lights are available in amber, red, blue, white or green LEDS. PriZm II 12-LED lightheads feature an option for a left/right split pattern. For more information call 1-314-426-2700 or check out perimeter lights online.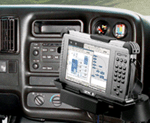 RAM Getac Tablet Mounts

RAM is your best choice for the GETAC E100 Tablet & Getac 840XT by Tablet Kiosk. Able to connect to the E100 or 840XT in seconds, RAM can get your tablet exactly where you want it so it's easy to read and use. Order a complete kit and an extra base of your choosing and transfer the E100 or 840XT Tablet with ease to another location. Simple design that will not block or interfere with any function of the GETAC E100 or Getac 840XT by Tablet Kiosk. Visit the website for more information on getac tablet mounts or call 1-206-763-8361.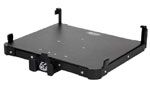 Panasonic Semi-rugged Cradle from Gamber-Johnson

CF74 Cradle from Gamber Johnson secures the Panasonic Toughbook 74 computer on all sides to ensure user safety in the mobile environment. It is designed for ease of use, the computer can quickly be inserted and removed from the cradle with a simple push of a button. Cable strain relief holes are provided on the cradle to prevent interrupted service caused by wire disconnection. Check out the Toughbook 74 Computer Cradle online or call 1-715-344-3482.


Fire Truck Graphics from Municipal Graphics

Municipal Graphics specializes in the design, manufacturing and application of high quality vehicle graphics. With the use of the latest technology and equipment. Municipal Graphics can design and install a new graphic package or replicate an existing one at an affordable price. For more information visit municipalgraphics.com or call 1-800-960-0925.



For more information on apparatus accessories, visit the FireRescue1 Apparatus Accessories Section at https://www.firerescue1.com/fire-products/apparatus-accessories/.