PRESS RELEASE
Cambridge Springs takes delivery of Toyne Pumper Tanker/Tender
---
Cambridge Springs, Pa. — Making the 850-mile journey from Toyne Fire Apparatus' headquarters in Iowa to the Cambridge Springs Volunteer Fire Department (CSVFD) in Pennsylvania, the department has received delivery of a fully customized pumper tanker/tender. This delivery represents CSVFD's second Toyne apparatus.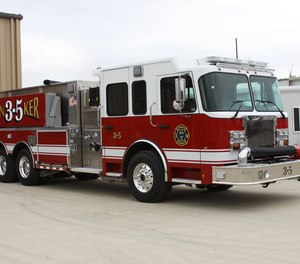 Established in 1919, CSVFD has served Cambridge Springs and the surrounding township for over a century. The department's 45 volunteers dedicate themselves to protecting the community with top-tier equipment and training. Their new Toyne Tailored Apparatus is the latest tool to help accomplish that mission.
As a Toyne Pumper Tanker/Tender, CSVFD's apparatus is built to be a versatile platform that packs a punch when taking the call. The body was stall built with bolted painted stainless steel. Configured to support the department's needs, designs called for features such as a Zico quick-lift ladder and hard suction hose rack, custom storage solutions (slide-out storage trays and SCBA compartments above the wheel wells), and a Zico hydraulic porta-tank rack that allows firefighters to quickly deploy a portable tank.
For a superior water supply on the scene, the department can utilize the apparatus' 2,500-gallon UPF tank and 2,500-gallon Syntex portable tank. A rear 4-inch direct tank fill and a rear manual swivel dump further assist water movement operations.
This rig is equipped with a Waterous CSU pump capable of moving water at 1,500 GPM. Firefighters can improve their response effectiveness with a Foam Pro 1600 Class-A foam system and 25-gallon foam cell. An added Elkhart Stinger 2.0 monitor strengthens the department's operational flexibility.
The pumper tanker/tender body is mounted on a Spartan FC94 MFD 6x4 chassis. Powering this behemoth is a 450-horsepower Cummins ISL9 engine and Allison 3000 EVS transmission. The Spartan cab has a 10-inch raised roof for additional headroom and can seat six firefighters.
"We are proud longstanding partners of the Cambridge Springs Volunteer Fire Department," said Bill Bird, Toyne Product Support Coordinator. "They trust us to manufacture quality apparatus, just as Cambridge Springs residents trust them to protect the community. Their Toyne Pumper Tanker/Tender will help them in that task, and we look forward to working with them in the future."
Tri-State Fire/Randy Smalley sold this highly capable Toyne apparatus, on behalf of Toyne, to the CSVFD. Based out of Monogahela, PA, Tri-State Fire serves southwest Pennsylvania and northern West Virginia.
See this department's apparatus in action; visit Facebook.com/Cambridge-Springs-FireRescue.