Hot New Products at EMS EXPO
---
By Dan White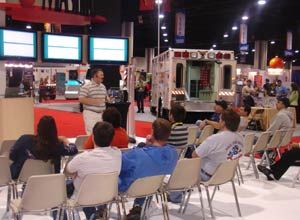 Photo Dan White
In addition to promoting the sale of their products, EMS vendors also taught classes on how the newest technology works.
This year's EMS EXPO in Atlanta had something for everybody. Not only were there EMS product companies on display in the exhibit hall, but fire and police firms were also represented. While there were not as many new products this year as last, some could have an enormous potential impact on pre-hospital care. I also noticed an evolving trend towards more vendor-sponsored education.
An increasing number of companies offered educational programs right inside the exhibit hall. Masimo, Physio-Control, Zoll, Phillips, and Bound Tree Medical each had small classrooms in their booths. Several times each day they ran mini-seminars on their latest technologies and the science behind them. Many featured lectures by high-quality clinical educators. I've always believed that educating customers on the proper use of technology is a great idea. Seeing this trend catching on is a wonderful new development.
Several outstanding new products were introduced at EMS Expo. The first company to catch my eye was Thornhill Research, who demonstrated two very exciting new products pending FDA approval. Thornhill was demonstrating two very exciting new products, one entering clinical trials and the other pending FDA clearance.
The first device is the ClearMate™, an innovative new treatment for CO poisoning. The ClearMate™ eliminates CO by hyperventilation. It delivers oxygen while infusing in CO2 to prevent a drop in brain blood flow typically brought on by hyperventilation. Carbon monoxide poisoning is the leading cause of poisoning deaths. Having a definitive field treatment the size of a briefcase should prove of enormous potential value. Initial reports show the ClearMate™ offers therapy comparable to a hyperbaric chamber. This device is perhaps the first new treatment for CO poisoning in over 100 years. I could easily see it quickly becoming a standard of care.
A military history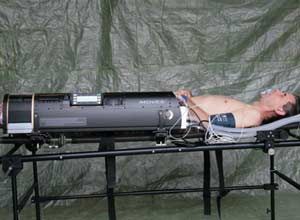 Photo Thornhill Research
The MOVES™ system monitors ECG, SAO2, ETCO2, temperature, and invasive and non-invasive blood pressures. It has a built-in ventilator, which is supplied by a built-in oxygen compressor.
Thornhill also displayed MOVES™, which is perhaps the most sophisticated multi-parameter monitor and mobile treatment system ever devised. It is of obvious military heritage, delivering an impressive variety of functions in a very compact and rugged form factor. The MOVES™ monitors ECG, SAO2, ETCO2, temperature, and invasive and non-invasive blood pressures. It has a built-in ventilator, which is supplied by a built-in oxygen concentrator. Pressurized oxygen tanks are a huge liability in the tactical theater, and this device does away with the need for them. I watched while the MOVES™ concentrator delivered almost 50 percent O2 instantly from room air. It can even recycle expired oxygen from the ventilator, to push the FIO2 as high as 87 percent. This thing is truly the next step in integrated therapy. It was one of the most impressive new products at EMS Expo this year.
The basic concept is not entirely new. The LSTAT was a life support litter or "tube" developed about 10 years ago that contained all the typical critical care treatment and monitoring devices, but in a device that was too heavy for practical use. Everything was tied together with the wireless technology of the day. The theory was that physicians somewhere in a basement at Walter Reed could remotely monitor and even adjust treatment for soldiers inbound by air transport. Its successor is a suitcase-sized intensive care unit called the MEDEX 1000, today manufactured by Integrated Medical Systems.
During every armed conflict, EMS technology goes through a spasm of intense development. With each new war, we get a sudden influx of new treatments pioneered on the battlefield. I believe systems like the MOVES™ and MEDEX 1000 will become commercially viable for use by paramedics. During peacetime, EMS will be the market that needs them the most.
The ultimate mannequin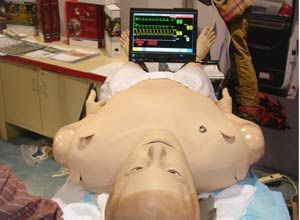 Photo Dan White
The SimMan 3G is a simulation mannequin that provides electronic responses, giving instant feedback and evaluation.
A close second for best new product was the incredible new SimMan 3G from Laerdal Medical. The SimMan 3G is a combination of hardware and software plus a simulation mannequin that is beyond anything ever seen before. You cover his eye and the pupil on that side dilates. It knows when you push the wrong drug or the wrong dose. Everything operates wirelessly and seamlessly for up to four hours. The instructor in the next room can hear you through the microphone in his ear and speak to you through the remote speaker. If you treat him roughly, he can complain, and when you do a considerate job, he can thank you. The full features and functions list is astounding, from simulating complicated airways to offering tibia and sternal IO access. It can simulate every conceivable malady of almost any type patient — the only thing it can't do is vote.
Sometimes it's the simple ideas that have a huge impact. One such new product at EMS Expo was the S3 Oropharyngeal Evacuation Tool, from SSCOR. Most already know how carefully engineered and functional SSCOR suction products can be. Their latest is no exception. It's a most simple concept carefully refined and evolved into a preferred tool for every airway kit.
The SSCOR S3 is a rigid yet flexible large bore suction tip, which is a replacement for your typical yankauer. It has an internal aluminum malleable stylet, so it can be instantly formed to the desired shape. At the tip, it features a large scoop or spoon for rapidly removing chunky emesis that will not travel through a large bore suction tube. It has a thumb vent with an innovative sliding cover. You can leave the hole covered and slide the S3 down the posterior pharynx to hold emesis at bay until you can pass an ET tube over the top of it.
I can remember every instance when I have had to sweep out the mouth with my fingers. The reason I still remember is because it always scared me a little. I just don't like sticking any of my body parts into the mouths of strangers; sorry, it's my preference. The SSCOR S3 will make the finger sweep obsolete and not a single day too soon for me.
What's hot in hypothermia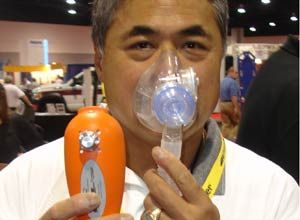 Photo Dan White
O-TWO's new CPAP device is more compact than previous models.
There were also some other exciting new products on display, including two new cooling boxes. Hypothermia therapy is heating up in EMS. One was from Engel USA, a market leader in portable cooling technology. Their new version both heats and cools. It can hold up to six liters of IV fluids, plus some medications. It has a bright LED temperature display and pulls only three amps per draw.
The other new cooling boxes were found in the Lifebox line from Faratec, Inc. They feature thick carbon insulating panels able to maintain internal temperatures for over 50 hours.
The box also has a digital thermometer. It's not an active powered system like the Engel, but for use as a super-rugged cooler for wilderness applications or organ retrieval teams it can't be beat.
There was also a new pair of CPAP options on display. O-TWO Systems demonstrated their new compact stand alone hand-held CPAP device. The new CareVent CPAP product provides leak-compensating, variable-pressure support just like a table-top unit, yet it fits in the palm of your hand.
Since therapy is controlled inside, the device can use a less expensive type of disposable circuit. It's the smallest high-pressure oxygen-powered device of its type on the market.
O-TWO also demonstrated the first "AED of Resuscitation," the new CareVent PAR (Public Access Resuscitator).
This compact one-button pneumatic system offers time-cycled, volume-constant ventilation suitable for use by even the most basic of first responders. The other new CPAP product at Expo was a new disposable device from Mercury Medical.
The Flow-Safe CPAP System is a disposable hyper-oxygenating mask with PEEP, somewhat similar in appearance to the popular Boussignac CPAP from Vitaid, Ltd. The Flow-Safe has a built-in pressure manometer so you know exactly what PEEP you are delivering. It also may afford higher flow rates at lower flowmeter settings. All CPAP devices consume a lot of oxygen, so anything that promises to use it more efficiently is always welcome.
LEDs and laryngoscopes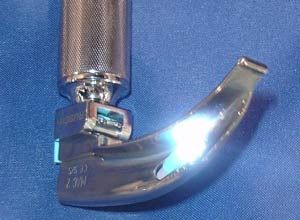 Photo Dan White
The EquipLite offers LED illumination with the additional features of a welded tip, color-coding, and recyclable construction.
On the airway management side, new LED-illuminated laryngoscopes were displayed. Particularly on a disposable laryngoscope blade, LEDs make a great deal of sense. They deliver a bright and uniform white light without consuming much battery power or producing a lot of heat. SunMed introduced its new LED Disposable at EMS Expo. It features a metal blade with a plastic conventional heel and a formed tip.
Teleflex Medical demonstrated its Rusch EquipLite disposable LED blade. The EquipLite offers LED illumination with the additional features of a welded tip, color-coding, and recyclable construction. Yours truly gave a handful of key distributors a sneak peek at a new reusable stainless steel LED laryngoscope blade from Truphatek International.
LEDs give a much better quality of illumination than was previously delivered with only expensive fiber optic blades. Another big advantage they offer over conventional blades is to eliminate the central shadowing typical with an incandescent bulb.
Remember playing with a flashlight as a kid, and noticing the shadow in the middle of the light? That is a shadow caused by the filament inside the bulb. LEDs have no filament and therefore do not cast a shadow in the middle of your sight picture.
On the garment side of things, AllMed introduced its latest uniform pants for EMS. The big news is the new female cut versions. These were developed with the input of dozens of female EMS professionals.
For years, I listened to my female partners complain about how the men's EMS pants they were issued to wear just did not fit very well. They also sold quite a few of my latest new EMS duty coat design, the AllMed Summit. The Summit is a dual ANSI-certified duty coat. It meets the Federal Highway Standards either when worn as a coat or with the sleeves removed as a safety vest.
Smaller, faster ultrasounds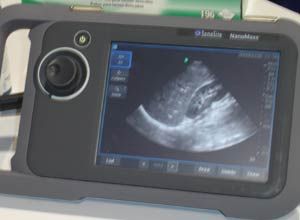 Photo Dan White
The new Sonosite ultrasound device has been drop tested at three feet and weighs six pounds.
Last was a pair of portable ultrasound devices. One was the Siemens Acuson P10, the world's first pocket-sized ultrasound. It powered up almost instantly and weighs only 1.6 pounds. Ultrasound could one day very soon to be an invaluable tool for EMS providers. It could allow faster and more accurate care decisions by providing important clinical information in the field.
The other was the Sonosite NanoMaxx. This new ultrasound device is very durably constructed. It's been drop tested at three feet and weighs six pounds.
It has a larger 8.4" high resolution screen with large, easy-to-see icons. It also features a USB port for patient data transfer and a long two-hour battery life.
EMS Expo in Atlanta was an exciting conference in a beautiful city with fabulous food. Pitty Pat's Porch was still as great a restaurant as I remembered. Most of the attendees I spoke with really enjoyed the conference events and programs. Everybody in the exhibit hall could sense some positive changes taking place. Rather unexpected was all the social media coverage and networking going on.
The ProMed Network — with Jamie Davis of the MedicCast, Chris Montera of the EMS Garage, Carrisa O'Brien of RedBox Communications, and Thaddeus Settla of Setla Productions — held numerous live streamed internet events inside the hall. For the very first time, people on the other side of the country could get a real feel for what was going on. Check out the link here for more of their coverage of EMS Expo.
All the media attention really brought a new sense of excitement to EMS Expo. I can't wait to see what's in store for us next year. This year's Expo will be pretty tough to top. EMS Magazine and Cygnus Public Safety have once again set the bar even higher with this year's fantastic event.
Dan White, EMT-P, is the National Sales & Marketing Director for Truphatek, Inc., and was previously the director of Corporate Planning & Product Development for AllMed®. He has been continuously certified as an emergency paramedic since 1977, and a certified EMT, paramedic, and ACLS instructor since 1981.
Dan has designed many emergency medical products since his first one, the White Pulmonary Resuscitator in 1978. His most recent EMS product inventions are the AllMed® AVC Helmet, RapTag Triage System, and the top-selling Ultra-X Coat. To contact Dan, email dan.white@ems1.com.