Miami firefighter honored for giving air to trapped victims
---
By FireRescue1 Staff
MIAMI — A Miami-Dade firefighter who relinquished his air pack and mask to trapped individuals during a fire on a yacht was acknowledged for his rescue efforts Thursday.
Firefighter Nicholas DiGiacomo was given the International Benjamin Franklin Fire Service Award for Valor at Fire-Rescue International in Dallas.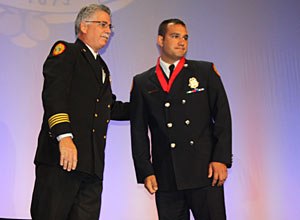 "What makes his tale so compelling is not only did he risk his own life, but he have up his own equipment to save lives," said Kelly Kirwan, corporate vice president of Motorola, which co-sponsors the award with the IAFC.
"It's a story of quick thinking, decisive action and courage from a responder five years into the job."
The dramatic actions and subsequent rescue took place in March last year when Miami-Dade Fire Rescue responded to a call from the Coast Guard reporting a fire at the Miami Beach Marina.
Heavy flames were engulfing two multimillion dollar yachts, with radiant heat and smoke threatening a third. As Fireboat 1 began its water assault on the side of the vessels, screams were heard from one of the yachts. Moving toward its bow, the crew saw hands frantically signaling from a porthole.
Two people were trapped inside, both holed up in a bathroom below the main deck, running the shower to shield themselves from the heat and gasping for air through the porthole amidst heavy flames and high winds.
Firefighter DiGiacomo and his officer in charge then leapt aboard a private fishing boat that pulled alongside — the only vessel that could get close enough. Using a chainsaw and K-12 saw, they worked to open the fiberglass hull, which was difficult to cut.
Seeing thick, heavy smoke swirling down to the victims, DiGiacomo immediately removed his mask and passed it through the porthole. He told the victims to breathe through it and share it. He then threaded a hose through the porthole and instructed them to use it to suppress the fire that was threatening their refuge.
Time was running out as fire consumed the yacht. It began to sink and its portholes dipped dangerously close to the water line. As they crouched on top of the bathroom vanity, Firefighter DiGiacomo hooked up a second bottle after the first ran out so they could breathe.
After 40 minutes, the hull was eventually breached and he pulled both victims to safety. They were transferred to a medical center in stable condition.
When later asked about the rescue, Firefighter DiGiacomo said, "When you see people, pressing their faces to the portholes and gasping for air, there's no part of your brain that lets you think they are going to die. It's 'We're going to get them out.'"
In presenting the awad to Firefighter DiGiacomo, Kirwan said, "You truly exemplify the standards all firefighters strive to achieve."