PRESS RELEASE
Air Systems International, Inc. Introduces the Drag-Bag™
---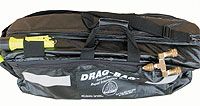 Designed For Rapid Intervention And USAR Teams
Rescue professionals helped design the DRAG-BAG™ system. It is designed to be carried or dragged into the toughest rescue scenarios carrying the air, rope, hose and tools a rescuer would need during rapid intervention and rescue.
Specifications:
The DRAG-BAG™ is constructed externally of 18oz PVC material reinforced with 1000 denier scrim material. The fabric is flame retardant and permanently treated to meet NFPA-701 and California Codes.
Size: 33"L x 11"H x 10"W
Weight: 5.0lbs/12.3kg
Two external zippered pouches: One side pouch for holding up to 300 ft. of Kevlar rope. This pouch has steel grommet outlets, front and rear, to allow rope to pan out without removing it from the bag. The other side pouch is designed to hold up to 25 feet of 3/8" breathing air hose. A reinforced "pass through" hole is provided to connect directly with the air regulator assembly inside the bag. Reflective striping on both sides of bag.
Interior Specifications:
Black reinforced PVC material. Water and mildew resistant with 1/2" dense foam padding on top provides the strength and shock resistance for the most hazardous rescues. Three internal pouches are provided to fit different types of equipment. One large 6"H x 17"L pouch is designed for Motorola radios with an extended battery pack. Two 4"H x 7"L pouches are provided for small equipment like a man down alarm or First-Aid supplies.
The special nylon cylinder/regulator frame assembly (DRAG-REG) has been designed specifically for use in the DRAG-BAG™ . Install a 30 or 60 min. 4500psi cylinder on the frame and secure firmly with an adjustable cylinder strap. A pressure gauge, safety relief valve, CGA-347 hand tight nut, an adjustable air pressure regulator preset at 100psi are provide as standard. A 1/4" industrial interchange coupling is supplied on the frame for air hose attachment. DRAG-REG Frame Size: 27"L x 9"W Weight w/o cylinder: 6.4lbs