PRESS RELEASE
Hale Unveils New High-Volume Booster Pump Kit for Firefighters
---
SideKick™ 500/750 Offers More Flexibility, Makes Fire Apparatus Safer
CONSHOHOCKEN, Pa. — Hale, a pioneer in the fire and rescue equipment industry, has launched SideKick™, a 500/750 high-volume booster pump kit. This is the latest addition to Hale's extensive line of industry leading pumps and easier-to-use foam and compressed air foam systems.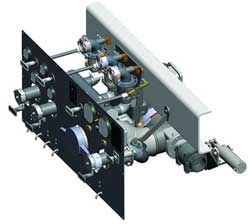 The SideKick can be installed below the chassis top of frame, allowing more space for body components or additional tank capacity. This compact, innovative design results in a lower center of gravity, making vehicles easier to handle and safer to operate. 
"Hale has spent almost 100 years developing products that directly address efficiency and safety issues that firefighters face each and every day," said Bruce Lear, vice president of sales and marketing, Hale.  "This commitment continually drives our design and the new SideKick is no exception.  We are proud of this innovative pump and expect that it will help to streamline fire engine operations and design." 
Ideal for a variety of fire suppression vehicles, such as tanker, small compact, rescue and midi pumpers, as well as for rural urban interface apparatus and initial attack apparatus, the SideKick features all stainless steel plumbing and manifolds for maximum corrosion resistance. The pump is outfitted with the Class 1 TPG, the most advanced and safest pressure governor available, and it features a quick pump service drop out to make repairs fast and easy. 
The SideKick exceeds all industry ratings and requirements and includes a stainless steel pump panel that can be installed in the side compartment or hung below the apparatus body as a free-standing panel on a simple frame with brackets.
About Hale
Hale, based in Conshohocken, Pa., is a fire and rescue equipment company founded in 1914 by three Pennsylvania firefighters who believed they could build a better fire pump. Today, the company has grown through new product innovation and strategic acquisitions to supply pump modules, compressed air foam systems, electronic controls and valves. For more information, visit www.haleproducts.com.