PRESS RELEASE
Scott Safety Introduces Lightest and Smallest Cylinder to Fire Service
---
The new 5500 psi cylinder improves the industry-leading Air-Pak SCBA
Monroe, NC – Scott Safety, a global leader in innovative personal protective equipment, is pleased to announce a new advancement in fire service technology with the introduction of 5500 (5.5) psi cylinders.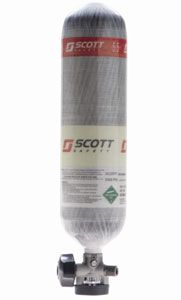 The 5.5 cylinders maintain SCBA form, familiar to users, but with up to an 11 percent reduction in profile and up to 15 percent reduction in weight to reduce user fatigue. Another benefit is the ease of department integration without costly infrastructure changes.
"Scott Safety listened to the fire service's need to reduce the weight of the complete SCBA. Scott's new 5.5 cylinders take a concrete step towards addressing this need by allowing cylinder sizes and weights to be dramatically reduced without any other supporting infrastructure changes required," says John Dinning, Scott's Product Line Manager for the North American Fire Service. "In addition, Scott is introducing a new 75-minute cylinder that will be essentially the same size as a current 4500 60-minute cylinder. This extended duration cylinder will be ideal for HAZMAT and RIT applications."
The 5.5 cylinders are available in 30-minute, 45-minute, 60-minute and 75-minute durations. To facilitate integration of the cylinders into the fire service and reduce infrastructure costs to fire departments, Scott Safety worked with leading manufacturers to ensure these products work with existing truck seats and brackets already in the market.
In developing this new technology, Scott Safety has partnered with Luxfer, the world's leading manufacturer of breathing air cylinders. All cylinders have full Department of Transportation (DOT) and Transport Canada (TC) approvals and, as with the entire Air-Pak SCBA, meet the stringent requirements to be called Made in the USA. 
In regards to 5.5 cylinder filling, a standard 6000 psi compressor will be able to charge a 5500 cylinder. The Scott Safety RevolveAir Charge Station has been tested and approved to be used for the higher pressure cylinders.
These cylinders will be compatible with Air-Pak 75 and Air-Pak NxG7 SCBA and will be available for shipment in January 2012 with full NIOSH and NFPA approvals.
 
For more information on the 5.5 cylinders, please visit www.scottsafety.com.
About Scott Safety
Scott Safety, a business unit of Tyco International, is a premier manufacturer of innovative respiratory and other personal protective equipment and safety devices for firefighters, industrial workers, police squads, militaries, homeland security forces, and rescue teams around the world. With five global manufacturing locations, Scott produces products that protect thousands of individuals each day from environmental hazards including smoke, toxic fumes, combustible gases, falling objects, and contaminants. The Scott product line includes self-contained breathing apparatus, supplied air and air-purifying respirators, gas detection instruments, thermal imaging cameras, and firefighter locators.
About Tyco
Tyco International Ltd. is a global, diversified company that provides vital products and services to customers around the world. More information on Tyco can be found at www.tyco.com.

Request more info from 3M Scott Fire & Safety
Thank You!