PRESS RELEASE
Ziamatic Corp. Introduces Strapless "E" Cylinder Bracket
---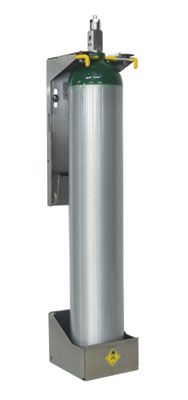 YARDLEY, PA – Ziamatic Corp. (Zico) presents the latest addition to their popular QUIC-RELEASE lineup: the Strapless "E" Cylinder Bracket, Model QR-E-1. With the self-locking QR-E-1, simply place an "E" cylinder in the bracket and press back through the latch to lock it into place – no straps required. The heavy-duty backspring holds the cylinder snugly against the latch and prevents annoying rattling. To release the cylinder, slightly press it towards the backplate, squeeze the levers to disengage the latch, and allow the backspring to push the cylinder forward. With the QR-E-1 there are no straps and no hassles.
The QR-E-1 is designed to hold standard aluminum and steel "E" gas cylinders with or without most regulators and is made with durable, easy to clean stainless steel. The bracket's latch is plastisol-coated to protect your cylinders. The latch handles are plastisol-coated for easy gripping and operation. As the length of "E" cylinders vary, the two components that comprise the bracket can be adjusted during mounting to accommodate your individual cylinders.
The Strapless "E" Cylinder Bracket has three (3) holes for mounting vertically, solo or side by side, and can fit within the dimensions of virtually all current "strapped" models for worry-free retrofitting.
The QR-E-1 is third party tested to exceed current safety standards. Available now. List Price: $279.95. For more information please call 1-800-711-FIRE or visit www.ziamatic.com
About Ziamatic Corp.
Ziamatic Corp. (ZICO) was founded in 1958 with the intention of providing the men and women of the fire services industry with products that make their profession safer and easier. Over 50 years later Zico remains a leader in SCBA bracket and ladder rack technology. For more information, please call 1-800-711-FIRE or visit www.ziamatic.com.

Request more info from Ziamatic Corp. (ZICO)
Thank You!