Recognizing and minimizing the inherent risks of wildfires
OEHS experts offer key considerations related to existing PPE, new respirators and exposure times on the front lines
---
By Dawn Bolstad-Johnson, MPH, CIH, CSP, FAIHA
The forest fires of days past are not the same as current wildland fires, not from a ferocity nor an exposure perspective. Wildfires are getting bigger and fire seasons are lasting longer. Further, the approximately 250 wildfires each year in the Western region of U.S. are not just burning trees; they are incinerating homes, small communities, vehicles and much more.
The wildland crews are fighting untamed, unpredictable wildfires that can quickly change direction and even create their own weather systems. As the fires consume everything in their paths, fire crews are exposed to resultant toxic and dangerous chemicals.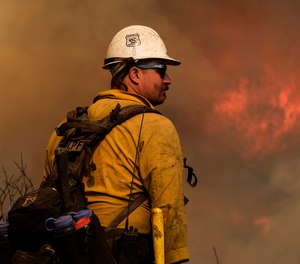 Minimizing the risks to those fighting these wildland fires requires uncompromising protective strategies.
With wildfires burning hotter and faster (keeping pace with a car going 55–60 mph), ash and particles travel through the air over long distances. Effects are seen across state lines: The spectacular sunsets in Phoenix point directly to the effect of light hitting particles from the California fires. What we don't see is what these tiny particles are made of – burned plants and vegetation, remnants of residential or commercial structures, vehicles, household hazardous materials, and a variety of carcinogens, acids, chlorides and cyanide salts.
As an occupational and environmental health and safety (OEHS) professional (aka industrial hygienist), I work with wildland firefighters and other fire departments to assess and advise on proper equipment that will protect them against the dangers of today, and the risks that carry into their tomorrows.
There is a growing concern among OEHS experts regarding the exposures that firefighters, especially wildland firefighters, face without completely understanding the risks. The protection that PPE offers becomes a challenge due to the extra weight that wildland firefighters would have to carry as they hike into the fire.
A NIOSH study on wildland firefighter exposures and associated health effects follows wildland firefighters to better understand the potential chemical and physical hazards they face. This includes a review of the effects on firefighters' lungs, heart, kidneys and hearing, a commonly overlooked hazard, as the noise generated from wildland fires can be deafening, similar to the scene of a structural fire.
In addition, the University of Arizona recently launched a study on cancer risks of wildland firefighters. Wildfires are not less hazardous than house fires, as both have been documented to generate carcinogenic gases during the fire, after the fire is extinguished and in the lingering smoke that can stay suspended in areas for weeks.
Considerations for minimizing risk to wildland firefighters
OEHS experts are helping fire departments identify key exposure risks and protection against these risks.
Some of considerations and recommendations from OEHS include:
Enhance PPE: Wildland firefighters wear goggles to protect their eyes from contaminates. However, while their eyes are protected, their lungs are exposed. Firefighters are often missing additional protective equipment such as particulate respirators, which protect their respiratory system from those same contaminants. The bottom line: Both eyes and lungs deserve equal protection.
Use N95 respirators: Wearing SCBA as a wildland firefighter is not feasible from a weight perspective nor a support perspective (e.g., refilling the breathing air bottles). However, disposable N95 respirators individually wrapped could easily be included as part of their protective gear. While the N95 respirators are likely not sufficient respiratory protection for these firefighters, they are better than no protection at all.
Develop wildland-specific respirators: The U.S. Fire Administration recently introduced lightweight respirators for wildland firefighters. This new Wildland Firefighter Respirator, currently being tested, is a chest-mounted system that weighs less than 1.5 pounds. It relies on filtration and connects to a mask covering only the mouth and nose. A lightweight, flexible breathing hose provides cool, clean air and draws in air from the bottom of the unit to prevent rain or water infiltration. The filters are easily replaceable and inexpensive ($5 –$10 each), and the system runs on regular AA batteries.
Limit exposure times: Another consideration is the amount time that the wildland firefighters spend on the front lines. They are in the plume of the smoke for an average of 14 days. While administrative controls include limiting the time of exposure or the duration of work, this exposure control technique would be hard to employ when the population of wildland firefighters is also camping in the vicinity of the fire. They are never out of the plume of smoke even when their workday is complete.
Considerations for urban fire departments
Urban fire departments, particularly those in the wildland-urban interface, must prepare their crews well ahead of a wildfire threat spreading to their region, as no fire department is exempt from being called to fight a wildfire.
Predictive models show that the wildfire season is extending, and fires are burning hotter. Drought conditions are directly related to the fury of these wildfires. Wildland firefighters used to rely on oak trees to help slow wildfires because they were so moist, but with the current drought situation affecting much of the country, these trees are igniting like brittle timber, giving more fuel to the fire.
With this in mind, the following are special considerations for urban departments:
Know your resources: The wildfires that we have been experiencing the last few years are not behaving in predictive ways. The fires are jumping fire breaks, and hot embers carried by the winds are starting multiple fires simultaneously. These fires can quickly overwhelm any municipal or volunteer fire department. Understanding the strengths and limitations of your departments' resources is critical to the safety of crews and the communities served.
Train, train, train: No matter if the department is large or small, career or volunteer-based, it is essential to have a plan in place and periodically practice the plan through tabletop exercises. FEMA's resource guide "Prepare Your Organization for a Wildfire Playbook" has tools and resources to help community organizations and employers to support preparedness efforts.
Preplan your response: Understanding ahead of time what can be done as the wildfire starts to encroach into populated areas is key to taking appropriate and swift measures. The power is in the preparation as these modern wildfires are moving with speed and fury that is unprecedented.
Seek expert training and guidance
The hot shot crews of "warrior level" men and women are assigned to work in the most challenging parts of the fire. They come face to face and toe to toe with some of the most monstrous fires in current times. These wildfires are not well tamed. They can change direction at any point in time, they create their own weather systems and what gets spared in the path of these wildfires is often left unexplained.
As with all firefighters, wildland firefighters deserve the best and most effective protection that exists, considering the different exposures they face. Working with an OEHS expert who is specially trained and experienced in assessing safety training programs and protective equipment will help preserve and protect firefighters' health for many years to come.
About the Author
Dawn Bolstad-Johnson, MPH, CIH, CSP, FAIHA, has spent 19 years working for the Phoenix Fire Department and over 25 years studying firefighter exposures. She is a fellow of the American Industrial Hygiene Association (AIHA), the association for scientists and professionals committed to preserving and ensuring occupational and environmental health and safety (OEHS) in the workplace and community. She is also the founder and CEO of Kaizen Safety Solutions, LLC. Bolstad-Johnson holds a Master of Public Health degree and is a certified industrial hygienist and a certified safety professional. In 1998, Bolstad-Johnson completed a comprehensive study on firefighter exposures during fire overhaul, "Characterization of Firefighter Exposures During Fire Overhaul." The peer-reviewed study has been cited in more than 230 other studies. She also authored an article on the "Hidden Hazards of Fire Soot" in the American Institute for Conservation of Historic and Artistic Works. In 2018, Bolstad-Johnson authored a book titled "EXPOSED: Carcinogenic Exposures on the Fireground and 11 Work Practices to Minimize the Risk" with proceeds donated to firefighter cancer charities.

Request product info from top Fire SCBA companies
Thank You!