The fire service equivalent of 'one giant leap for mankind'
FireRescue1 community voices opinions on the fire service's most significant advancement in the past few decades
---
By FireRescue1 Staff
As we mark 50 years since one of man's greatest achievements – landing and walking on the moon – it's only natural to reflect on other advancements that have changed society as a whole. But what about the fire service? What developments have revolutionized the industry, forever altering its trajectory?
We asked the FireRescue1 community to answer the question, "What do you consider to be the fire service equivalent of the moonlanding 'giant leap' from the last few decades?" We offered eight options, seven of which received votes.
Positive-pressure SCBA and thermal imaging cameras (TICs) were the top choices in the poll, with 42% and 31% of the votes, respectively. Bunker pants to replace three-quarter boots was a distant third, with 9% of the vote. Flow-path management and NIMS each received 6% of the vote, with digital radios getting 5% and closed cabs 1% of the vote. (NFIRS/NFORS did not receive any votes.)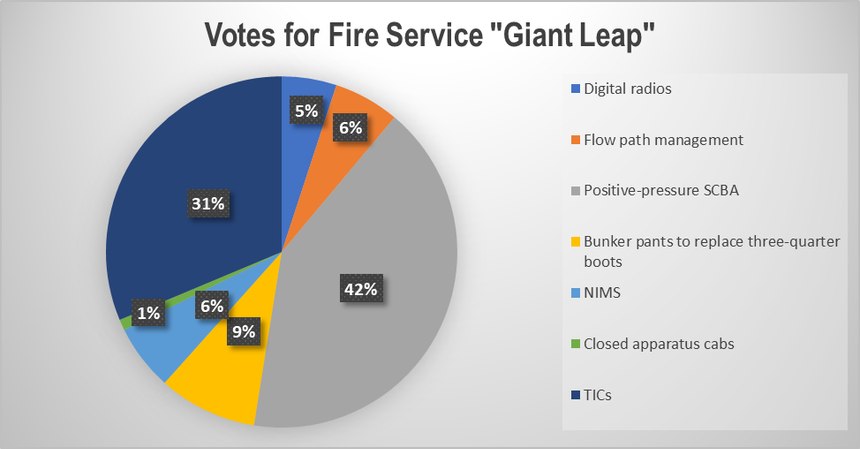 Several members of the FireRescue1.com community weighed in on Facebook as well.
Hayden J. reinforced the popularity of the SCBA vote, noting, "Without SCBA, nothing else matters." He added that, "A very close second I would put presumptive legislation giving firefighters health coverage for cancer from the job."
Gary S. also supported these selections, with a couple more thrown into the mix: "Aerial ladder, SCBA, turnout gear, cancer prevention measures and treatment."
Steven T. added, "Probably nothing bigger than the advent of air packs."
Andy H. acknowledged the space program's role in fire service progress: "Turnout gear advancements, SCBA technology, electronics, including communications – all advancements in part from the space program."
Walter W. commented on the overall impact of research: "Actual fire service research being conducted, proving or disproving long-held beliefs."
FireRescue1 community members noted a variety of other advancements as well: European-style helmets, the centrifugal pump and engine power, PTSD presumptive injury, America Burning, fireground command, fire wipes and the incident command system.
Looking at the "giant leap" from a different angle – one of change – James M. noted the ripple effect of September 11, 2001: "Before that date, fire service innovation was slow and spotty. After, advancements in technology, protection and tactics came so fast you couldn't keep up with it. And while it has slowed some, we still benefit from huge advances."
What's the next fire service "giant leap"? FireRescue1.com Executive Editor Marc Bashoor tackles this question here.
Let us know in the comments what you think about the poll results or Chief Bashoor's proposed "giant leap" ahead.

Request product info from top Fire SCBA companies
Thank You!