What's new in fire department apparatus bay design and technology
Several new technologies are being integrated into apparatus bays to optimize firefighter safety and department efficiency
---
The apparatus bay is so much more than a garage. It is far more complex. It is a space intended for storing and maintaining the most expensive and complicated vehicles on the road, ensuring that they can be quickly and safely deployed when the call for service comes in.
The mechanical systems, structural design and architectural functionality of a fire station's apparatus bays should be designed with both the fire apparatus and firefighters in mind. Let's look at some of the technology and station design features that can help do just that.
Technology for the fire apparatus bay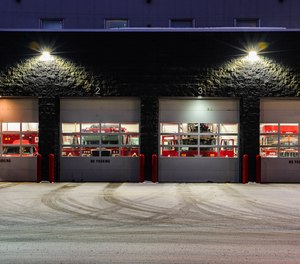 When designing the fire apparatus bay for today, and tomorrow, there are a host of technologies available to help fire station designers and fire departments accomplish key functions:
Ensure optimal preparedness and response readiness;
Ensure security of fire apparatus and other assets;
Maximize energy efficiency; and
Provide a safe work environment for firefighters.
Let's examine how such technologies are being incorporated into specific apparatus bay features.
Bay doors. Damage to vehicles and overhead sectional doors in fire stations can occur when apparatus operators entering or exiting the bay misjudge the speed of overhead bay doors opening and clip the doors, thinking they are already fully open. Such accidents – which can be very costly – often occur when operators are not able to see the lower door edge of the door after it raises above the windshield line.
Four-fold doors are always in view of the driver when opening or closing, thus eliminating this "clipping" hazard that can happen when overhead doors are used. Four-fold doors clear the apparatus opening at an average speed of 24 inches per second, compared to conventional overhead and coiling doors, which operate between 8-12 inches per second.
Building access control. Keeping your department's vehicles and equipment safe and secure is important, especially with many fire departments providing emergency medical services from both ambulances and fire apparatus that have drugs on board.
Wireless security systems include a variety of features, including alarm confirmation, custom touchpads and central control, multi-zones to accommodate department growth, employee-unique pass codes, real-time clock time stamping, 24-hour zones and siren/battery backup power supplies.
Surveillance systems. Along with a solid building access system, a fire department should have an active surveillance system so that if a break-in or theft occurs, there is good visual information for the department and law enforcement to use in determining who was involved and what was taken. Today's building access systems and surveillance systems can trigger alerts to key fire department personnel and provide them with live streaming video to their wireless devices.
Alerting systems can be integrated throughout the entire building and keep first responders safe, aware of their timing and inform them of call information in an accelerated manner. Today's systems use text-to-speech technology and high-contrast message signs in various locations within a fire station that ensure that emergency personnel react promptly and efficiently to every call.
Additional alerting features now include strobe lights (for high noise areas both indoors and outdoors); unit indicator lights that provide an immediate visual cue, by color, identifying which unit is being dispatched. This could be good for dayrooms, common areas, workout rooms and areas with high noise where a visual cue is needed.
Artificial lighting. Great strides in artificial light technology give fire departments better lighting options (e.g., high-bay LED or T-8 fluorescent fixtures) with a better return on investment because their instant-on capability shortens the "payback" because you're not spending money on electricity for lighting when nobody's in the bay. Some LED options include:
More available light sources without increasing your department's electric bill;
Different lumen options ranging from 12K to 36K;
Lights can be mounted in different ways (suspended using aircraft-rated cable, conduit and flush-to-wall mounting); and
Interchangeable lens options to shape and direct light where you need it.
Energy efficient windows. The transparent metallic coating from low-E glazing windows works in two ways to reduce solar heat gain and economize heating energy. The dual action coating reflects heat back into the room, while allowing heat and light from the sun to pass into the building.
Temperature control in the apparatus bay
Maintaining the right temperature in the apparatus bay is important not only for comfort but also air quality and energy efficiency.
Geothermal technology. Geothermal heat pumps use the earth as a heat source in the winter and as a heat storage source in the summer. The ground loop components of a geothermal heating and cooling system can last up to 50 years.
Ground and water temperatures, 6 feet below the earth's surface, stay relatively constant throughout the year. This allows the system to provide extremely efficient heating or cooling all year long in virtually any climate.
Radiant heating systems. Radiant heat is ideal for fire station apparatus bays, as it allows the building to efficiently recover from the cold air that may rush in when a bay door opens. Radiant energy is stored in objects or thermal mass (concrete slab), which then radiates heat into the surrounding space, thus warming the environment. The energy is stored in the slab, rather than in the air allowing the space to quickly recover.
Two primary forms of radiant heat function well within the bay environment: overhead infrared radiant and in-floor radiant heat.
With overhead radiant heat, the radiant energy "hits" the concrete apparatus bay floor where the concrete absorbs the heat. (That's why it's a critical design feature to ensure that the energy is hitting the floor and not the fire apparatus).
In-floor radiant heat systems use pipes or tubing located within the apparatus bay slab to convey warmed liquid (typically generated at a boiler or solar panel array) through the bay floors.
Air circulation. Large industrial fans can supplement HVAC systems during both the heating and cooling season to achieve occupant comfort in the bays. High bay structures, such as apparatus bays, tend to experience air stratification where hot air collects at the top of the bays. Low-speed, high-volume fans help to de-stratify the air and improve air quality and overall comfort.
During the winter months, the fans can work to mix high temperatures found at the ceiling with the lower temperatures on the floor, creating a more energy-efficient heating system. 
If your department relies on natural airflow to dry PPE after washing, overhead fans can greatly aid in that process as well.
Apparatus bay safety
There are several technologies that can protect firefighters operating in apparatus bays.
Vehicle exhaust systems. NFPA 1500 (Chapter 9) specifies that fire departments contain all vehicle exhaust emissions to a level of no less than 100% of effective capture. This recommendation also complies with NIOSH's requirement to reduce emissions to the lowest feasible level to limit impact on firefighters' health.
The International Building Code (IBC) specifically addresses the need for fire departments to invest in a diesel exhaust source capture system that connects directly to the motor vehicle exhaust system: "Areas in which stationary motor vehicles are operated shall be provided with a source capture system that connects directly to the motor vehicle exhaust systems" (International Code Council, 2018).
SCBA cleaning. The proper cleaning of firefighter PPE and SCBA is a critical component of reducing the risk posed to firefighters by the toxic chemicals, chemical compounds, and carcinogens found in smoke at today's structure fires.
The cleaning of the coat and pants and hood of the protective ensemble have been addressed by fire stations having dedicated washer/extractor machines and drying capabilities (mechanical and natural ventilation). But what about SCBA?
Heavy-duty washing machines are specifically designed to clean the entire SCBA unit (facepiece, harness, cylinder, regulator and hoses). The washing is carried out in a self-contained process, which minimizes both contact time and health risks for the user.
The same machine can clean firefighting gloves, helmets and boots in the same safe, effective and efficient manner that it does the SCBA unit.
A significant investment for the community
Fire stations represent a significant capital investment for any community, and citizens and elected officials expect that investment to last for several decades or more. The technologies that we've discussed in this article should be helpful in accomplishing that goal, whether it's for a new station or the refurbishment of an existing station.
[Read next: How to build a fire station (downloadable eBook)]

Request product info from top Fire SCBA companies
Thank You!