Zico Makes Changing Horizontal Medical Cylinders Easier
---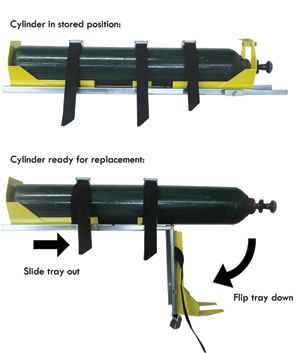 YARDLEY, PA – Ziamatic Corp. (Zico) introduces the QUIC-RELEASE Slide Assembly with Hinge, Model QR-SAFD, making it easier than ever to change bench-mounted medical oxygen cylinders.
The QR-SAFD mounts easily under ambulance bench seats or any other appropriate horizontal compartment and eliminates the need to lift a heavy cylinder up and over the edge of the cylinder bracket.
To replace an empty cylinder, flip the latch and slide the tray out of the compartment. Once extended, release the hinge to drop the top half of the bracket 90 degrees and out of the way. Slide in the new gas cylinder as if you were loading a torpedo. Once the new cylinder is secured in place, lock the hinged bracket back into stored position and slide the tray back into the compartment.
Available now. For use with the QUIC-RELEASE Multiversal Cylinder Bracket Model QR-MV (shown; not included). List Price: $371.80. For more information please call 1-800-711-FIRE or visit www.ziamatic.com
About Ziamatic Corp
Ziamatic Corp. (ZICO) was founded in 1958 with the intention of providing the men and women of the fire services industry with products that make their profession safer and easier. Over 50 years later Zico remains a leader in SCBA bracket and ladder rack technology. For more information, please call 1-800-711-FIRE or visit www.ziamatic.com.

Request more info from Ziamatic Corp. (ZICO)
Thank You!