Zico Releases Rol-Loc - the Next Generation of SCBA Containment
---
end picture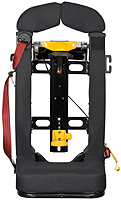 Yardley, PA - Ziamatic Corp. is now offering a new style of SCBA containment. The Rol-Loc, model QM-ROLO-SA, has been tested to well over 9 g's and complies with the 2009 edition of NFPA 1901 for use inside of crew cabs. It can be adjusted to fit any size bottle or brand SCBA currently on the market.
Releasing the SCBA is as simple as pulling on the release and standing up. To put the SCBA back in the Rol-Loc just place the valve in the footplate and push back. It is self-locking and is ready for the next call. The Rol-Loc fits most current seats and the release can be mounted anywhere on the seat. The QM-ROLO-SA has a list price of $399.95 and is available for sale beginning of October. (mounting hardware not include) For more information contact Ziamatic Corp. at 1-800-711-FIRE.

Request more info from Ziamatic Corp. (ZICO)
Thank You!