Zico's Latest Ladder Access System Available Now
---
Yardley, PA – Ziamatic Corp. (Zico) introduces the Ladder Access System - Extend Down, Model LAS-XT, combing their popular, time-tested LAS ladder rack design with a new, patented cable & pulley system capable of raising and lowering ladders and additional 12 inches for quick, easy, and safe, retrieval from high apparatus shelves.
Mounting the LAS-XT to an apparatus high shelf allows for more compartment space in the side body underneath. Mounting to a standard shelf makes ladder retrieval even easier for shorter personnel.
Two self-contained hydraulic actuators provide increased strength and reliability and create a more even, parallel operating motion. The rugged, cast aluminum system sustains a maximum load of 300 pounds and can accommodate additional accessories such as hard sleeves, pike poles, and folding ladders.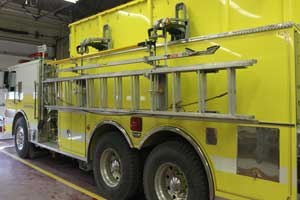 Available now. Works with both new and existing apparatus. NFPA compliant. For more information please call 1-800-711-FIRE or visit www.ziamatic.com
About Ziamatic Corp.
Ziamatic Corp. (ZICO) was founded in 1958 with the intention of providing the men and women of the fire services industry with products that make their profession safer and easier. Over 50 years later Zico remains a leader in SCBA bracket and ladder rack technology. For more information, please call 1-800-711-FIRE or visit www.ziamatic.com

Request more info from Ziamatic Corp. (ZICO)
Thank You!