EMT training planned for all firefighters at Ga. city fire department
The department hopes to have all 85 firefighters certified as EMTs by 2023
---
Charles Oliver
The Daily Citizen, Dalton, Ga.
The Dalton Fire Department plans to have all of its firefighters trained and certified as emergency medical technicians by 2023, according to Fire Chief Todd Pangle.
Pangle spoke Tuesday to the city's Public Safety Commission about the department's activities in December. Pangle said 242 of the 330 calls the fire department responded to were medical calls.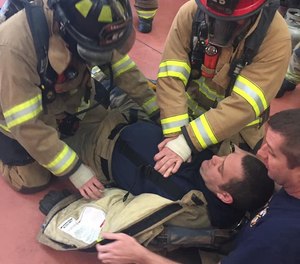 "That's pretty typical," he said. "We average about 68% to 75% of our calls being medical calls."
That's why the department plans to have firefighters trained in cardiopulmonary resuscitation (CPR), bleeding control and other EMT skills. Pangle said those skills are also often useful in treating people at the scenes of fires and automobile wrecks.
He said about 60% to 65% of the department's 85 firefighters are already certified as EMTs. He said the department has four paramedics who are trained to a higher standard. Those paramedics are also certified instructors and the department plans to bring its EMT training in house.
"Training is the key to everything the fire department does," said Public Safety Commission Chairman Bill Weaver. "We ask them to do so much. Any catastrophe, they are going to respond to. For the community to have EMTs on every call is an absolute plus."
———
©2020 The Daily Citizen (Dalton, Ga.)
McClatchy-Tribune News Service

Request product info from top Fire CPR companies
Thank You!