Capture Technologies Creates Ski Pass Solutions for Squaw Valley
---
Early this November Capture Technologies sold 12 Fargo DTC550 ski pass printers to the Squaw Valley ski resort in Lake Tahoe, Calif.  This card-printing equipment was provided to Squaw Valley to create an easier solution for printing ski passes in large quantities.  With Squaw Valley's recent merger with Alpine Meadows, both lift systems will be fully integrated.  The new system will give skiers access to 6,000 acres, 44 lifts and over 270 trails.
Capture Technologies is very pleased with this new relationship with Squaw Valley, and looks forward to cultivating other new relationships in the Lake Tahoe ski industry.  By providing resorts with these new solutions, Capture Technologies can work hard to eliminate the possibilities of fraud, while increasing customer satisfaction.
"This is an organization that continuously invests and enhances the customer experience," said Lou Parrague CEO of Capture Technologies.  "We could not be more proud of our association with this premier mountain resort."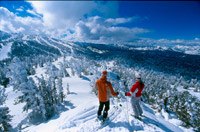 The new system will increase customer satisfaction at the resort, as skiers are free to roam throughout both Alpine Meadows and Squaw Valley.  The ski passes never have to be taken out of their pockets, as the lift systems can read them through the customer's clothing.  Card readers are conveniently located with each lift and lift operator, where the pass can be scanned and the customer photo can be displayed.  Capture Technologies is excited to be a part of such a high tech project and looks forward to keeping Squaw Valley's printers in top quality condition.
Capture Technologies, www.capturet.com, based in Oakland, Calif., is a leading provider of security integration and identification solutions for public safety, government, healthcare and educational institutions.