Fireman's Fund® & Morning Pride® Team up to Help Local Fire Departments
---
end picture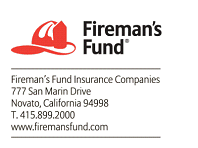 National Program Aims to Outfit More Firefighters with New Turnout Gear

NOVATO, Calif. (March 10, 2008) – Fireman's Fund Insurance Company and Morning Pride, a leading manufacturer of firefighting equipment, announced a new nationwide agreement to provide turnout gear to local fire departments.

Turnout gear is the protective, fire-resistant clothing firefighters wear when responding to incidents like fires or major vehicle crashes. The clothing (pants, a jacket, boots, helmet, hood, and gloves) protects the firefighter from exposure to chemicals, heat and flames. These new sets meet National Fire Protection Association (NFPA) standards.

As part of the arrangement, Morning Pride will offer special pricing to Fireman's Fund for turnout gear it purchases through its Fireman's Fund Heritage® program. This is the insurance company's national philanthropic initiative to provide equipment, training, and community education programs to local fire departments. Since 2004, Fireman's Fund has awarded more than $17 million in grants to over 900 different departments.

Danielle Cagan, Heritage program director at Fireman's Fund, said the agreement with Morning Pride will help maximize the reach of the grant program.

"This will allow Fireman's Fund to nearly double the number of new sets of turnout gear we give fire departments," said Cagan. "Unfortunately, there are firefighters out there who do not have effective clothing to protect them and we're working to change that."

According to the U.S. Fire Administration, an estimated 66 percent of firefighters are wearing turnout gear that is at least 10 years old and in dire need of replacement. Even worse, roughly eight percent of departments do not even have enough clothing to equip all firefighters.

"This partnership enables us to satisfy our most basic objective – saving lives," said Mary Grilliot, chief operating officer of Morning Pride. "A firefighter's safety depends upon the protective ability of his or her turnout gear, and we're proud that this agreement will get more state-of-the-art clothing on the backs of more firefighters all across the country."

Fire departments interested in learning more about the Fireman's Fund Heritage grant program can visit www.firemansfund.com/heritage.

About Morning Pride
Established in 1921, Morning Pride is part of Total Fire Group®. With more than 90 years experience, Morning Pride has received over 160 U.S. and international patents for advancements in firefighters' protective clothing and is ISO 9001:2000 registered. Morning Pride's investment in research and development has allowed the company to develop products that offer real and significant safety and comfort advantages, leading to hundreds of major department field test victories over the years. For more information, visit www.morningpride.com.

About Fireman's Fund
Fireman's Fund Insurance Company is a premier property and casualty insurance company providing personal, commercial and specialty insurance products nationwide. Founded in 1863 with a mission to support firefighters, Fireman's Fund continues this mission today through the Fireman's Fund Heritage program. Fireman's Fund is a member of the Allianz Group (NYSE: AZ), one of the world's largest providers of insurance and other financial services. It is rated 'A+' by Standard & Poor's Ratings Services. For more information, visit www.firemansfund.com.