PRESS RELEASE
Sourcewell aids fire chiefs in finding opportunities to save time, effort, and funds
---
INDIANAPOLIS - Thousands of North American fire-rescue service leaders and personnel are attending the Fire Department Instructors Conference (FDIC) International in Indianapolis today. One primary topic of conversation is how chiefs can be more efficient with their time and staff. It has become increasingly challenging for departments to meet the needs of their communities and firefighters while conserving resources.
The National Fire Protection Association (NFPA) reports record low numbers of volunteer firefighters, while local fire protection service costs tripled from 1980 to 2019. A cooperative purchasing organization, Sourcewell, a GPO focused on fire service purchasing, has earned a reputation for helping fire chiefs conserve man-hours and budgets while still procuring what they need for their departments. Chiefs count on cooperative purchasing to efficiently source apparatus, gear, tools, and services.
When fire-service agencies face challenges with reduced staffing, efficient procurement keeps chiefs from getting stretched too thin. "Cooperative purchasing makes it easy to get what you want, the way you want it, without all the hoops you have to jump through with government purchasing," says Alex Boyd, Assistant Fire Chief with Anchorage Fire Department in Alaska.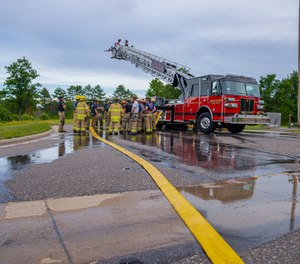 Because Sourcewell is a government organization, fire service leaders trust it to meet the needs of their procurement offices. Contracts are awarded through a fair, competitive, and transparent process. Because the contracts have already been solicited, departments can access what they need quickly without starting the RFP process from scratch.
Fire-service leaders value simplicity and speed. They also know departments need to procure apparatus and equipment without compromising on requirements. John Butler, Fire Chief for Fairfax County Fire Department in Virginia, gets right to the point about the importance of making the right purchasing decisions. "It's got to be the right fit for the agency and the responders because our lives depend on it."
In many cases, adopting more efficient procurement practices protects the budget as well. "A lot of time there's savings," explains Timothy Whitham, Fire Chief with Edwardsville Fire Department in Kansas. "I was buying a set of turnout gear for $600 cheaper than what it would cost me to buy the same spec because I was piggybacking off somebody else's contract."
To learn more, download the how-to guide to cooperative purchasing for fire-rescue service leaders. Chiefs and firefighters attending FDIC International can visit Sourcewell at booth 5860 and also attend the FDIC Live session on Thursday, April 27, at 11:15 a.m. EDT.
About Sourcewell
Sourcewell cooperative purchasing allows public safety leaders to buy the fire equipment they want with a process they trust. 50,000 participating agencies in North America save time and money with Sourcewell's government process. Agencies are empowered to fulfill their public service missions when they achieve fast, simple procurement by leveraging hundreds of awarded contracts.

Request more info from Sourcewell
Thank You!