PPE credited for saving Ariz. firefighter in mobile home fire
---
PHOENIX — A firefighter was airlifted to Maricopa Medical Center's burn unit Wednesday after he was burned while fighting a mobile home fire in Buckeye, authorities said.
The RV's residents were watching TV when sparks started coming from the refrigerator, police said.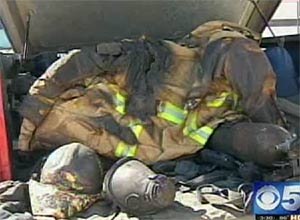 The victims fled the fire, but firefighters ran in to make sure everyone had gotten out.
According to a spokesman from the Buckeye Police Department, 26-year-old firefighter Marcus Haynes was conducting a sweep of the burning mobile home when conditions changed, the fire flared up and flames swallowed him.
Police said Haynes suffered first- and second-degree burns on his hands and one arm that are not life-threatening.
Fellow firefighters stayed by his side on the trip to the medical center. He was expected to spend the night in the hospital.
"I didn't see the firefighter get hurt," witness Tony Ruiz said. "I was like, I don't want to look at that."
Haynes' heavy gear saved his life, said Buckeye Fire Department Deputy Chief Paul Carmen, who showed some of the gear to CBS 5 News. Some of it was melted, charred and crystallized from temperatures that exceeded 1,000 degrees.
"Is this coat functional anymore? No, but it served its purpose," Carmen said.
Haynes' gloves were hard as a rock. Haynes' breathing system remained intact.
"He did not have to inhale any toxic gases, and/or super-heated gasses that would have likely killed him," Carmen said.
No one else was hurt in the fire. The fire was contained to the vehicle. The official cause of the fire remains under investigation.