PRESS RELEASE
TenCate Protective Fabrics joins with Firefighter Union for Cancer Summit
---
The IAFF Cancer Summit kicks off TenCate broader effort for overall safety and health of firefighters. 
ATLANTA — The growing concern of cancer among firefighters prompted TenCate Protective Fabrics to join with the International Association of Fire Fighters for a first-ever IAFF Cancer Summit.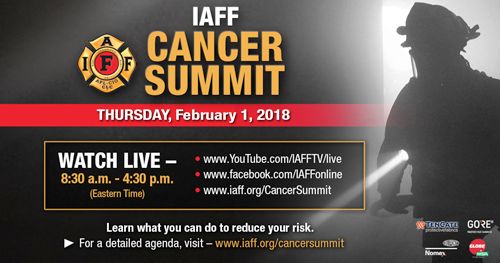 Planned for February 1, the IAFF Cancer Summit will bring industry leaders, experts, researchers and hundreds of firefighters from around the United States to discuss and exchange information about this growing hazard.

"Cancer can be devastating for fire fighters, and we are just beginning to understand the scope of this problem," says IAFF General President Harold Schaitberger. "That's why we're bringing together the best and brightest minds on this subject. We must continue to learn all that we can to save more lives."

As an industry leader in creating flame-resistant textiles worn by thousands and thousands of firefighters, TenCate Protective Fabrics joins to extend safety beyond the turnouts.

"Our concern for safety extends beyond outer shells and thermal liners," said Bart McCool, End-User Marketing Manager for TenCate. "We want to be sure the brave men and women who wear gear are protected on the fire ground, and we want each to experience a long career and enjoyable retirement."

With 2018, TenCate Protective Fabrics promotes health and safety well beyond textiles. This includes encouraging on-going fitness initiatives, post-fire decontamination, overall gear care, and self-care to promote health of firefighters and their family.

"We could think of no better organization than the IAFF to align our efforts," McCool said. "The IAFF already provides leadership in many areas of firefighter safety."
Globe by MSA, W. L. Gore & Associates and DuPont Protection Solutions are all joining with TenCate Protective Fabrics to support the IAFF Cancer Summit.

For almost 50 years, TenCate Protective Fabrics created, manufactured and supplied flame-resistant fabrics that goes into firefighter turnouts. That rich history prompted some of the most innovative textiles that keep firefighters safe well beyond the turnouts.

The "skin out" protection includes FR textiles used in base layers, stationwear, wildlands, tech rescue and more.

The IAFF Cancer Summit will follow the IAFF's Vincent J. Bollon Affiliate Leadership Training Summit & Ernest A. "Buddy" Mass Human Relations Conference and will be held at Lake Buena Vista, Florida. (Separate registration is required for the IAFF Cancer Summit.) Learn more by visiting http://iaff.org/cancersummit.
For more information on TenCate, please visit TenCateFabrics.com.
About TenCate Protective Fabrics
TenCate Protective Fabrics is the world's leading supplier of inherently flame-resistant fabrics for firefighters. Respected and recognized worldwide for our aggressive Research and Development, superior quality and cutting-edge manufacturing processes, it's no wonder why seven out of 10 firefighters in the United States wear turnout gear made with TenCate fabrics.

Request more info from TenCate
Thank You!