9 extreme heat safety tips for public safety personnel
As you ready yourself and your community for a heatwave, keep these tips in mind
---
Record-setting heat is scorching the American West and putting tens of millions of people, as well as the public safety professionals who care for them, at risk of heat emergencies. 
The forecasted weekend high temperatures – 114 degrees F in Las Vegas, 100 degrees in Salt Lake City, and 117 degrees in Phoenix – are incomprehensible to me. Those temperatures are dangerous for anyone working outdoors or living in a residence without air conditioning. [At the end of this article, download an infographic for extreme heat safety] 
As you respond in the hot and parched West or prepare for a heatwave in your community, here are a few things to keep in mind.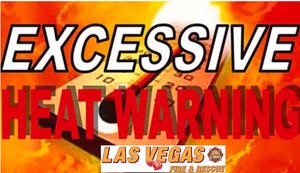 Personal safety in high-heat conditions 
Heat safety for your community 
Worsening impact of climate change on public safety 
Public safety personnel will continue to feel the impact of more frequent and more severe weather events on the calls they respond to, the equipment they need to replace or purchase, and the costs and complexity of building severe-weather hardened stations and communication centers. Get off the sidelines and participate in initiatives to reduce the increasingly worrisome impacts of climate change.  
Learn more about heat emergency safety 
Learn more about heat emergencies and climate change's impact on public safety with these resources. 
Fill out the form below to download the infographic: First Responder Extreme Heat Safety.
Infographic: First Responder Extreme Heat Safety Tips