Beyond 'high-quality H2O': Rehab gets your tactical athletes back in the game
How to develop a comprehensive firefighter rehab program and build your response team
---
You can feel it in the fall air. You can see it under your town's Friday night lights. You know they are "comin' to your city" on Saturdays. You can watch it on TV screens all across the nation on Sundays. And you know "all my rowdy friends are coming over" on Monday nights. Yea, baby, football is back! We're talking the real game of smash-mouth, slobber-knocking, hard-hitting, ground-pounding, pigskin-flinging good ole American football. It doesn't get much better than this!
The stadiums, the rivalries, the teams, the players, the coaches, the cheerleaders, the waterboys, the fans and the announcers. Wait, what? Go back. The waterboys?
Absolutely! You cannot have a game without the folks who take care of the athletes. The people providing the "high-quality H2O" are critical to the safety and health of these gridiron gladiators. Without the "waterboys" (Read: trainers, doctors, nutritionists, etc.), the player's cramps, dehydration, exhaustion and injuries from the high-endurance tasks required during a football game can quickly become a medical emergency. These are the essential aides who provide the fluid replacement, calorie and electrolyte renewal, medical monitoring, and cooling/heating needed to rehabilitate and rejuvenate these top-level athletes in order to get back into the game.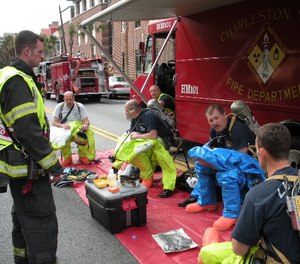 Ready to respond – and recover
The fire service is no different. Our firefighters are tactical athletes who must be ready at all times. And they must be able to recover quickly after the incident, too. 
Maintaining proper nutrition and exercise is a critical component in this process. A good place for firefighters to start is by following programs such as the International Association of Fire Fighters (IAFF)/International Association of Fire Chiefs (IAFC) Fire Service Joint Labor Management Wellness-Fitness Initiative (WFI). The Initiative provides a complete medical, physical fitness and wellness program package that's designed to keep your firefighters in the shape and condition needed to conduct the tasks required for firefighting, technical rescue, hazmat response and other emergency operations.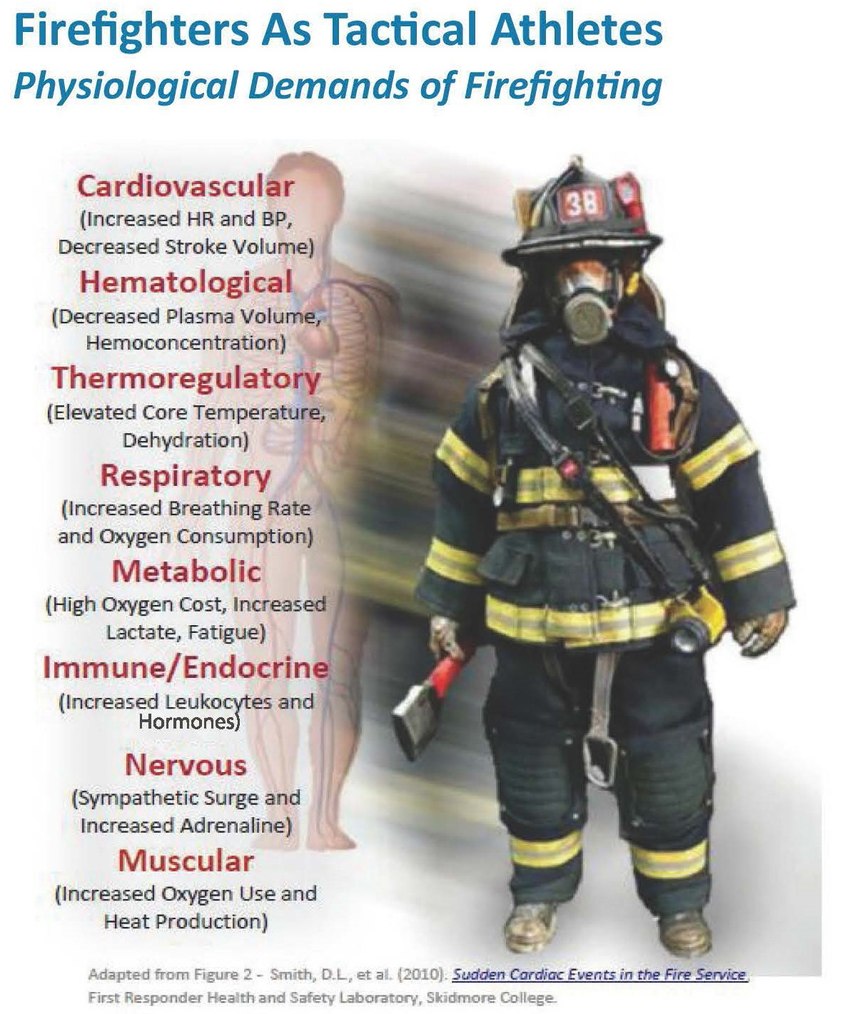 Beyond hydration
But what about during the incident? How do you maintain the tactical athlete in the middle of an emergency, ensuring they are ready to perform the essential job functions necessary to bring the incident to a safe and successful conclusion? 
The amount of energy (calories) these firefighters burn during a typical firefight can be tremendous. This energy is the same as the MET (metabolic equivalent) value they need to complete a task. For example, whereas 1 MET is considered equivalent to resting, firefighters can expel 11 to 16 METs depending on the task they are performing. This puts them on par with professional football players.
You must therefore make sure that your members are properly ready to "get back into the game" during an incident. And this means focusing on firefighter rehab, aka rehabilitation, to fuel your members to continue operations.
At a minimum, you should carry initial firefighter rehab supplies on each of your apparatus to refuel your responders. Yes, it is important for each individual to stay hydrated before, during and after an incident, but there is more to getting back into the fight than just drinking water. Departments must have a firefighter rehab program that addresses multiple factors in order to keep their tactical athletes ready to perform.
Building a comprehensive firefighter rehab program
So, what needs to be in a fire department rehab program, and how can you start putting a program together?
The first step is to do some research. Many scholarly articles have been written on the physical demands required of your firefighters. Dr. Denise Smith, Dr. David Hostler, Dr. Gavin Horn and Dr. Sara Jahnke (a FireRescue1 columnist) are just a few of the renowned researchers continuously evaluating the medical stresses placed on a firefighter's body during an incident, and what is required for firefighter fitness, rehabilitation and recovery.
Information can also be found through several fire service organizations. The U.S. Fire Administration (USFA), IAFC, IAFF and National Volunteer Fire Council (NVFC) all provide various documents and training programs focused on rehab programs.
As you study your firefighter rehab needs, it is important to ensure that the information is grounded in the NFPA standards addressing occupational safety, health and wellness. Specifically, NFPA 1584: Standard on Rehabilitation Process for Members During Emergency Operations and Training Exercises identifies the components for a fire department to develop an effective program. This standard covers everything from development of an organization's standard operating procedures/guidelines (SOPs/SOGs) all the way to putting your program into operation for an incident or training exercise.
These firefighter rehab program components include:
Relief from climatic conditions
Rest and recovery
Active and/or passive cooling or warming as needed for incident type and climate conditions
Rehydration (fluid replacement)
Calorie and electrolyte replacement, as appropriate, for longer duration incidents
Medical monitoring
Emergency medical treatment as needed/required
Member accountability
Release
Post-incident rehabilitation
Creating a response team
As you develop your firefighter rehab program, remember, you don't have to go it alone. You can also look to your neighboring fire departments to see what they have in their rehab program. Further, it's important to work with your local EMS provider to review their recommendations. EMS is a critical part of any rehab program, as they will be monitoring the vital signs of your members after they exit the emergency and then providing the incident commander with the go/no-go recommendation to place these responders back into operation.
Some organizations develop a program that uses groups of specialized vehicles and individuals to operate rehab. When summoned to an incident, these groups set up cooling tents, chairs and fans, take vital signs, and provide drinks and food in order to replenish the fuel each member needs to reenter the Hot Zone or immediately dangerous to life and health (IDLH) area. While not the same as a Voluntary Organizations Active in Disaster (VOAD) group that you will typically see during a disaster, the local rehab team is specific to the fire department and its members, and understands the operation and culture of the organization. Note: Do not overlook the VOAD groups as you develop your program. Organizations like the Salvation Army and the American Red Cross routinely respond to help victims of the emergency while providing food and drink for the responders. Get to know the VOAD groups in your area and how to request them to your scene.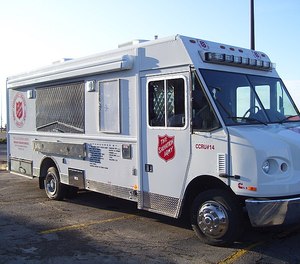 There may also be other regional groups in your area such as 1-800-Boardup that will provide services to emergency responders during an incident besides the work they do for the property owners. Lastly, do not forget groups such as a fire department auxiliary, Lions Club or Rotary Club, which can bring food and drinks to your members on scene. The bottom line: Get to know your local, regional and state volunteer agencies that can provide assistance – and work them into your program.
Cancer prevention
Another important part of your rehab program is cancer prevention. With the increased knowledge of cancers caused by smoke and other products of combustion, these contaminates must be kept out of the rehab area. As such, you should be carrying as part of your initial rehab kit various cancer prevention supplies – wet cloths to wipe down each responder after the call, hand and face sanitizers, and face masks.
Include materials to decontaminate your PPE before members move into the rehab area or demobilize from the incident. And after the incident, bag all contaminated gear until it can be thoroughly cleaned, and do not allow it be transported in vehicle riding compartments.
Be the rehab GOAT
Now you have your playbook to begin your firefighter rehab program. The next step is to execute your plays. You don't need to throw a Hail Mary; rather you now have the tools to focus on the health and wellness of your members on an emergency scene. Who knows, after implementing your rehab program, you may be remembered as the GOAT (Greatest Of All Times) when it comes to protecting your members.
Stay safe!
Editor's note: What's your best advice for firefighter rehab and keeping crews ready to respond? Share in the comments below.