Are you prepared for Independence Day incidents and injuries?
From burns to bleeding, head trauma to amputation, be prepared for when fireworks go wrong
---
While many Americans are packing coolers for the beach, firing up the grill and turning on the sprinklers, EMS providers know all too well that 4th of July celebrations can often turn disastrous. Whether it's heat-related illness, drownings or intoxicated drivers, there are several threats to warn communities about this month, in addition to the danger of fireworks.
Two-thirds of fireworks injuries reported in the U.S. occur in the 4 weeks surrounding Independence Day. More than 1/4 of fireworks fires reported over a 4-year span by the NFPA occurred on the holiday itself. [At the end of this article, download an infographic on fireworks injuries]
While fireworks injuries have been rising over the past 3 years (see table), the U.S. Consumer Product Safety Commission's "Fireworks-Related Deaths, Emergency Department-Treated Injuries, and Enforcement Activities During 2020" report, identifies an approximately 50% increase in fireworks injuries year over year in 2020.
The report notes the cessation of public firework displays during the COVID-19 pandemic led to an increase in consumers putting on their own displays, which may in part explain the sharp rise.
| Year | Estimated Injuries | Injuries per 100,000 People |
| --- | --- | --- |
| 2020 | 15,600 | 4.7 |
| 2019 | 10,000 | 3.0 |
| 2018 | 9,100 | 2.8 |
The CPSC report accounted for the following estimated data on fireworks injuries and death in the U.S. in 2020:
18 non-occupational fireworks-related deaths
15,600 injuries treated in U.S. hospital emergency departments
1,600 emergency department-treated injuries associated with firecrackers
900 emergency department-treated injuries associated with sparklers
Of the fireworks injuries in 2020, 10,300 (66 %) were treated during the 1-month period between June 21, 2020 and July 21, 2020.
Children (younger than age 15) accounted for 18% of the estimated injuries, with adults ages 25-44 accounting for another 35%.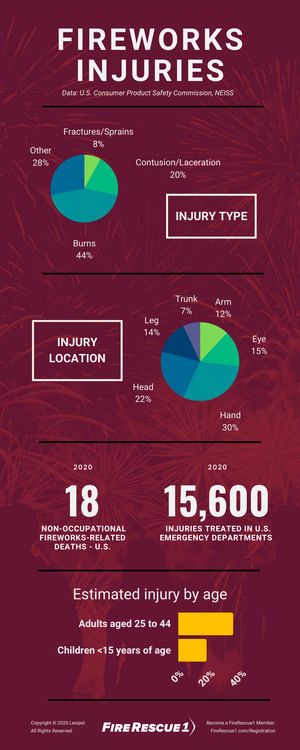 Fireworks injuries: type and location
According to the CPSC report, the parts of the body most frequently injured by fireworks include:
Arms (12%)
Eyes (15%)
Hands and fingers (30%)
Head, face, and ears (22%)
Legs (13%)
Listed causes of death from fireworks in 2020 include:
Anoxic-ischemic encephalopathy due to a face, neck, and chest blast injury
Blood loss from damage to the femoral artery
Complications of blunt head trauma
Exsanguination
Thermal and inhalation injuries
When responding to a fireworks-related injury, be prepared to treat the following.
Burns/smoke inhalation. According to NFPA research into calendar year 2018, an estimated 19,500 fires were started in the U.S. by fireworks, including 1,900 structure fires and 500 vehicle fires, causing five deaths, 46 injuries and $105 million in property damage.

Burns accounted for 44% of the ED-treated fireworks injuries in 2020. Burns were the most common injury to hands, arms and legs.

Learn more: When body surface area matters in burn assessment. Triage burn victims for inhalation injury and fluid administration by putting these four pieces of the puzzle together
---

Read more
How to educate your community about fireworks safety
Share these tips with your members and community to promote safe summer fun
---
Contusions/lacerations. Contusions and lacerations account for 20% of fireworks-related injuries. Look for bruising. In extreme cases, this can cause blood to seep, hemorrhage or extravasate into surrounding tissues. Stop-the-bleed treatment for lacerations will depends on the type, cause and depth of the wound.

Learn more: How to pack a severely bleeding wound. Hemorrhage control guidelines direct paramedics to use hemostatic gauze but medics are often not formally trained in wound packing
Facial trauma. Trauma to the head, ears, eyes and face accounts for 37% of fireworks-related injuries. In head injuries, look for hypoxia, hyperventilation and hypotension and consider the risk for traumatic brain injury. One of the first concerns with significant facial trauma is whether the patient has a patent airway and will be able to maintain that airway.

Learn more: 5 tips for securing a patient's airway. You are on scene with a patient who has suffered significant facial trauma; what are some strategies to improve your ability to manage his airway?
This Independence Day, be prepared, and stay safe with 10 safety tips for paramedics working on the 4th of July.
---

Read more
Fire department preparation for fireworks season
Firefighters should be familiar with fireworks-focused standards and state regulations
---
Read the report: U.S. Consumer Product Safety Commission's "Fireworks-Related Deaths, Emergency Department-Treated Injuries, and Enforcement Activities During 2020"

Fill out the form below to download a fireworks injury infographic.
Infographic: Fireworks Injuries