Fierce Female Firefighters Kickstarter campaign helps inspire kids
Veteran Fla. firefighter tells campaign supports "If they can see it they can be it"
---
By Jessie Forand
FORT LAUDERDALE, Fla. — A veteran firefighter is working to inspire girls to follow their dreams. 
Tina Guiler, who has worked as a firefighter for 22 years, created a Kickstarter campaign for the Triple F Firefighter doll.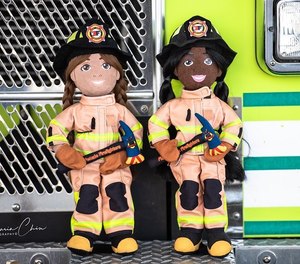 Triple F, she said, stands for "Fierce Female Firefighters," something she hopes to impart on up-and-comers. 
As of Thursday, Guiler shared the news that she surpassed her initial $8,700 goal. 
"We are going to make a lot of kids (and adults) smile with these dolls," she wrote. 
The goal has been raised to $20,000, with a deadline of July 22. 
With the motto "If they can see it, they can be it," Guiler designed dolls dressed in a fire bunker coat, wearing a fire helmet and carrying an axe. They come with an inspirational quote supplied by a real female firefighter.  
"You won't find this logo or doll anywhere else in the world," Guiler wrote on her fundraising page. 
All are washable and appropriate for ages 3 and up. Guiler said the dolls are available and applicable to all genders, too: "Who doesn't love a firefighter?" 
In addition, a Triple F Facebook group has more than 6,400 female members from 40 countries.