Going live: 'Captain Ben' utilizes social media for station tours, safety education, fire prevention outreach
From family fitness demonstrations to a helicopter ride-along, Orange County (Calif.) Fire Authority members are using all the tools at their disposal to reach the public
---
Social media has been a game-changer for fire departments looking to connect with their communities. It allows them to disseminate emergency information about natural disasters, dangerous incidents occurring in the community, and other pertinent guidance for the well-being of citizens.
It's also the best way to get the most eyes on a department's message.
"Social media has become the 21st century's 'evening news,' on a 24-hours-a-day platform," said FireRescue1 Executive Editor Chief Marc Bashoor. "Departments should be using social media to tell their story while being careful not to overload sites with unrelated genre material."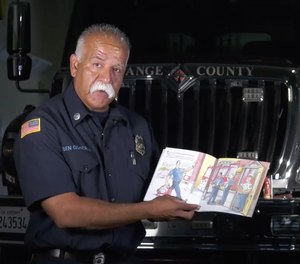 The widespread use of social media allows public safety agencies to reach a larger number of citizens and can be used to facilitate working community relationships within their coverage areas.
If used creatively, social media can also help introduce the work of first responders to a younger audience through community risk reduction (CRR) outreach campaigns.
That younger audience is exactly who the Orange County (California) Fire Authority is hoping to engage.
OCFA social media liftoff
After the COVID-19 pandemic forced schools around the country to close in March, Capt. Ben Gonzales, OCFA's PIO, launched a series of campaigns directed at children centered around three goals: safety, education and information.
Gonzales took the organization's social media strategy to another level – literally. In one Facebook Live video, he answers questions from kids while riding in a fire department helicopter.

"OCFA has always been very involved in the community and our goal is always to provide safety education in the schools, as well as station tours," Gonzales said. "Interacting with kids is huge, so here was the opportunity to go Facebook Live and allow them to ask questions as we were going through it."
During the segment, the questions came fast and furious:
Question: "How high up does the helicopter fly?" Answer: "We can fly past 10,000 feet, but we normally travel around the county at less than 2,500 feet."
Question: "How long can helicopter operate before it needs to refuel?" Answer: "Typically, two hours or less, depending on conditions."
Question: "Has anybody ever fallen out of the helicopter?" Answer: "It has happened – but not with us. We are VERY careful to make sure we check multiple times if everything is safe before we open the doors while in flight."
Creating that interest and instantly satiating curiosity – it was a game changer. "That's what really made a big difference," Gonzales said. "We were able to turn around and answer the questions right then and there for the kids."
The expansive mission of the OCFA affords several opportunities to teach younger audiences about the different aspects of the fire service.
"We have a little bit of everything – from helicopters to hazmat – which gives us the opportunity to go to different locations and interact with firefighters in situations a lot of kids would never be able to see without social media," Gonzales said.
Emphasizing engagement and interaction
The unique factor of OCFA's social posts and strategy is not only that they garner viewers,  they also generate curiosity and digital interaction between viewers and department members.
The organization launched several interactive video series targeted to kids. "Tones at 2" includes guided station tours through Facebook Live; "Fire Fit Family Workouts" features a firefighter and their family performing simple workouts at their home to encourage physical fitness; and "Summer Storytime" showcases firefighters reading fire-themed children's books from OCFA stations.
"As we know, moms and dads are busy at home with their kids, and this kind of gives them a little break – something for them to look forward to once or twice a week." Gonzales said.
During the first two weeks of their social media campaign, OCFA videos garnered more than 140,000 views, solidifying for Gonzales the success of the outreach, and creating a path for the future.
"This is one way of reaching the community, and I think we're going to continue," he said. "Things aren't going to be back to full normal from this point on, I don't believe, so social media is definitely the avenue we're going to continue to stay on, because I believe the kids are really looking forward to this."
Gonzales also encourages viewers to share the videos on social media, including members from other fire departments, because the more people who see the information, the better.

Editor's Note: How are you reaching out to your communities during this time of social distancing? Share in the comments below or send us an email to editor@firerescue1.com and let us know your tips for engaging with the public.