Sparky® & Pumper Robot Provide Valuable Fire Safety Teaching Tool
---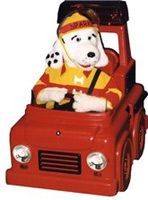 The Sparky robot is an especially exciting tool for teaching fire and safety awareness because it is so interactive. Audiences will be delighted when Sparky's eyes look around, wink and blink, his emergency lights and siren are activated, and he drives his fire truck around the room, carrying on conversations and playing music - all by remote control. Sparky the Fire Dog is the best-know figure in fire prevention today. A trademark character of the National Fire Protection Association (NFPA), Sparky is at the center of the NFPA's Risk Watch® and Learn Not to Burn® programs, two of the most comprehensive safety programs in existence. *The name & Figure of Sparky® & Sparky the Fire Dog® are trademarks of the National Fire Protection Association (NFPA). All rights reserved.
Features
Customer Support - A 180-day warranty on all parts and labor, a detailed owner's manual, available spare parts, and continual support are all parts of our commitment to your successful safety program. We manufacture and service what we sell.
Controls Carrying Case - Included as a standard feature is a molded polyethylene case, with locking latches and foam padded interior for protecting the radio control transmitter and the operator's voice transceiver during transport and storage.
Rechargeable Batteries - A sealed, maintenance-free, gelled, lead acid battery (12 Volt 31 AH) is included inside Sparky, complete with charger. The radio control transmitter comes with a rechargeable NiCad battery pack and an appropriate charger.
Safety Shoulder Harness - Promotes safety while holding Sparky securely in his seat.
Audio Cassette Player - A standard AM/FM stereo allows Sparky to play pre-recorded music and messages activated by you, through the remote control unit.
Moving Mouth - Sparky's automatically moves his mouth open and closed as he talks.
Voice System - Two-way, full duplex, wireless voice system allows the operator to both talk and listen to the audience at the same time.
Fully Mobile - High quality industrial grade electric drive motors give Sparky complete mobility by remote control. He can stop and "spin on a dime."
Moving Eyes and Eyelids - Sparky's eyes move left and right by remote control allowing him to look at the children. With moving eyes he comes to life. Sparky's eyelids open and close separately by remote control allowing Sparky to wink, blink, and go to sleep.
Turning Head - Sparky's head turns left and right at your command.
Durable Body - Sparky's body and head are molded of high quality impact resistant plastic and covered with durable synthetic black and white fur. He comes dressed in turnout gear with reflective trim and a fire hat. Sparky's body is a custom molded and detailed fire truck shape made from sturdy, impact resistant ABS plastic. Together they weigh less than 100 pounds, and are 37 in. long, 24 in. wide, and 37 in. tall
Color - Robot body comes in red plastic. You may easily paint bumpers and trim as desired.