Five big benefits fire departments have found with dashboards
Dozens of potential integrations can help keep providers better informed
---
Sponsored by First Arriving
By John Erich, FireRescue1 BrandFocus Staff
How do you communicate with a deskless workforce like firefighters? There are ways, but they all have drawbacks. Emails can get buried and never be read. Texts convey limited information and may not be seen. Memos were often ignored even before electronic communications. Face-to-face meetings with an entire department may not be feasible.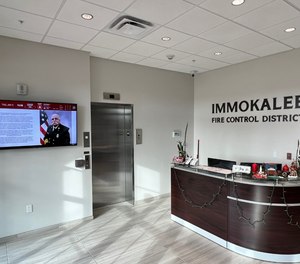 Dashboards are increasingly embraced by emergency services as an easy method to bring key information to members in a way that's convenient and affordable. They can package essential information from a wide variety of sources and keep members apprised of everything from call metrics and training requirements to weather conditions and road closures.
First Arriving offers more than 130 potential integrations of existing information sources into its dashboards for fire departments and other emergency providers. These are dedicated large-screen monitors placed in key locations (dayrooms, kitchens, lobbies, apparatus bays, etc.) to keep personnel and others updated with real-time alerts, news, messaging and critical information delivered in a highly visual, easy-to-read format.
Here are five ways fire departments have used dashboards to keep their personnel up to speed on important aspects of their jobs.
1. SITUATIONAL AWARENESS
Washington's South King Fire & Rescue serves nearly 150,000 people over more than 40 square miles between Seattle and Tacoma. Consisting of five former fire districts that banded together, the department serves a fast-growing area between the Cascade Mountains to the east and Puget Sound to the west.
At one time communicating with the department's battalion chiefs was a scattershot effort that entailed email, logbooks and the SharePoint platform. But when he took charge of South King's quest for accreditation, Assistant Chief Kevin Crossen realized that could be improved. "We were all looking for different ways to communicate," said Crossen.
A neighboring department, the Renton Regional Fire Authority, was using digital dashboards from First Arriving. South King liked the approach and added dashboards in its firehouse kitchens, apparatus bays, department shops and city hall. It integrated Active911, SharePoint, Workforce Telestaff and traffic cameras. But in rainy, foggy, blustery Washington, it was information on environmental conditions that unexpectedly resonated. "Surprisingly, the weather first captured the crews' attention and comments," said Crossen. Knowing what they'd face outdoors – rain, snow, sun, heat, cold or wind – helped them better prepare to operate comfortably.
South King also incorporated a tide table for its new fireboat and updates on air quality for training purposes. The training mission will be further fulfilled with video offerings from both YouTube and in-house.
Other planned integrations include FirstWatch, ESRI, ESO and Target Solutions. Google Slides are used for personnel announcements, recognitions and other shared info. And during COVID-19, the dashboards were useful for disseminating information about mask requirements and more.
Some 800 miles to the south, California's Southern Marin Fire Protection District serves another diverse area that encompasses both developed urban spaces and wildlands prone to fire. Its past communication methods like email, an intranet, occasional newsletters and station visits were leading to delays and lost messages. Chief Chris Tubbs thought dashboards could do it better.
The district tied in its Tablet Command platform, Vector Scheduling, Emergency Reporting, several Google feeds, traffic cams, social media and even marine information. It also added turnout timers to keep response urgency front-of-mind for crews.
"These dashboards create situational awareness," said Tubbs. "Putting our … agency information on here, with the new generation of firefighters, who are very visual-based, allows new information to be distributed fast."
A planned drone program will bring live video footage to the boards as well. 
"This will enhance the visualization for crews being deployed," said Tubbs. "As soon as we get the information, we can push it out to the crews."
2. CALL METRICS
Chris Perry, the fire chief in Zebulon, North Carolina, was at a meeting in a neighboring town when he noticed their firehouse dashboard streaming information about calls and other matters. Perry's town was growing fast, and with that so was his department's need to inform its providers. "They had a lot [of information] in there, and that's what drew us," said Perry.
The department wanted three things from its dashboards: call alerting, mutual aid information and call metrics with turnout times. First Arriving provided all that.
"We were always looking in the rearview mirror," said Perry. "First Arriving gives us the data present time, what we're doing now. It killed several birds with one stone."
The department integrated Active911, Emergency Reporting, Aladtec, weather information and more. A special scrolling stream updates unit statuses and relieves Perry of compiling monthly emails to summarize shift turnout times. Gauges depict the turnout times for first-out units as calls occur. Having that information has led to good-natured competition among shifts to see who can get wheels rolling the fastest, and as a result the department beat its turnout time goals for the first time.
Other benefits in Zebulon have included easier sharing of training information and updates on out-of-service equipment and infrastructure.
3. TIME SAVINGS
Alabama's Pelham Fire Department recognized the value of dashboards early, but a do-it-yourself first attempt fell a bit short. "I tried doing it on my own," EMS Director Matt Maples said. "It obviously didn't have the professional appearance … and it was a lot of legwork on my end to maintain it."
Even with Maples's efforts, the department couldn't include popular integrations like Aladtec and Active911. He learned of First Arriving from a neighboring department and ultimately spearheaded a move to it for a more robust product.
The upgrade paid off as the department's 80 career personnel began absorbing communications they'd once missed or forgotten with email. Easy referrals to scheduling and integrations like Active911 kept providers current and, as a secondary benefit, created a level of self-sustaining engagement – the dashboards became a regular part of the job and commanded firefighters' attention. 
And First Arriving's alternative has proven simpler to manage than Maples's DIY first attempt.
"It's a 100% ready-to-go product as soon as you plug it in," he said. "It was working right out of the gate, which made my life a lot easier. When I was trying to do it myself, there were so many steps I had to do to get it going."
4. COVID-19 SAFETY
Rapidly changing information throughout the COVID-19 pandemic created challenges for emergency responders – most especially EMS, whose members had to maintain their own health while assisting the sick and injured.
Port Jefferson EMS in Suffolk County, New York had an existing relationship with First Arriving, which developed its website. Supplementing the department's traditional communication strategies with dashboards helped leaders share critical COVID updates and other important information.
"Operating an EMS organization with close to 200 career and volunteer members requires a multifaceted approach when it comes to getting the message out," said Deputy Chief Michael Presta. "First Arriving digital dashboards have given us an effective platform to relay critical information."
As leaders provided that, personnel came to trust the boards as a key source of current guidance.
Ohio's Versailles EMS found a similar benefit. It implemented its dashboards just before the pandemic struck and used them to distribute critical information on protocols, safety recommendations and response changes. "The entire process was a breeze," said Chief Matt Harvey.
5. COLLABORATION
In Campbell County, Kentucky, the Office of Emergency Management (OEM) has 10 different fire departments to work with – a tall order for its staff of three. The office previously used methods like email, telephone, texting and social media, until its fire chiefs recommended First Arriving.
"The big reason we went with the dashboards is so [the departments] can see everything on our dashboard and vice versa," said Deputy Director James Sparks. "We are on call 24/7. If something major happens, dispatch can call us, and they can see [on] our board who is on call. We can see each fire department page, and they can see ours. They can see our equipment and the resources available to them."
The boards are also used to share information about the roughly 30 training events OEM holds each year. The system has integrated traffic cameras, also seen by the departments, and Active911, which alerts to the county as well as the FDs.
Across the county the dashboard system also helps departments communicate and collaborate with each other in daily matters – an important benefit given these small departments' reliance on mutual aid.
"We are able to use it for a multitude of things," said Lt. Danny Hildebrand of the Central Campbell Fire District. "Training, response information, communication to other departments, keeping track of information passed on from shift to shift – there is so much we use it for.
"With today's volume of information that is sent out via email, it is hard to discern and read through it all. This system allows us to showcase the important information and present it in a manner that is easy to read and in a place that can easily be seen."
For more information, visit First Arriving.
READ NEXT: Streamline your department's communication with this digital tool 

Request information from First Arriving
Thank You!