How to create a culture of support around firefighter trauma
Using data to track factors influencing firefighter mental health to identify, intervene and prevent PTSD
---
Sponsored by ESO
 
By Margarita Birnbaum for FireRescue1 BrandFocus 
Many firefighters and paramedics try to bury memories of car accidents, fires, mass shootings and other traumatic events they respond to, hoping they never bubble to the surface. But, inevitably, they do. To cope, some turn to alcohol and drugs, or they even take it out on loved ones. That's why many emergency services agencies have begun tracking the emotional health of their first responders.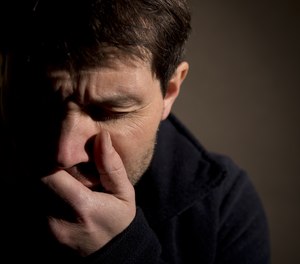 Ideally, the collected data should help fire departments and EMS agencies foster a workplace culture that recognizes a healthy mind is as important as a healthy body, says Allen Johnson, chief product officer for ESO. The information is critical for his clients to help first responders identify, stave off and manage post-traumatic stress disorder, depression, anxiety and other mental health conditions. If these situations remain unidentified or untreated, risks increase for a range of consequences – from suicide to impaired job performance, Johnson said. 
"You may have heard the old phrase: 'You can't manage what you can't measure,'" said Johnson, a former EMS director for an agency that served the suburbs of Houston. "Measuring critical events and understanding what's going on will help you serve your team and hopefully keep your crew members safe long term."
Keeping track of traumatic events
ESO makes it easy for fire departments and emergency services to track traumatic events by adding two straightforward questions to its incident reporting program.
Since 2019, firefighters and paramedics have the option to share whether a call is a critical incident (for example, calls such as a serious injury to a child, a murder-suicide, a COVID-19 medical call or the death of a coworker at the scene of a car accident). Crew members can report whether a critical incident response team was deployed to help them deal with extremely stressful runs.
The software flags the events that are critical incidents and sends alerts to designated staffers. But it doesn't include ways to monitor if the firefighter or paramedic who made the report about a distressing incident seeks counseling or psychiatric care. 
"We recommend keeping that information separate from the incident record, away from any potential record production request," said Johnson.
Walking the Walk, Talking the Talk
Although there's more awareness now about post-traumatic stress disorder, depression, anxiety and other mental health conditions, talking about their distress is still hard for many firefighters and medical service providers. It appears that's especially true among younger ones, in part because they've been told – implicitly or explicitly – that they need to be tough, and that everybody else is handling this just fine, adds Johnson.
"But that's probably not the case," he said. "It certainly wasn't in my career."
It probably wasn't true for firefighters and emergency medical personnel 50 years ago, either, Johnson says. But those first responders also learned from their peers to suffer in silence, even as their responsibilities expanded to treating victims of domestic violence, managing chemical spills that exposed them to toxic substances and dealing with other crises.
It's going to take more than software and good intentions from administrators to make emotional health a priority at fire stations and EMS offices. To effect meaningful change that will benefit generations of their colleagues, the rank and file need to be honest about how they're really coping, Johnson says.
That means firefighters and paramedics have to admit that incidents big and small – from minor fires to watching their colleagues struggle with illness to responding to domestic violence calls – have the potential to wear them down physically and emotionally. It also means they'll have to recognize the cumulative effect of stress and strain on performance, as well as relationships with family and friends. It means they need to encourage others to share their personal stories, too.
To support firefighters and paramedics living with post-traumatic stress disorder, depression, anxiety and other similar conditions, it's important to pick up on the signs they are struggling and get them help quickly. Some people lose their appetite, start drinking more alcohol, stop working out and become more irritable, says Johnson. 
Attitudes evolve
There are signs, of course, first responders are more willing to talk about their emotional health and their employers are listening to their concerns and offering resources to support them.
In some fire departments and EMS agencies, it's the older, more experienced first responders who have paved the way for more frank conversations, Johnson says, because they have recognized "that in order for the new guys coming in to survive, they're going to have to change the culture."
These days, more departments and medical service providers are telling new hires right out of the gate that they're going to have gruesome and traumatic experiences. They are also talking about the cumulative impact of the seemingly more mundane calls, the subtle impact of which may sneak up on a provider. Some are encouraging their first responders to get routine counseling through their employee assistance programs, staff mental health professionals and established peer support groups.
Johnson says he hopes the data fire departments and EMS agencies are collecting through tools like ESO will help researchers learn more about the toll the job takes on first responders. In the long run, Johnson says, this information will help employers come up with effective educational and counseling programs. And it will help the industry that supports first responders to come up with better tools and strategies to help them manage their emotional health.
Ultimately, it's a win-win for first responders and the communities they serve.
Visit ESO.com/fire/incidents-software for more information on their incident reporting software.
Read next: 4 ways to tap the potential of data and use it to improve community health and safety

Request information from ESO
Thank You!