Streamline your department's communication with this digital tool
Agencies of all sizes can benefit from easy access to key information
---
By Courtney Levin, FireRescue1 BrandFocus Staff
Imagine you're returning to the firehouse after a few well-earned days off and you need to catch up on everything you've missed. As you pour yourself a cup of coffee, you're mentally preparing to check your email along with several different systems to access department announcements, fleet and equipment status, scheduling changes and more.
Whether your department is small and volunteer-led or you're part of a metropolitan agency, this process is the same each time you start your shift. While it can be time-consuming to check multiple systems just to stay up to date, many firefighters consider this to simply be part of the job.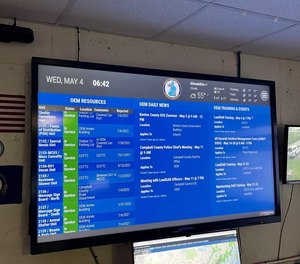 But what if there was a different way to disseminate fire station communications that was easy to access and simple to update? First Arriving, a company that provides recruitment, retention and website development services to fire agencies, has developed a dashboard system that helps departments of all sizes and levels of communication.
Simple in design yet robust when it comes to features, First Arriving dashboards alleviate disjointed communication, missed emails and erased whiteboards by combining information from a department's existing platforms into a streamlined visual display. Instead of logging into multiple platforms, firefighters can sit and enjoy their cup of coffee while they view all pertinent information on a television, desktop or tablet.
EASY ON THE EYES
First Arriving dashboards do more than display data from the systems your department currently uses, as each screen can be tailored to highlight the information you rely on most. While every department's needs are different, many use First Arriving dashboards to display alerts, scheduling, weather and radar, apparatus and equipment status, training and certification updates, turnout times and real-time traffic.
There is a broad array of customization that can be applied as First Arriving dashboards can integrate data from over 100 different partners who provide records and learning management, CAD and dispatch, safety, and news and information services.
"A firefighter or officer can come in for the morning shift, get a cup of coffee and stand in front of the dashboard for the latest information – everything from how busy the last shifts were, what's the status of apparatus across the department, what roads are closed, everything," said Chief Tom Jenkins of Rogers Fire Department in Arkansas.
A BEVY OF BENEFITS
Saving time is certainly on the radar of most agencies across the country but displaying departmental information for all to see brings a range of additional positives.
"I was sending an email at the end of each month with each shift's past month's turnout times," said Chief Chris Perry of Zebulon Fire Department in North Carolina. "Now, with the turnout time indicators (gauges) that reflect the turnout time of the first-out units, they can see this as each call occurs. It has created competition among the three shifts."
Departments don't need to be at the forefront of technology to use First Arriving dashboards either, as nearly any information can be displayed digitally. A department might be tracking their fleet on an Excel document, for example, and can take that information and visually display it.
"It was a death by email environment for us," said Kevin Kellar, IT manager at South Adams County Fire Department in Colorado. "Firefighters do not check their mail on their days off, so a lot of what was being sent out was not retained."
The value of digital dashboards goes well beyond being able to streamline your department's communication, as First Arriving's pricing is affordable even for small agencies. Whether you only need a little bit of data displayed or you're looking to integrate a dozen plus platforms, your department will pay less than $2 per day per screen.
HOW TO GET STARTED
No two firehouses are the same, and while many of the same types of information are communicated to first responders across the country, your agency may prioritize certain pieces of data above others.
To ensure your First Arriving dashboards meet your specific needs, the company works with each customer to figure out what's most important to them.
"They can go through and see different layout options for scheduling, for example, because it's all customized," said Stephanie Harvey, director of strategic marketing at First Arriving. "It's really up to the department what they want sliding through on every screen and what they want it to look like."
After the development team at First Arriving builds each dashboard, departments are sent a desktop license so they can view the finished product on their computer. Once approved, agencies receive a small box that plugs into any television, displaying their dashboards wherever is most convenient.
This hardware comes with a lifetime guarantee and will be replaced should something happen to it. Departments that prefer a more mobile option can request tablet licenses so their dashboards can be accessed on the go.
First Arriving dashboards provide agencies with a service that, once implemented, many couldn't imagine operating without.
"Some of the firefighters were not too sure about it and wondered why we got it, but after seeing how it was used, it has made our job easier," said Captain Anthony Lombardo of North Randall Fire Department in Ohio.
"You could be the most tech-savvy department in the country or the least tech-savvy department," said Harvey. "We have departments that are single station, all volunteer crews that use our product and we have large metros that use our product. We build it for each department, so it provides exactly what they want."
Visit First Arriving for more information.

Request information from First Arriving
Thank You!