Safe Life Defense Body Armor – Trusted by professionals
---
Safe Life Defense is a company on a mission. In the past year, the popularity of their Multi-Threat Body Armor has grown exponentially and it's not hard to see why. Safe Life Defense body armor offers unparalleled protection – defending against bullets, strikes, stabs, and slashes – and is known for being comfortable, an elusive quality in armor!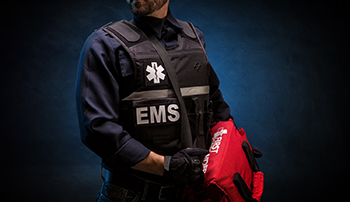 Without question, Safe Life Defense offers exceptional body armor. But what really makes Safe Life Defense special? Their commitment to creating TRUSTED brand. Company President, Nick Groat, shares his thoughts:
"I am definitely aware of how important body armor is to LEOs, EMTs, and Security. Creating equipment for them is a huge responsibility, and I take it seriously. Safe Life Defense makes exceptional body armor that will save your life. We test all our armor and hold ourselves to the highest quality standards – and you can both see and feel that when you wear our body armor. However, I think trust in a company goes far beyond the quality of its products. Trust is gained with fair and affordable pricing, unparalleled customer service, and guarantees and warranties that prove that Safe Life Defense has your back long after you have purchased our armor. I believe trust must be earned; making an accountable, caring company is just as important as the product itself."
Through its robust guarantees and warranties, Safe Life Defense backs their product and company. The minute you purchase a Safe Life Defense vest, you receive several promises:
1. Fit Guarantee: Safe Life Defense wants your armor to fit. Gone are the days of overheating, buckling, and ill-fitting armor. Safe Life Defense will let you exchange your vest at no cost to you within the first 30 days. When you initiate an exchange with Safe Life Defense, they often ask for pictures so they can help select the size that will fit you best. Their body armor designer is consulted on each exchange, and you receive personalized attention.
2. Satisfaction Guarantee: If you don't like your vest, send it back for a refund within 30 days. Safe Life Defense wants you to love your body armor, even if theirs doesn't work for you.
3. Incident Guarantee: Safe Life Defense backs its vests for a full 5 years with a robust warranty and this includes an incident guarantee. If your armor saves your life, they will replace it at no cost to you – just provide an official police report.
4. 5 Year Warranty: Safe Life Defense promises their armor will protect you for 5 years – they make their vests to ensure long term durability and they only use materials that will last.
In addition to offering some of the best customer support and product guarantees, Safe Life Defense shines through its commitment to professionals. They are proud to offer discounts to LEOs, EMTs, and Security on all their products – from vests to body armor carrying bags. (For online discount codes, contact the company through email or phone.) President Nick Groat discusses his company's commitment to these professions:
"When Safe Life Defense started, it shocked me how many people need body armor – and this is especially true of professionals who need it for their job. The great thing is that we are starting to see a lot of new corporate accounts. Safe Life Defense is protecting more and more hospitals, colleges, and police offices. And body armor is slowly but surely becoming a standard piece of equipment offered by employers. However, lots of employers are still limited in their ability to supply vests. This is why Safe Life Defense will always offer discounts to EMT, POLICE, Firefighters, and Security – because these people NEED armor to perform their jobs."
About Safe Life Defense
Safe Life Defense prides themselves on offering their armor at a very competitive price point. One of the keys to their success is their commitment to affordable quality. However, they proudly offer an additional discount to select professionals – the people who are the unsung heroes of our country. The Safe Life Defense Multi-Threat Vest was really designed with professionals in mind. As a company, they hope to keep supporting a cultural shift towards valuing these professions - EMTs, Police, Firefighters, and Security - by making body armor a standard part of their jobs. Every account they gain helps support this shift towards a new standard in protection and respect for professionals – making Safe Life Defense a trusted brand who truly cares about the people they protect.

Request more info from Safe Life Defense
Thank You!