How to keep your batteries ready for action!
Recharge your batteries on the go with continuous onboard AC power from this charging hub
---

By Robert Avsec for FireRescue1 BrandFocus      
ICYMI, the lithium-ion (Li-ion) battery is revolutionizing how the necessary tools and equipment that are critical to firefighters getting the job done are powered. Manufacturers of rescue tools, blowers, and small power tools (e.g., drills and saws) are producing tools and equipment using Li-ion batteries that are lighter, more compact, and equal to, and in many cases more powerful, than the previous generations of such tools that required an electrical cord running back to a generator or a hydraulic power plant that used a gasoline engine.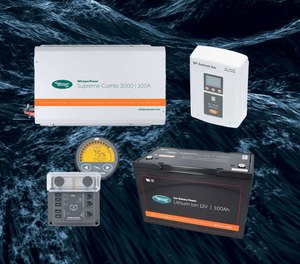 Keeping Tools Charged Is a Challenge
With firefighters using more tools and equipment powered by rechargeable Li-ion batteries that means that fire departments must manage more batteries and more chargers. But how many fire department leaders consider the electrical load requirements when buying of Li-ion battery-powered tools and equipment? And how many tool and equipment manufacturers publish the required input power (watts) that their products need to operate at maximum effectiveness?
Shoreline power (AC current plugged into fire apparatus) is limited in many fire stations and in busy fire departments the apparatus may not be in quarters and connected to a shoreline long enough to adequately recharge used batteries. That incoming electrical current is being equally distributed to every charger on the apparatus, not just the tool or equipment with the battery pack that needs recharging, as well as the fire apparatus batteries (the original intent for the shoreline).
Another often overlooked aspect of the battery recharging challenge is the onboard electrical system for a fire department's fire apparatus. Most fire apparatus are built with low-voltage electrical systems (12V) to power basic equipment (e.g., apparatus lights, low power chargers). As more battery-powered tools are acquired, the apparatus electrical system must be capable of charging tool batteries fast enough to stay fully charged and in service. How many fire departments have evaluated and upgraded the electrical systems on their fire apparatus in response to carrying more Li-ion battery-powered tools and equipment?
The Charging Problem
Any change, however, can come with unintended consequences and the increasing use of Li-ion battery-powered tools and equipment by fire departments is no different. When firefighters need to use those tools, they need to know that batteries are fully charged and ready to "get to work." And an electrical shoreline plugged into fire apparatus when it's in the station and on-board electrical systems on fire apparatus are not capable of meeting that challenge (see Figure 1 below).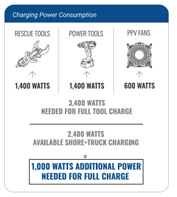 So, what's the answer?
The Kraken 3 kW Power Charging Hub
The answer is the Kraken 3 kW Power Charging Hub, a system designed for fire apparatus carrying the latest battery-powered tools that provides continuous onboard AC power to keep those Li-ion and other rechargeable batteries fully charged. Favoring AC power for lower current at faster charge times, the Charging Hub takes AC input from an inverter or AC current from a plugged-in shoreline and distributes it to the various battery chargers and AC outlets on the fire apparatus. The Charging Hub provides continuous onboard AC power, whether the fire apparatus is in station or operating at an emergency, thus eliminating the need to charge everything in the brief time when the apparatus is plugged into shore power.
Kraken 3 kW Charging Hub Components
Figure 2 below shows that when the fire apparatus engine is running, the Kraken DC/DC charger (B) receives DC current from the fire apparatus alternator (A) and channels that current to Kraken's 100 AH Li-ion battery (C) to keep that battery charged for energy storage when away from the fire station. The Smart Shunt module monitors the battery voltage, current, state of charge (%), and time remaining for the 100 AH battery, so the fire apparatus operator always knows the battery's status.
Kraken's Inverter/Charger (D) also receives power from the DC/DC charger (B) and converts the DC current to AC current that's sent through the Transfer Switch (E) to the Charging Hub (F) where the 3000W/100Ah Supreme Combi Module helps to spread the load of charging tool batteries over time with a consistent flow of AC current.
When the fire apparatus is in station and plugged into Shore power, the Transfer Switch (E) ensures that adequate AC current is directed to the Supreme Combi module for fast charging of tool batteries while ensuring that an adequate supply of AC current is directed to the fire apparatus batteries.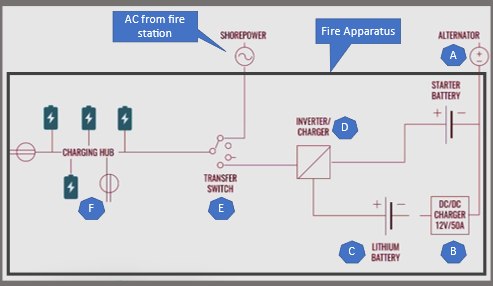 The Kraken Power Charging Hub Advantages
What makes the Charging Hub such a "big deal?" Consider that the time to achieve a full charge for a battery pack ─ and maintaining a full charge for all battery packs on the apparatus ─ becomes increasingly difficult as more battery-powered tools are acquired.
Most battery-powered tools are plugged into AC outlets on the fire apparatus which are only live when the apparatus is plugged into a shoreline power source. However, the typical battery packs now powering tools and equipment used by firefighters require as much as three hours to attain a full charge. That can present a problem for busy fire departments where the time between calls for service may limit charge time to an hour or less.
With the Charger Hub from Kraken, a fire department's ability to recharge batteries is not limited to the time the fire apparatus is in station because the Charger Hub provides a continuous onboard AC electrical supply that's spread out to meet the load demand throughout the day.
The Kraken Charging Hub aids in spreading out the load of tool charging over time, starting when the depleted battery is placed on its charger. The system's Li-ion battery is a source of stored energy that's readily available whenever and wherever it's needed ─ it's always on the fire apparatus. And the Charging Hub can continuously charge battery packs "on the go," getting its power from the fire apparatus's alternator via the DC/DC charger and Inverter/Charger or the onboard Li-ion battery.
Lighter, more compact, battery-powered tools and equipment are making a firefighter's job safer, more effective, and more efficient. But with those "pluses" comes the need for equally effective and efficient charging of those batteries so that a firefighter knows that when they grab a spreader or blower or saw that they've got the power to get the job done. Make that a non-issue with the Kraken 3 kW Power Charging Hub on all your fire departments apparatus.

Request information from Witmer Public Safety Group, Inc.
Thank You!