The Streamlight Survivor X: The personal lighting you need in a rechargeable flashlight
A battery status indicator, strong and long-lasting beam, multiple power source options and gloved-hand operation inspire confidence that lighting will work when you need it
---

By Robert Avsec for FireRescue1 BrandFocus
You're inside a working structure fire conducting a search for a potential victim. Maybe you're working on a complex extrication of a patient from a motor vehicle crash at night or participating in a nighttime ground search for a missing child. You need good lighting to see what you're doing, right? But do you know how long the flashlight that's clipped to you turnout coat is going to last?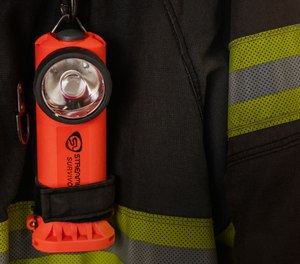 The ability to see what you're facing and clearly see what needs to be done is critical for you to carry out you job tasks safely, effectively and efficiently in those situations and many more like them. How much confidence do you have in the flashlight that you're currently using?
If your answers to those two questions are (1) I don't know and (2) I'm not really sure, then you need to get the Survivor X rechargeable flashlight from Streamlight. The Survivor X is a "smart" flashlight that offers more than just a good personal lighting device.
What sets the Survivor X apart from other flashlights?
The Survivor X right angle light provides you with a flashlight that has greater lighting output, more features, and more power options than ever before. "With the Survivor X, we've modernized a fire department staple—the right-angle flashlight that many firefighters affix to their turnout coat—that firefighters depend on," said Rob Taylor, merchandising and first responder specialist with TheFireStore. "It's lighter, has a more powerful beam, has longer run time, and multiple power source options." 
For starters ─ and in response to that first question I posed ─ the Survivor X has a battery status indicator located in the power switch that lets you know how much power is available:
Green indicates full charge;
Turns red when battery is nearing low voltage; and
Flashes red continuously when there's 15 minutes of battery life remaining.
With that battery status information readily available ─ answering Question #1 ─ you can be confident that your Survivor X is going to keep working while you're working (Answers Question #2, right?).
The Survivor X gives you the personal lighting options that you need with three operational modes:
HIGH: Provides a super-bright, smoke piercing beam of 250 lumens with a beam distance of 1,465 feet (447m). On its HIGH setting, the Survivor X is capable of operating for 3.75 hours (Rechargeable model), 4 hours (SL-B26 lithium-ion battery pack), or 5 hours (3 "AA" alkaline batteries).
LOW: Reduces the beam strength to 60 lumens and the beam distance to 778 feet (237m) while extending the run time to 15 hours for all models.
FLASHING: In this mode, all models of the Survivor X can function as a signaling device capable of operating for 8 hours (when at full power capacity).
The Survivor X's optimized electronics provide regulated output starting with its maximum lighting of 250 lumens when you're operating in its HIGH mode. Lights with a regulated power supply maintain a steady, near-peak brightness level throughout most of the batteries' life cycle. Near the end, however, light output drops off abruptly and significantly. Unregulated lights start bright then progressively grow dimmer as they drain power from the batteries.
Comparing and Contrasting the Survivor X Flashlight with the Survivor Flashlight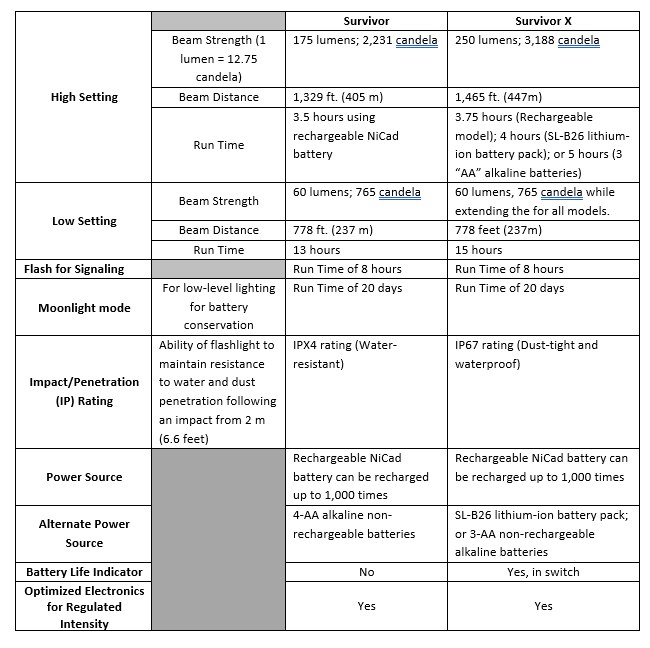 Additional features of the Survivor X
The Survivor X USB provides budget-friendly rechargeability options and other features that make it the cost-effective personal lighting option for fire and EMS departments.
Rubber dome push-button power switch that's easy to use with a gloved hand (features the battery life indicator).
Unbreakable polycarbonate lens with silicone anti-scratch coating with specialized optics that combines a low profile with powerful performance and a wide beam.
Power Supply Options. Choose a Class 1, Division 1 rated alkaline or rechargeable system, or a micro-USB port rechargeable Division 2 model that uses a SL-B26® lithium-ion battery pack (also accepts 3 "AA" alkaline batteries).
A re-engineered charger that gives a firefighter true "grab and go" capability, even with a gloved hand.
IP67 Rating. Dust-tight and waterproof to 1m (3.3 feet) for 30 minutes following a 2m (6.6 feet) impact.
Strong spring-loaded clip securely grabs onto belts or gear D-ring to maintain a forward hanging orientation.
Dimensions: 7.06 in. (17.92 cm) long and 11.9 oz (337g) for model using the SL-B26 lithium-ion battery pack.
A firefighter using a Survivor X from Streamlight can do so with confidence knowing that they've got a flashlight that tells them how much power they have left, as well as a strong and long-lasting beam. What firefighter wouldn't want that flashlight when they need to see into the darkness?
References
1. Flashlight Wiki. ANSI-NEMA FL-1. January 31, 2022. <Available online> https://flashlightwiki.com/ANSI-NEMA_FL-1
2. REI. How to Choose Flashlights. <Available online> https://www.rei.com/learn/expert-advice/flashlight.html
3. Ibid.
4. Ibid.
5. Ibid.
6. JustElation. IPX Ratings Described. <Available online> https://justelation.com/ipx-ratings-described/

Request information from Witmer Public Safety Group, Inc.
Thank You!