PRESS RELEASE
Streamlight launches updated rechargeable spotlight
---
EAGLEVILLE, Pa. - Streamlight, Inc., a leading provider of high-performance lighting, launched the Waypoint 400, an updated model of the Waypoint  300. The new version of the rechargeable pistol-grip spotlight offers up to 1,400 lumens of ultra-bright white light with 400,000 candela and a beam distance of 1,265 meters for enhanced down-range lighting capability. The portable light can be used as either a handheld mobile searchlight or, with its integrated stand, as a hands-free scene light to illuminate an area.
"The new Waypoint 400 not only features extreme brightness, but also includes a far-reaching beam for extreme distance lighting," said Michael F. Dineen, Streamlight's Chief Revenue Officer. "It features a waterproof design, and will float if dropped in water, making it the ideal spotlight for boating and other outdoor pursuits. Industrial workers, police and fire professionals and other first responders also will appreciate its weight-balanced design that virtually eliminates hand fatigue."
The Waypoint 400 uses power LED technology and a deep-dish parabolic reflector for long-range targeting with optimum peripheral illumination. On the high setting, it features 400,000 candela, a 1,265-meter beam distance, and 1,400 lumens. On medium, it provides 600 lumens and an 812-meter beam distance; on low it offers 38 lumens and a beam distance of 200 meters. The new light runs for 3.25 to 84 hours on high and low, respectively.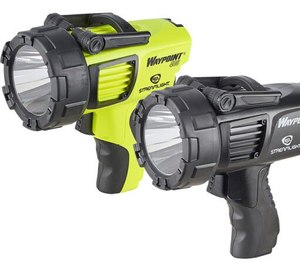 The Waypoint 400 uses a rechargeable lithium-ion battery that fully charges in four hours. A convenient LED charging indicator provides charging status.
The rugged Waypoint 400 features an unbreakable polycarbonate lens and is O-ring sealed. With a trigger-style switch for momentary or "constant-on" operation, the light boasts a cushioned grip handle that eliminates user hand fatigue. The light includes an adjustable, high-strength wrist lanyard and features an integrated stand for hands-free lighting.
The lightweight Waypoint 400 weighs 1.52 pounds and measures 6.75 inches long by 7.14 inches high. It features an IPX8-rated design for waterproof operation to two meters and is impact-resistant to one meter.
The Waypoint 400 is available in black and yellow and has an MSRP of $240.67. It comes with Streamlight's Limited Lifetime Warranty.
About Streamlight
Based in Eagleville, PA, Streamlight, Inc. has more than 45 years of experience making tough, durable, long-lasting flashlights designed to serve the specialized needs of professionals and consumers alike. Since 1973, the company has designed, manufactured, and marketed high-performance flashlights, and today offers a broad array of lights, lanterns, weapon light/laser sighting devices, and scene lighting solutions for professional law enforcement, military, firefighting, industrial, automotive, and outdoor applications. Streamlight is an ISO 9001:2015 certified company. For additional information, please call 800-523-7488 or visit Streamlight.com.

Request more info from Streamlight, Inc.
Thank You!