FDNY releases commemorative book marking 10th anniversary of 9/11
The book is FDNY's only official first-hand account of what happened at the World Trade Center on 9/11 and what it took to rebuild
---
By FDNY
NEW YORK — Members of the FDNY released an official FDNY commemorative book, FDNY 2001-2011: A Decade of Remembrance and Resilience on Aug. 17 at the FDNY Fire Museum.
"We wanted to do something tasteful, something the families would be proud of," said Fire Commissioner Salvatore Cassano.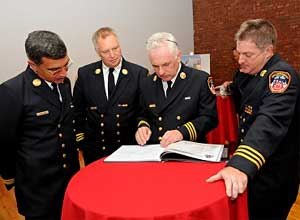 Ten years after the World Trade Center attack, the New York City Fire Department has published its only official first-hand account of what happened at the World Trade Center on Sept. 11, 2001, and what it took to rebuild in the weeks, months and years that followed.
"It represents the feel of that tragic event and what the members experienced," said Chief of Department Edward Kilduff.
With a foreword by former President George W. Bush, the large format 10" x 12" pictorial-style book features dozens of unique and intimate photos culled from the Department's archives. The stories collected by the Department include personal interviews with FDNY members, some of which were conducted only weeks after the attacks.
The book also chronicles major FDNY operations over the past decade, including the Department's response to Hurricane Katrina, the earthquake in Haiti and the 'Miracle on the Hudson' plane crash.
The hardbound book is available through the FDNY Foundation at www.fdnybook.com. Proceeds from the book benefit the FDNY Foundation, which funds fire safety education, as well as equipment, training and education needs for FDNY members.
For more information on the FDNY Foundation, visit www.fdnyfoundation.org