Memorial wall unveiled for FDNY firefighters killed by WTC-related illnesses
The members on the Wall died of illnesses related to their work at the World Trade Center during and after the attacks of Sept. 11, 2001
---
By FDNY
NEW YORK — A Memorial Wall listing the names of 55 FDNY members who died in the last 10 years due to World Trade Center-related illnesses was unveiled at FDNY Headquarters on Sept. 8.
"This plaque reminds us that 9/11 was not a single event or a day on the calendar, but something this Department faces on a daily basis," said Fire Commissioner Salvatore Cassano. "The sacrifices made by members of the FDNY on that day will continue for years to come."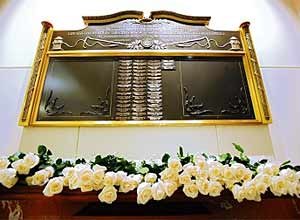 The members on the Wall died of illnesses related to their work at the World Trade Center during and after the attacks of Sept. 11, 2001. The Commissioner noted that two more were added in the week leading up to the ceremony.
"With this Wall, we're making a statement that the sacrifices our members made on Sept. 11, 2001, did not end on that day," said Chief of Department Edward Kilduff. "The work they did was noble and selfless. We gave on 9/11 and we continue to give to this day."
The inscription on the Memorial Wall reads, "DEDICATED TO THE MEMORY OF THOSE WHO BRAVELY SERVED THIS DEPARTMENT PROTECTING LIFE AND PROPERTY IN THE CITY OF NEW YORK IN THE RESCUE AND RECOVERY EFFORT AT MANHATTAN BOX 5-5-8087 WORLD TRADE CENTER."
The names included:
Firefighter Robert W. Dillon, Engine Co. 153
Firefighter Vanclive A. Johnson, Ladder Co. 135
Firefighter Russell C. Brinkworth, Ladder Co. 135
Firefighter Edward V. Tietjen, Ladder Co. 48
Firefighter Walter Voight, Ladder Co. 144
Battalion Chief Kevin R. Byrnes, Battalion 7
Firefighter Stephen M. Johnson, Ladder Co. 25
Lieutenant Richard M. Burke, Engine Co. 97
Firefighter Michael Sofia, Engine Co. 165
Firefighter Joseph P. Costello, Battalion Co. 58
Firefighter William R. O'Connor, Ladder Co. 84
Lieutenant Reinaldo Natal, Field Communications Unit
Paramedic Deborah Reeve, EMS Station 20
Fire Marshal William Wilson, Jr., Manhattan Base
Lieutenant Thomas J. Hodges, Engine Co. 313
Firefighter Robert J. Wieber, Engine Co. 262
Lieutenant Joseph P. Colleluori, Jr., Engine Co. 324
Firefighter Michael J. Shagi, Engine Co. 74
Firefighter William R. St. George, Batallion Special Operations Command
Firefighter Raymond W. Hauber, Engine Co. 284
EMS Lieutenant Brian Ellicott, EMS Dispatch
Firefighter William E. Moreau, Engine Co. 166
Lieutenant John P. Murray, Engine Co. 165
Firefighter Sean M. McCarthy, Engine Co. 280
Firefighter Bruce M. Foss, Ladder Co. 108
Firefighter Jacques W. Paultre, Engine Co. 50
Firefighter Kevin M. Delano, Sr., Ladder Co. 142
Lieutenant Vincent J. Tancredi, II, Ladder Co. 47
Paramedic Clyde F. Sealey, Bureau of Health Services
Firefighter Timothy G. Lockwood, Engine Co. 275
Firefighter Edward F. Reilly, Jr., Ladder Co. 160
Firefighter John F. McNamara, Engine Co. 234
Lieutenant Thomas G. Roberts, Ladder Co. 40
Captain Kevin J. Cassidy, Engine Co. 320
Firefighter Joan R. Daley, Engine Co. 63
Firefighter Richard A. Manetta, Ladder Co. 156
Lieutenant Peter J. Farrenkopf, Marine Co. 6
Battalion Chief John J. Vaughan, Battalion Co. 3
Firefighter Robert A. Ford, Engine Co. 284
Paramedic Carene A. Brown, EMS Bureau of Training
Firefighter James J. Ryan, Ladder Co. 167
Lieutenant Robert M. Hess, Ladder Co. 76
EMT Freddie Rosario, EMS Station 4
Lieutenant Harry Wanamaker, Jr., Marine Co. 1
Supv. Commun. Electrician Philip J. Berger, Outside Plant Operations
Firefighter Vincent J. Albanese, Ladder Co. 38
Firefighter John P. Sullivan, Jr., Ladder Co. 34
Firefighter Roy W. Chelsen, Engine Co. 28
Firefighter John F. O'Neill, Ladder Co. 52
Lieutenant Randy J. Wiebicke, Ladder Co. 1
Firefighter Brian C. Malloy, Ladder Co. 80
Lieutenant John A. Garcia, Ladder Co. 5
Firefighter Anthony J. Nuccio, Ladder Co. 175
Fire Marshal Steven C. Mosiello, Chief of Department's Office
Firefighter Carl Capobianco, Ladder Co. 87
Republished with permission from FDNY.